Honors and Awards
Richard Lueptow Elected Fellow of the American Institute of Chemical Engineers
The honor is the highest grade of AIChE membership
Northwestern Engineering's Richard Lueptow has been elected a fellow of the American Institute of Chemical Engineers (AlChE), the organization's highest grade of membership. The honor recognizes Lueptow's distinctive professional achievements and accomplishments.
Lueptow is senior associate dean and a professor of mechanical engineering and (by courtesy) chemical and biological engineering at the McCormick School of Engineering. His research interests and expertise range from fundamental flow physics to water purification to granular flows.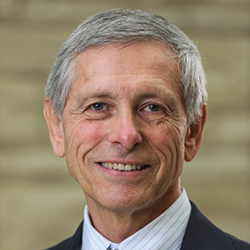 Previous honors for Lueptow include the AIChE's Dow Particle Processing Recognition Award, the Society of Automotive Engineers' Teetor Educational Award, and the William M. Carey Award from the National Fire Protection Research Foundation (twice). In 2008, Lueptow was named a fellow of the American Physical Society, Division of Fluid Dynamics, and in 2012 he was elected a fellow of the American Society of Mechanical Engineers.
A prolific author of academic papers, Lueptow also has six patents.
As senior associate dean he is the chief operating officer for academic and research operations at Northwestern Engineering. He also serves as a principal adviser to the dean and oversees faculty hiring, space assignments and utilization, and research centers.
The AIChE is a leading organization for chemical engineering professionals, with more than 60,000 members from more than 110 countries. Lueptow will be formally recognized in November at the AIChE annual meeting.