Research
Interdisciplinary Water Security Project Receives $3 Million NSF Grant
Northwestern researchers will collaborate to provide access to at-home water tests for lead, copper, and PFAS
An interdisciplinary Northwestern University team combining experts from the Center for Synthetic Biology, the Roberta Buffett Institute for Global Affairs, and the Institute for Policy Research (IPR) has been awarded a $3 million grant from the National Science Foundation (NSF) to expand their work making water insecurity challenges more visible and empowering citizens and communities to proactively test and understand the quality of their drinking water.
The project is part of NSF's Using the Rules of Life to Address Societal Challenges (URoL:ASC) program, which supports use-inspired research using convergent, multidisciplinary approaches across a broad array of living systems to tackle pressing societal concerns.
"The enormous opportunity to apply biological principles to solving the biggest problems of today is one we cannot take lightly," said Susan Marqusee, NSF assistant director for biological sciences. "These projects will use life to improve life, including for many underprivileged communities and groups."
The initiative will expand upon work that began within the Making Water Insecurity Visible Global Working Group housed in Northwestern Buffett that includes researchers from Northwestern Engineering, the Weinberg College of Arts and Sciences, the Pritzker School of Law, the IPR, and the Center for Synthetic Biology.
The working group, co-led by Julius Lucks, professor of chemical and biological engineering at Northwestern Engineering, and Sera Young, associate professor of anthropology and global health at Weinberg, aims to provide access to at-home water tests for lead, copper, and per- and polyfluoroalkyl substances (PFAS) – also known as "forever chemicals" – and to measure the tests' impact and use the knowledge gained to improve people's daily lives.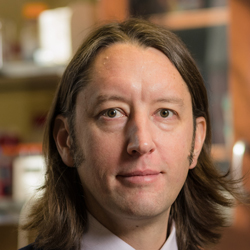 "This grant is timely, as water quality and climate change continue to pose challenges, while the dangers of lead and PFAS are becoming more well-known," said Lucks, codirector of the Center for Synthetic Biology. "This initiative brings together researchers from across the University to tackle major societal challenges related to sustainability and the environment. It's a great example of what we can do when we learn to speak each other's languages and work together."
More than simply measuring household water quality, the project aims to understand how such information can be used by public health officials, environmental justice advocates, and municipal utilities companies to allocate resources, ensure accountability, or prioritize infrastructure improvements. The investigators will also explore how private citizens use knowledge of water contamination to shape their attitudes and behaviors related to water.
"The end goal is to empower people to know if lead is in their water with as much ease as you can know if you have COVID-19 or are pregnant," said Young, a member of the Center for Synthetic Biology and an IPR fellow. "Information is power, and these tests make invisible issues visible. We hope eventually that citizen groups can use the tests in their daily activities to understand where the problems are in Chicago."
To distribute the test kits to 350 Chicago-area households, the researchers have consulted and intend to partner with area community groups (including Blacks in Green and Bridges//Puentes) and the City of Chicago. Using the at-home tests, residents will measure the levels of lead, copper and PFAS in their household water. Then, they will receive laboratory analysis results, along with water filters and resources for how to access further remediation, if needed.
The research is aligned with policy goals outlined by U.S. senators Tammy Duckworth and Dick Durbin to ensure clean and safe drinking water across Illinois and nationwide.
"This pilot study is the ideal example of how federal funding through the National Science Foundation puts essential and accessible information in the hands of households," Durbin said. "I had the opportunity to meet with members of this working group to discuss their research, as well as Blacks in Green. This partnership will result in invaluable progress in securing not just a better understanding of households' water quality, but overtime, trust that the water coming out of their tap is safe for their family."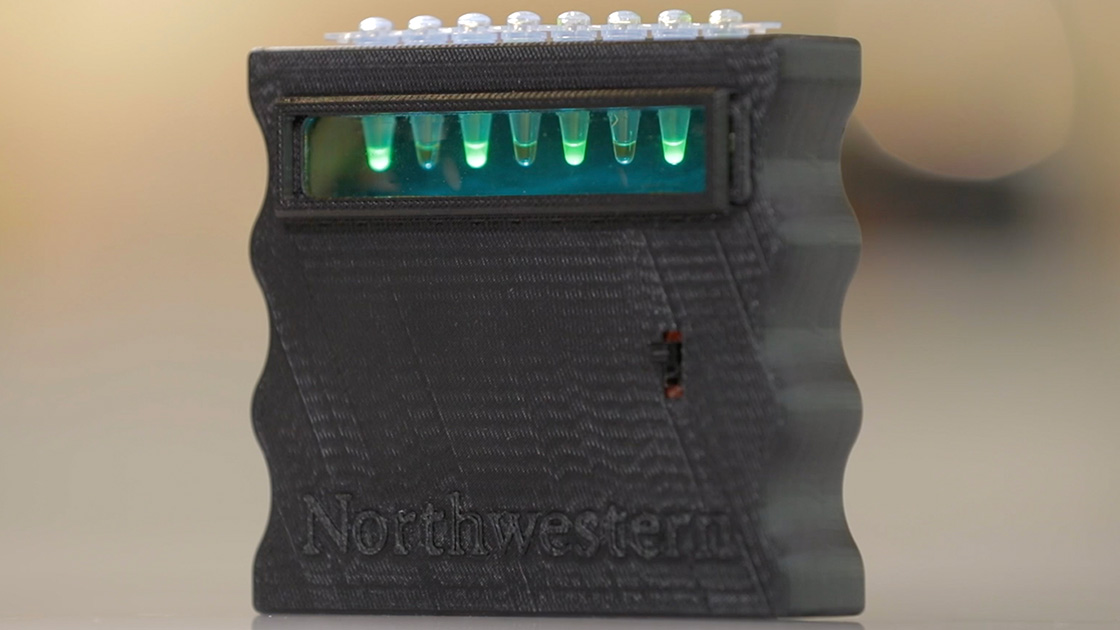 The copper and lead tests will be based on ROSALIND, the handheld platform developed by Lucks, which uses cell-free biosensors and a one-drop sample to provide an easy-to-read positive or negative result for water contaminants. The PFAS test will be developed at Northwestern and will combine ROSALIND with technologies developed in the lab of William Dichtel, professor of chemistry at Weinberg and a Northwestern Buffett Global Working Group member.
"Recent studies estimate that up to half of the drinking water in the United States is contaminated with PFAS, but the concentrations are so low that inexpensive detection is challenging," Dichtel said. "The project will combine recent Northwestern breakthroughs in PFAS capture and destruction and ROSALIND to achieve the sensitivity needed to address this longstanding challenge."
Other members of the research team are:
Editor's note: Northwestern startup company, Stemloop, is commercializing the ROSALIND technology. Lucks has financial interests in and affiliations with Stemloop. Northwestern University has financial interests (equity, royalties) in Stemloop.