Events
Susan Garcia Trieschmann Shares Story of Curiosity, Empathy, and Tenacity
Trieschmann spoke during an event hosted by the Personal Development StudioLab
A mistake altered Susan Garcia Trieschmann's life. Then that error eventually helped so many people.
Already a successful entrepreneur raising two children with her husband, Trieschmann went back to school and was on the verge of earning her bachelor's degree in 2008 from DePaul University. Needing to take two more courses before getting her diploma, Trieschmann meant to sign up for a real estate law class. Instead, Trieschmann clicked the wrong button and ended up in a restorative justice course and couldn't change her schedule.
For her final exam, Trieschmann was assigned to meet with incarcerated juveniles, and sat in a circle for 90 minutes with 18 youth offenders.
"It was a life-changing experience for me," Trieschmann said. "It was everything they taught us in restorative justice, which is listen from your heart and share from your soul. It was sitting and watching the talking piece go around and everyone sharing from the deepest part of them."
By the time she left that day, Trieschmann felt something deep inside her being that will never leave her. The experience fundamentally transformed Trieschmann, and eventually inspired her to leave her prospering catering business and start Curt's Café, a non-profit restaurant to employ and train formerly incarcerated young people.
Curt's Café has operated for 10 years in Evanston and has a second location in Highland Park, Illinois, employing more than 500 people in the process. 
"I'm not against money, I'm not against making money. I think making money and planning your career path is brilliant," Trieschmann said. "But I think to be able to look through two lanes – instead of one lane – and have your end-goal be that dollar sign, you might want to think a little differently and let the path go a little different way."
Trieschmann spoke during "Two Worlds of Wealth," the May 1 event hosted by the Personal Development StudioLab (and catered by Curt's Café). Following a January talk by author Arshay Cooper, Trieschmann's appearance was the second event of the StudioLab's lecture series.
"We couldn't pick a better speaker today," said Joseph Holtgreive, assistant dean for undergraduate engineering and StudioLab codirector, during his introductory remarks. "To let you know why we thought Susan would be such an excellent speaker is not only her professional success, but it's the way she's embodied curiosity through all of the work that she's done, her persistence, [and] her humility.
"When you talk to Susan you get this real strong sense of someone who's humble even in the face of all they've accomplished, but also this tenacity."
Indeed, Trieschmann's resolve comes through clearly. The founding of Curt's Café was just one step in her journey, which began with her five brothers and sisters being raised by their single mother.
With no college degrees, but determined to support their extended family, Trieschmann, her sister, and her brother-in-law founded the catering company Food For Thought. The company, which operated out of the group's small apartments and at one time employed everyone in Trieschmann's family, eventually grew into one of the top 25 caterers in Chicago valued at $28 million. 
If Trieschmann's journey had ended there, it would have been a success story. But Trieschmann detoured in creating Curt's Café, and after leaving that business in January, founded Save Small Shops, which plans to place formerly incarcerated people at individually owned businesses that would appear on a sortable directory available to shoppers.
"Go with your heart, go with your passion," Trieschmann said. "You'll never ever regret it."
About the Personal Development StudioLab 
Codirected by Holtgreive and Bruce Ankenman, professor of industrial engineering and management sciences, the Personal Development StudioLab is a space where students develop and practice their life approach, as they hone their craft and connect with themselves and others, to create a better future.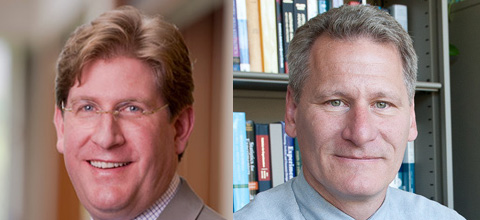 The StudioLab supports the McCormick School of Engineering and Northwestern University by providing students with courses, opportunities, resources, and events that increase awareness, understanding, and healthy responses to their physical, emotional, and cognitive experiences.  
Through this environment, the StudioLab helps transform students into mindful, curious, whole-brain thinkers who integrate all elements of their being to best clarify, frame, and address the important and complex problems of life in a meaningful and fulfilling way.