Events
2023 Symposium on Physical Genomics Highlights Future of Medicine
The event featured talks by five renowned scientists in the field
Late in the morning during the 2023 Symposium on Physical Genomics, Northwestern Engineering's Vadim Backman made a comment that summed up the day.
"It feels like the future of medicine," Backman said.
Backman made the remark during the daylong event, titled "Engineering Living Systems at the Interface of Biological, Physical, and Computational Sciences." Held April 21 at Wieboldt Hall on Northwestern's Chicago campus, the symposium is the flagship event of the Center for Physical Genomics and Engineering, which explores research in manipulating chromatin structure to treat disease and engineer living systems to overcome health and environmental challenges.
The symposium featured talks by five world-renowned scientists who explored the latest research in genome structure and dynamics, imaging and engineering, and more. The event included discussion of how viruses can be used to attack disease, advanced imaging that allows more detailed knowledge of nuclear structures, and modern methods of cellular engineering, all with the objective of creating new ways to combat illness.
Backman, Sachs Family Professor of Biomedical Engineering and Medicine and director of CPGE, said the goal of the symposium was to bring in people from different scientific areas to expose the audience to diverse thoughts and perspectives. Not only did Backman think that variety added to the event, but he views it as crucial for the discipline.
"That's one of the exciting aspects that I find so interesting in the field of physical genomics," Backman said. "It is an example of a convergent science, which makes it more difficult to pursue but so much more rewarding."
 Backman added that all five lecturers were true "disruptors" in their fields, and that included keynote speaker Clodagh O'Shea. The Wicklow Capital Chair and professor of molecular and cell biology at the Salk Institute of Biological Studies and an adjunct professor at the University of California San Diego, O'Shea delivered the talk "Cracking the Nuclear Codes: Finding Order in Chaos."
O'Shea – whose work blends virology, structural biology, biochemistry, cancer biology, multi-modal imaging, synthetic biology, and genomics – discussed her career and published work, and previewed forthcoming research on polymer interactions.
"A lot of people call me an interdisciplinary scientist these days, but mostly my graduate and post-doc advisers just [thought] I lack focus," O'Shea quipped to the attendees. "The overall goal of my research is really to identify critical growth regulatory targets, and to try and use this knowledge to impact and improve patients' lives. That would be all of our goals."
Other speakers at the symposium were:
Chuan He, John T. Wilson Distinguished Service Professor, Department of Chemistry and Department of Biochemistry and Molecular Biology, University of Chicago: "RNA Methylation in Chromatin Regulation"
Gary Karpen, Professor, Department of Cell and Molecular Biology, University of California, Berkeley: "New Insights into Formation, Organization and Function of Heterochromatin Condensates"
Carolyn Larabell, Professor and Vice Chair, Department of Anatomy, University of California, San Francisco: "Quantitative Imaging of Nuclear Organization"
Song Li, Chancellor's Professor and Chair, Department of Bioengineering, University of California, Los Angeles: "Mechano-Epigenetics for Cell Engineering"
Eric Perreault, associate dean for research administration and oversight at the McCormick School of Engineering, lauded CPGE for its productivity and its spirit of collaboration, creativity, and mentorship since it was founded in 2019.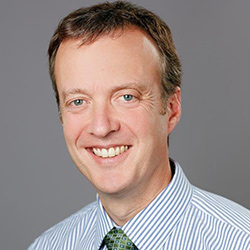 As Perreault alluded to, the CPGE launched the first Physical Genomics Training Program in the US in 2021. Supported by a T32 grant from the National Institutes of Health – the first physical genomics training grant – the program provides tuition and financial support for predoctoral projects that bridge molecular biology, bioengineering, physics, optics, chemistry, and medicine and promotes joint research between Northwestern Engineering and other Northwestern University schools.
The center is also supported by a major U54 grant from the National Cancer Institute, to create the Northwestern Center for Chromatin NanoImaging in Cancer.
"(CPGE) has grown from what was a productive laboratory to a real gem, one of the crown jewels in terms of centers, at Northwestern," Perreault said.