Events
Exploring the Future of Human-Computer Interaction and Design
Two-day conference celebrates the official launch of the Center for Human-Computer Interaction + Design
Through interdisciplinary research, community revitalization, and inclusive, interactive computing, the Center for Human-Computer Interaction + Design (HCI+D) — a collaboration between Northwestern Engineering and Northwestern's School of Communication — seeks to help shape the future of human and computer interaction at home, work, and play.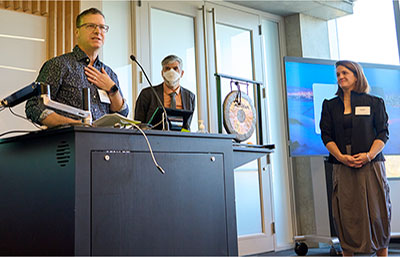 In celebration of the center's official launch, 130 faculty, students, alumni, and industry professionals gathered October 24-25 for the "Lambert Conference on the Future of Human-Computer Interaction + Design," a forum to explore new interaction paradigms to support a collaborative, sustainable, and equitable society. 


The event was hosted by HCI+D's three codirectors: Elizabeth Gerber, professor of mechanical engineering in the McCormick School of Engineering and professor of communication studies in the School of Communication; Darren Gergle, John G. Searle Professor of Communication Studies in the School of Communication; and Bryan Pardo, professor of computer science in McCormick and of radio, television, film in the School of Communication.
E. Patrick Johnson, dean of the School of Communication and Annenberg University Professor, and Julio M. Ottino, dean of Northwestern Engineering, welcomed the guests.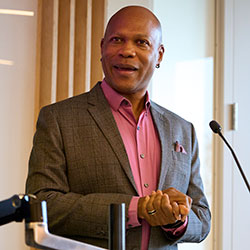 "My work is keenly focused on partnerships, creating new collaborations, augmenting existing ones, and finding paths to discovery where disciplines intersect," Johnson said. "The Center for Human-Computer Interaction + Design is a wonderful synthesis of this mission."
"We have an amazing collection of talent assembled here today in artificial intelligence, cognitive science, computer science, data visualization, design, information science, medicine, network science, and social science," Ottino said. "Collaborations have been the central component of our strategy."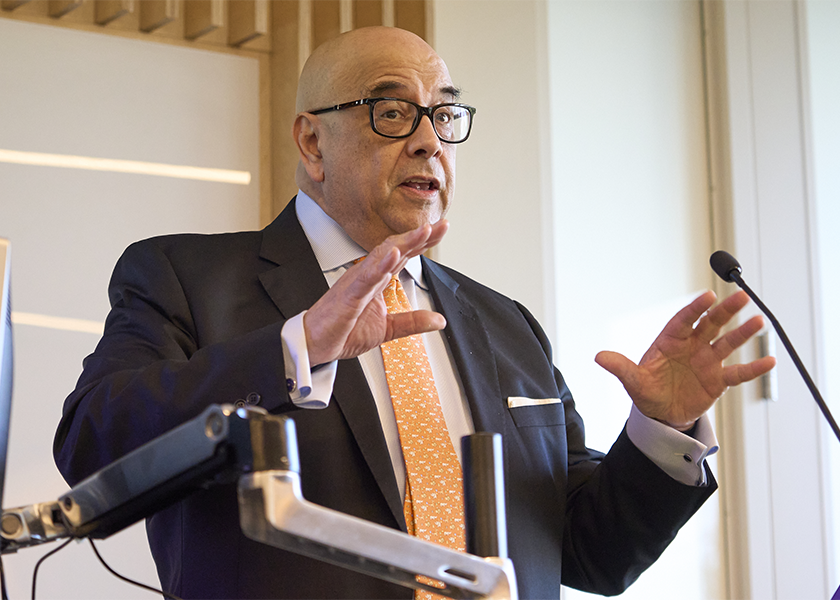 Community- and asset-based design
At the center of HCI+D is a motivation to support inclusivity and civil and democratic participation through technologies designed for children, older adults, people with diverse cognitive and physical abilities, and people from underrepresented and marginalized communities.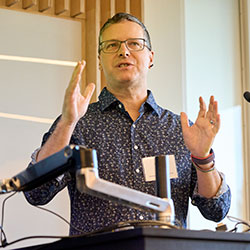 "We are focused on envisioning new ways to support more equitable distribution of technological benefits and capital, as well as to better support social and protest movements that yield change," Gergle said. "We are also developing research frameworks that allow us to address a number of historical biases and support the goal of broadening engagement and socioeconomic advancement within the field."
Sheena Erete, associate professor of information at the University of Maryland, College Park, and director of the Community Research and Design Collective, discussed her research codesigning sustainable, socio-cultural technologies, practices, and policies.
Erete is reimagining participatory design practices to counter the traditional power structure. One project focuses on safety and peaceful mediation by street outreach teams. Another codesigned an informal learning ecosystem to motivate STEM computational thinking, coding, and making among Black and Latina middle-school girls.
"My work proposes a shift in the way that we think about design orientation, from looking at individual problems to really focusing on ways that we can leverage design as a method to counter systems that drive those problems," said Erete, a graduate of Northwestern's joint Technology and Social Behavior PhD program in computer science and communication.
Brooke Foucault Wells, associate dean for research at the Northeastern University College of Art, Media, and Design, discussed her recent computational work examining the power of network counterpublics through the lens of youth participatory politics.
A graduate of the Media, Technology, and Society PhD program at Northwestern's School of Communication, Foucault Wells studies how marginalized communities unite online to agitate and advocate for social change. She demonstrated how analytical tools and approaches can reinforce false narratives that young people don't care about civic and political issues.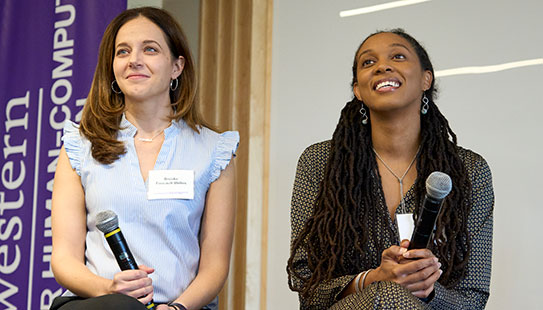 Matt Easterday, associate professor of learning sciences at Northwestern's School of Education and Social Policy and (by courtesy) of computer science at Northwestern Engineering, also examines the sphere of civic technology.
He leads the Participatory Budgeting (PB) Evanston group consulting the City of Evanston's participatory budgeting process for residents to pitch, develop, and vote on projects for the allocation of $3 million in American Rescue Plan Act funding.
"One of the root causes that we need to care about, that we can do something about, is how to live up to our responsibilities as engaged citizens," Easterday said.
Easterday challenged the conference participants to think about HCI, design, and technology in more expansive ways that can better achieve outcomes of democracy, justice, and development. Through PB Evanston, for instance, Easterday and his team found, to fully engage the community, the best technologies are face-to-face conversations and storytelling rather than digital marketing technologies.
"If we're committed to addressing the most important human needs, then we have to accept that we should use the technology that's most appropriate, and that might even mean studying when not to use technology," Easterday said.
HCI at work
Technology is fundamentally changing how teams interact and how and when work gets done. In the past decade, technology has radically changed the exchange of human, social, financial, and information capital.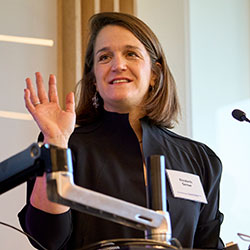 "At the center, we're committed to understanding and pioneering the science of collaborative computing, social computing, collective intelligence, and peer production in our multicultural organizations to understand both the unrealized potential and the hidden costs," Gerber said.
Elizabeth Churchill, director of user experience at Google and executive vice president at the Association of Computing Machinery (ACM), embraces an expansive definition of HCI, viewing it as multidisciplinary, collaborative, cooperative, and intentionally impactful. Drawing on her background in psychology, artificial intelligence, and cognitive science, she addressed the critical work of translation and transformation in HCI that changes cultures of production as well as people's experiences of tools, platforms, and services.
"My business is about making a work environment that is very positive towards HCI and UX," Churchill said. "Culture of production is our area of study. It is our area of experimentation, testing, reflection, and sharing. My goal is influencing the design of interactive systems and the adoption, implementation, and institutionalization of the theoretical findings or empirical findings from deep research into design practice."
Noshir Contractor, Jane S. and William J. White Professor of Behavioral Sciences in the McCormick School of Engineering, the School of Communication, and the Kellogg School of Management, investigates how social and knowledge networks form and perform in different contexts, including the corporate enterprise, scientific communities, healthcare, and space travel.
He also examines how algorithmically infused workplaces can influence and impact issues such as team conflict, team assembly, diversity and inclusion, succession planning, and post-merger integration.
Contractor discussed how he and his team leverage people analytics and relational analytics to mine digital trace data generated by individuals in their everyday transactions — likes, @mentions, followers, email, and file sharing — and model the data to examine leadership, trust, and advice networks. Contractor demonstrated how digital trace data could be used to accurately predict how employees would respond to survey questions.
Contractor also presented research on how algorithms can be used to assemble teams and to influence self-assembly decision-making. His group is working with NASA to build computational models to predict the performance of a six-person space crew confined in a small environment during a three-year mission to Mars.
Mike Massimi, senior principal researcher at Slack, shared data related to a series of surveys of desk or knowledge workers that he has conducted throughout the pandemic with the Future Forum, a consortium of academic and industry professionals building flexible, inclusive, and connected workplaces.
Massimi discussed digital-first and people-centric ways to reimagine — not retrofit — work and a shift into a work dynamic whereby leaders focus on outcomes and trust their employees' productivity through policies including flexibility in scheduling and where work is done, core team working hours, focus time, maximizing productivity during meetings, team or department-level agreements, and transparency in decision-making.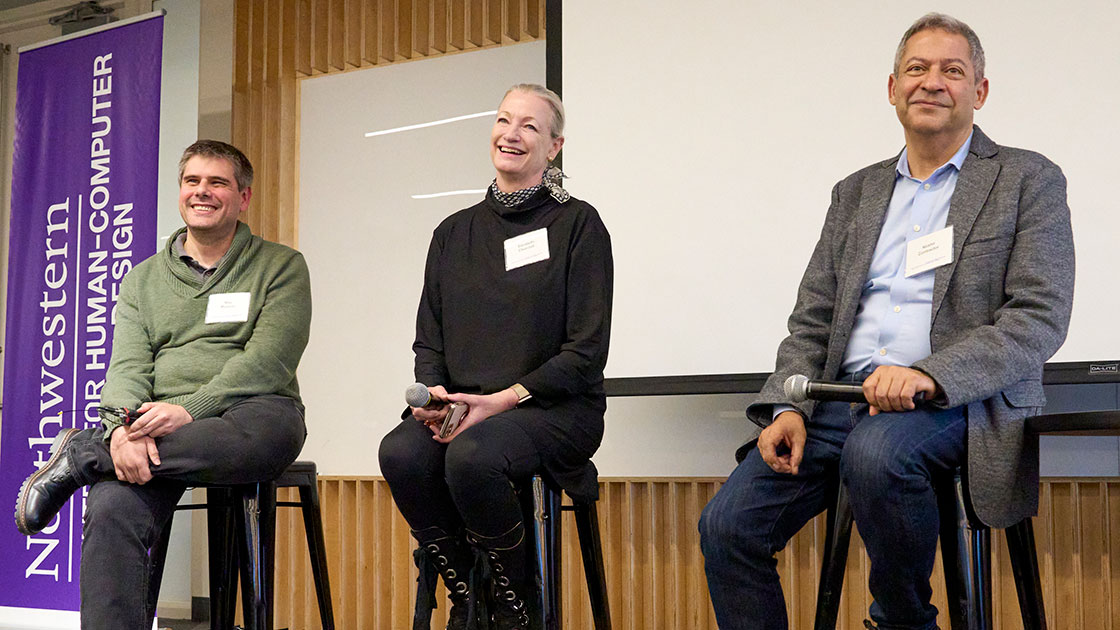 Data Visualization
Data-based evidence is in high demand. Drawing on fields including computer science, design, perception, statistical cognition, and reasoning, HCI+D researchers are studying how data analysis can be more powerful, and data communication clearer, when those data are depicted by well-designed visualizations.
Vidya Setlur (PhD '05), director of research at Tableau/Salesforce, discussed data visualization as a form of visual communication that allows both authors and audience to assign meaning and tell stories about data. Increasingly, that meaning is conveyed with help from AI.
"Natural language processing and AI techniques have really found a way in bridging that machine language and human language in the context of data analysis," Setlur said. "By balancing perception and semantics, we can develop new algorithms for having these deeper, clearer and better conversations with data."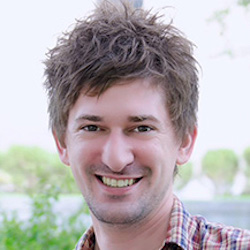 Matthew Kay, assistant professor of computer science at Northwestern Engineering and of communication in Northwestern's School of Communication and codirector of the Midwest Uncertainty Collective research lab, discussed designing uncertainty visualizations systematically and whether uncertain visualizations should be de-biased.
Kay is leading a panel study using different uncertainty visualizations during the midterm elections to investigate whether participants understand the forecast data, how the data is misinterpreted, and how well participants make those judgments about the quality of the forecasts.
Kay also explored the idea of intentional uncertainty through data visualization. Presidential Plinko, a tool his group developed during the 2020 presidential election, helps visualize how uncertainty affects polling data.
"We're very good at ignoring uncertainty, but this is especially true when we provide bad uncertainty representation," Kay said. "We should be thinking about how we communicate uncertainty more effectively in this context so people can reason about it well."
AI, Healthcare, and Creativity
Other sessions at the conference tackled HCI+D's growing role in areas including artificial intelligence, healthcare and well-being, and creativity. Session speakers included:
Human-Centered Artificial Intelligence
James Landay, Professor of Computer Science and the Anand Rajaraman and Venky Harinarayan Professor, School of Engineering, Stanford University; Cofounder and Associate Director, Stanford Institute for Human-Centered Artificial Intelligence (HAI)
David Ayman Shamma, Staff Research Scientist, Toyota Research Institute
Brent Hecht, Associate Professor of Computer Science and Communication Studies, Northwestern University; Director of Applied Science, Microsoft's Experiences and Devices division
Healthcare and Well-being
Creativity
Bryan Pardo, Professor of Computer Science and Radio, Television, and Film; Codirector, Center for Human-Computer Interaction + Design, Northwestern University
Jodi Forlizzi, Herbert A. Simon Professor in Computer Science and Human-Computer Interaction and Associate Dean for Diversity, Equity, and Inclusion, School of Computer Science, Carnegie Mellon University
Emőke-Ágnes Horvát, Assistant Professor, Communication Studies, Northwestern University
Duri Long, Assistant Professor, Communication Studies, Northwestern University
Acknowledgements
"It takes a village to launch a center," Gerber said during a toast at the Monday evening reception. "We are standing on the shoulders of giants. So much has been done at Northwestern that we are building upon."
HCI+D is supported by a recent $5 million gift from Patricia Bao (PhD '13). Gergle served as Bao's dissertation adviser and Gerber was a member of her dissertation committee when Bao was a TSB PhD student.
The Lambert Conference is sponsored by the Lambert Family Conference Gift, funded by the generous donation of Bill and Sheila Lambert. This is the first Lambert Conference in partnership with Northwestern Engineering.