Honors and Awards
Scott Wins 2022 Biomedical Engineering Society Mid-Career Award
The award recognizes significant leadership and achievements in numerous areas of the field
Northwestern Engineering's Evan Scott has been selected as the 2022 Biomedical Engineering Society (BMES) Mid-Career Award winner. 
Scott, the Kay Davis Professor and Associate Professor of Biomedical Engineering at the McCormick School of Engineering, investigates the basic inflammatory and immunological processes contributing to diverse pathologies and strives to develop targeted therapeutic approaches using engineering- and materials-based strategies.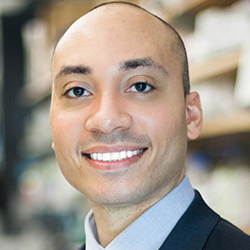 The BMES Mid-Career Award recognizes a member in good standing who has demonstrated significant leadership and achievements in biomedical engineering. These achievements may be in scholarship, education, mentorship, leadership, or the practice of biomedical engineering.
Founded in 1968, BMES promotes a collaborative and inclusive community to advance human health through education, discovery, and translation. Its vision is to create health and wellness through engineering innovation.
As the winner of the award, Scott will present a lecture about his work during the 2022 BMES Annual Meeting in October.
By engineering novel nanoscale drug carriers to transport therapeutics within the body, Scott has spent much of his career solving medical problems by improving the efficacy of drugs and influencing the immune system.  As an "immunoengineer," Scott employs these tiny nanoparticles to combat all kinds of diseases, including cancer, infectious disease, glaucoma, and type 1 diabetes.
Along with Guillermo Ameer, Daniel Hale Williams Professor of Biomedical Engineering and Surgery, Scott developed a technique for using nanocarriers to re-engineer the commonly used immunosuppressant drug rapamycin to treat type 1 diabetes, potentially limiting or eliminating the need for daily insulin shots.
Scott is looking to further realize the potential of these rapamycin-loaded nanocarriers by additionally investigating their applications in pain management, endometriosis, and transplant tolerance. He is currently exploring avenues for clinical translation of this technology in the form of a startup company.  In the future, Scott intends to study the mechanisms behind how nanocarriers target and stimulate cells of the immune system to discover new ways of controlling immune responses in the treatment of disease.
Read more
Scott and his work with nanocarriers were profiled in the Spring 2022 edition of Northwestern Engineering.
"We look at the biology first and ask, 'What is the problem and how do we engineer a nanoparticle to address that?'" Scott said. "Then we try to understand how the immune system responds to that particle."