Faculty Directory

Evan Scott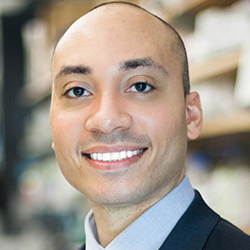 Assistant Professor of Biomedical Engineering
Contact
2145 Sheridan Road
Silverman Hall 4613
Evanston, IL 60208
847-467-6719
Email

Evan Scott
Website
---
Departments
Affiliations
PhD Program in Interdisciplinary Biological Sciences
---
Education
Ph.D., Biomedical Engineering, Washington University in St. Louis, Saint Louis, MO
Sc.B. with Honors, Biomedical Engineering, Brown University, Providence, RI
Research Interests
The overall research objective of my laboratory is to investigate the basic inflammatory and immunological processes contributing to diverse pathologies and develop targeted therapeutic approaches using engineering- and materials-based strategies. More specifically, we aim to achieve controlled elicitation or suppression of the immune system via the rational design of delivery systems that target key inflammatory cell populations. We approach this by synthesizing, assembling and testing in vivo a range of nanostructures loaded with strategically selected combinations of immunostimulants.  By validating our immunostimulatory nanomaterials in mouse models for heart disease, melanoma, Chagas disease and hemophagocytic lymphohistiocytosis (HLH) we intend to demonstrate therapeutic immunomodulation based on the rational design of synthetic materials.  
Selected Publications
Link to Google Scholar Profile

[1]     Karabin NB, Allen S, Kwon H, Firlar E, Wang Q, Shokuhfar T, Shull K, Scott EA, Sustained Micellar Delivery via Inducible Transitions in Nanostructure Morphology. Nat. Commun. In Press.

[2]     Bobbala S, Allen SD, Scott EA. Flash nanoprecipitation permits versatile assembly and loading of polymeric bicontinuous cubic nanospheres. Nanoscale. 2018.

[3]     Allen S, Osorio O, Liu YG, Scott EA. Facile assembly and loading of theranostic polymersomes via multi-impingement flash nanoprecipitation. J Control Release. 2017; 262:91-103.

[4]     Du F, Liu YG, Scott EA. Immunotheranostic Polymersomes Modularly Assembled from Tetrablock and Diblock Copolymers with Oxidation-Responsive Fluorescence. Cellular and Molecular Bioengineering. (2017). doi:10.1007/s12195-017-0486-7.

This article is part of the 2017 Young Innovators Issue.

[5]     Scott EA, Karabin NB, Augsornworawat P. Overcoming immune dysregulation with immunoengineered nanobiomaterials. Annu. Rev. Biomed. Eng. 2017 19:1.

[6]     Dowling DJ†‡, Scott EA†‡, Scheid A, Bergelson I, Joshi S, Pietrasanta C, Brightman S, Sanchez-Schmitz G, Van Haren SD, Ninković J, Kats D, Guiducci C, de Titta A, Bonner DK, Hirosue S, Swartz MA, Hubbell‡, JA, Levy O‡. Toll-like receptor 8 agonist nanoparticles mimic immunomodulating effects of the live BCG vaccine and enhance neonatal innate and adaptive immune responses, J Allergy Clin Immunol. 2017 Mar 14. pii: S0091-6749(17)30242-7.

†Contributed equally to this work.  ‡Corresponding authors.

This article was highlighted by the National Institute of Allergy and Infectious Diseases (NIAID): https://www.niaid.nih.gov/news-events/new-adjuvant-permits-early-pneumococcal-immunization-newborn-monkeys

[7]     Zhang S, DeBerge M, Yeap XY, Naresh NK, Wang K, Jiang Z, Wilcox JE, White SM, Morrow JP, Burridge PW, Procissi D, Scott EA, Frazier W, Thorp EB. Acute CD47 blockade during ischemic myocardial reperfusion enhances phagocytosis-associated cardiac repair. JACC: Basic to Translational Science. 2017, 2 (4) 386-397; DOI: 10.1016/j.jacbts.2017.03.013

[8]     Yi S, Liu Y, Allen S, Liu YG, Li X, Ouyang B, Augsornworawat P, Thorp EB, Scott EA. Tailoring Nanostructure Morphology for Enhanced Targeting of Dendritic Cells in Atherosclerosis. ACS Nano. 2016;10(12):11290-303.

[9]     Allen S, Liu YG, Scott EA. Engineering nanomaterials to address cell-mediated inflammation in atherosclerosis. Regenerative Engineering and Translational Medicine. 2016 March 03; :1-14.

[10]   Vasdekis AE, Scott EA, S. Roke, Hubbell JA, Psaltis D. Vesicle photonics, Annual Review of Materials Research. 2013;43: 283-305.

[11]   Stano A, Scott EA, Dane K, Swartz MA, Hubbell JA. Tunable T cell immunity towards a protein antigen using polymersomes vs. solid-core nanoparticles, Biomaterials. 2013 Jun;34(17):4339-46.

[12]   Vasdekis AE†, Scott EA†, Psaltis D, Hubbell JA. Precision cytosolic delivery based on optofluidic polymersome rupture, ACS Nano. 2012 Sep 25;6(9):7850-7.

          †Contributed equally to this work.

[13]   Scott EA, Stano A, Gillard M, Maio-Liu AC, Swartz MA, Hubbell JA. Dendritic cell activation and T cell priming with adjuvant and antigen-loaded oxidation-sensitive polymersomes, Biomaterials.2012 Sep;33(26):6211-9.

[14]   Ovod V, Scott EA, Flake MM, Parker SR, Bateman RJ, Elbert DL. Exposure of the lysine in the gamma chain dodecapeptide of human fibrinogen is not enhanced by adsorption to poly(ethylene terephthalate) as measured by biotinylation and mass spectrometry, J. Biomed Mater Res A, 2012 Mar;100(3):622-31.

[15]   Scott EA, Nichols MD, Willits RK, Elbert DL. Modular scaffolds assembled around living cells using poly(ethylene glycol) microspheres with macroporation via a non-cytotoxic porogen. Acta Biomater. 2010 Jan;6(1):29-38. 

[16]   Nichols MD, Scott EA, Elbert DL.  Factors affecting size and swelling of poly(ethylene glycol) microspheres formed in aqueous sodium sulfate solutions without surfactants. Biomaterials. 2009 Oct;30(29):5283-91.

[17]   Chang SH, Custer PL,Mohadjer Y, Scott E. Use of Lorenz® titanium implants in orbital fracture repair. Ophthal Plast Reconstr Surg. 2009 Mar-Apr;25(2):119-22.

[18]   Scott EA, Nichols MD, Cordova LH, George BJ, Jun YS, Elbert DL. Protein adsorption and cell adhesion on nanoscale bioactive coatings formed from poly(ethylene glycol) and albumin microgels. Biomaterials. 2008 Dec;29(34):4481-93.

[19]   Elbert DL, Mawuenyega K, Scott EA, Bateman RJ. Stable isotope labeling tandem mass spectrometry (SILT): Integration with peptide identification and extension to data-dependent scans. J. Proteome Res. 2008 Sep 6;7 (10), pp 4546–4556.

[20]   Wacker BK, Alford SK, Scott EA, Das Thakur M, Longmore GD, Elbert DL. Endothelial cell migration on RGD-peptide containing PEG hydrogels in the presence of sphingosine 1-phosphate. Biophys J. 2008 Jan 1;94(1):273-85.

[21]   Scott EA, Elbert DL. Mass spectrometric mapping of fibrinogen conformations at poly(ethylene terephthalate) interfaces. Biomaterials. 2007 Sep;28(27):3904-17.

[22]   Wacker BK, Scott EA, Hughes SK, Elbert DL. Delivery of sphingosine 1-phosphate from poly(ethylene glycol) hydrogels. Biomacromolecules. 2006 Apr; 7(4):1335-1343.

[23]   Kim JK, Scott EA, Elbert DL. Proteomic analysis of protein adsorption: Serum amyloid P adsorbs to materials and promotes leukocyte adhesion. J. Biomed Mater Res A 2005 Oct 1;75(1):199-209.

[24]   Godbee J, Cheifetz PM, Scott EA, Bubbers EJ, Mathiowitz E. In vitro and in vivo analysis of antide delivery from multi-phase microspheres fabricated via solvent removal. Isr J. Chem. 2005 Sep;45(4):445-456.

[25]   Godbee J, Pattamunuch P, Scott E, Mathiowitz E. Degradation of multi-phase microspheres fabricated via solvent removal. J. Microencapsul. 21(3) 2004: 331-352.

[26]   Godbee J, Scott E, Pattamunuch P, Chen S, Mathiowitz E. Role of solvent/non-solvent ratio on microsphere formation using the solvent removal method. J. Microencapsul. 21(2) 2004:151-160.
Patents
Elbert DL, Scott EA, Nichols MD. "Hydrogel Microparticle Formation in Aqueous Solvent for Biomedical Applications", US provisional patent application 61/089310 (2008).

Elbert DL, Scott EA, Kaneda M , Wacker BK, Alford SK. "Biomaterials Having Nanoscale Layers and Coatings", International Application Number PCT/US2007/063142 filed Mar. 2, 2007.