Undergraduate
Recent Graduate Ruiqi Pan Named Co-op Student of the Year
Pan worked for medical device developer Hollister Incorporated
Ruiqi Pan completed her co-op with Hollister Incorporated, a medical device developer based in Libertyville, Illinois. She was a computer science major at Northwestern Engineering before graduating this spring, and will attend Carnegie Mellon University in the fall. During her first four months at Hollister, Pan compiled, organized, and analyzed three years' worth of studies, which was impressive due to the complexity of the project.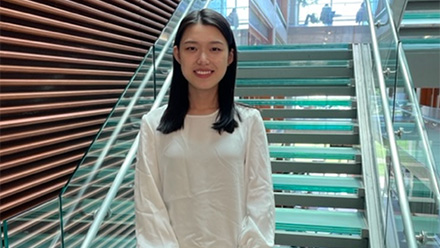 For her accomplishments, Pan was selected as the McCormick School of Engineering's 2022 Walter P. Murphy Cooperative Engineering Education Student of the Year. Pan visited with Engineering Career Development to discuss the benefits of doing a co-op, what she learned about herself, her goals during her experience, and what she plans on doing next.
What has co-op meant to you?
It was a good opportunity to see what my career path would look like. Given my background, I'm always interested in data science. Being in a data analyst co-op helped me see what the role actually means and how to be responsible. I think that part is really important. Also, I connected with very amazing coworkers and supervisors. They were always really nice to me and they always taught me to keep learning and keep innovating. I think that is an important spirit to carry on.  
Overall, the nine months were like a dream. It was really, really good. 
Why did you decide to do a co-op?
During my first year, I took an intro to engineering class because I wasn't sure what major I wanted to pursue. In that class, the professor took in some co-op students and introduced co-op. That was when I learned about the program and I thought I would always keep that option open. In my junior year, I attended the ECD Career Fair. I interviewed with Hollister, and I really liked the people I would be working with. I said I should just go for it and I took the job.
What did you learn about yourself during your co-op experience?
My strengths and areas where I need to improve. I realized I would always be learning. I also learned there is so much than just learning in class and then applying the knowledge. It's really different in real-life settings. I learned more about how to adapt to the context. I also learned different ways to present ideas and projects to the company or other audiences in different ways they can understand.
How has Engineering Career Development helped you in this process?
ECD helped a lot. When it came to doing a co-op, I met with the advisers to discuss whether it was possible to do it as an international student and the logistics I'd need to worry about. I also asked ECD to help me decide which quarters would be best for me and what I needed to consider doing the co-op. I guess I just constantly harassed ECD a lot. They gave me a lot of good advice that helped make the experience very smooth.
What's next?
I applied for a full-time job, but I decided I still wanted to learn a bit more. I will be going to Carnegie Mellon University to pursue a master's degree in data science. I'll definitely be preparing for recruiting as well—trying to get an internship. Other than that, I just want to go out with my friends. We are thinking of going to the Grand Canyon, but we need to practice our driving.