Undergraduate
McCormick Student Team Wins DOE Solar Decathlon Design Challenge
The NUHome concept is sustainable and carbon-neutral
An interdisciplinary team of Northwestern Engineering students called engiNUity was named the 2021 Design Challenge Grand Winner (Residential Divisions) in the US Department of Energy (DOE) Solar Decathlon.
The Solar Decathlon is a collegiate competition that challenges the next generation of building professionals to design and construct high-performance, low-carbon buildings powered by renewable energy, while promoting student innovation, STEM education, and workforce development opportunities in the buildings industry. The competition included 72 teams from 12 countries, and engiNUity was one of 63 finalists.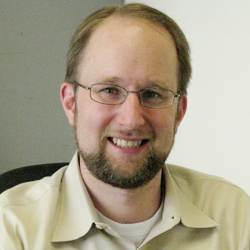 The winning NUHome concept, created by a group of 12 undergraduates at the McCormick School of Engineering, includes efficient construction, a future-proof design, and natural light. The sustainable design, which was first named the winner in the Urban Single-Family Housing division, is carbon-neutral and reduces consumption.
"The validation of the work we had put in sparked a new pride in the completeness of our design and was a great burst of encouragement to compete for the grand award," said Andrea Lin, the project manager and design leader. "When we were announced as Residential Grand Winner, it just felt unreal."
The concept home was designed for a narrow 25 x 125 ft. parcel of land in Chicago's crowded Lakeview neighborhood. The area's tight constraints make solar access difficult, and Chicago's harsh weather conditions add further challenges to balance affordable energy production and needs. At the same time, the home is near multiple rapid-transit options and the neighborhood is friendly to bicyclists.
Crucially, the structure's solar roof and efficient heating, ventilation, and air conditioning system give the building an Energy Use Intensity rating of 12 and Home Energy Rating System score of -22.
"Northwestern's Solar Decathlon team designed a Chicago neighborhood home that seamlessly balances high energy and water efficiency, including maximization of solar energy potential, with a flexible, highly livable, and human-focused interior design," said David Corr, clinical professor of civil and environmental engineering, who served as the team's faculty adviser. "Their success in this competition is a testament to their hard work, dedication, and their preparation in a spectrum of McCormick programs, most notably civil and environmental engineering, and the minor in architectural engineering and design."
The 2,326-square foot three-story building has a basic box shape and south-sloping roof to maximize the solar potential. The roof itself optimizes sun angles to minimize summer heat and maximize it in the winter. Building materials were chosen to be durable but easy to assemble, minimizing construction time.
A fully contained living unit on the first floor provides a space to extend family-housing, quarantine housing, or a space for owners as they age. This space, designed to be an accessory dwelling unit (ADU), prepares the home for the increased density of urban living and diversifies the housing types in the area.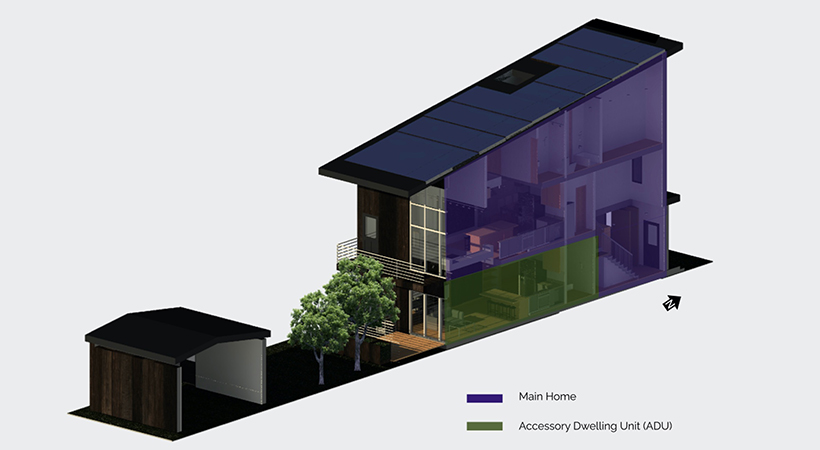 Lin said the team's design approach was to create a sustainable home that's also attainable. The design of NUHome, she said, can help pay for itself through the rentable first-floor ADU as well as having decreased annual living expenses with more efficient systems. 
On an annual basis, a home this size in Chicago would cost $6,092 per year. NUHome would run for $3,388 because of its energy efficiency.
"NUHome aimed to provide an approach to single-family homes that is more resilient and adaptable than current residences," Lin said.
McCormick's team members come from the civil and environmental engineering, materials science and engineering, engineering sciences and applied mathematics, and mechanical engineering departments. They are:
Andrea Lin (CEE)
Luc Almony (CEE)
Christopher Banks (CEE)
Marc Donelan (CEE)
Ellie Fulkerson (CEE)
Saahir Ganti-Agrawal (MSE/ESAM)
Grace Hochberg (CEE)
Julia Kaminski (Sustainable Systems Design Engineering)
Taylor Miyamoto-Kim (ME)
Devin Shen (CEE)
Robert Szymczyk (CEE)
Bill Yen (CEE)
"Our fight against the climate crisis is a lot like a decathlon, with all kinds of individual contests we need to get through — and we can't win unless we do well in them all," US Secretary of Energy Jennifer Granholm said. "Today's decathletes are tomorrow's architects and engineers who are going to help us achieve President Biden's ambitious and achievable clean energy goals and build our net-zero future. I can't wait to see their big ideas come to life in neighborhoods across the country and around the world."
The engiNUity team will showcase their concept on Friday, April 23 at 4 p.m. via Zoom. For more information and the Zoom link, contact CEE program assistant Tierney Acott.