Events
ETOPiA Zoom Play Reflects Present-Day Research Realities
On April 9, two original one-act plays premiered online
The COVID-19 pandemic has shifted so much of life to virtual meetings. Yet at the same time, important work has continued, and some has even been re-directed to fight the coronavirus.
The most recent Engineering Transdisciplinary Project in the Arts (ETOPiA) event reflected those realities.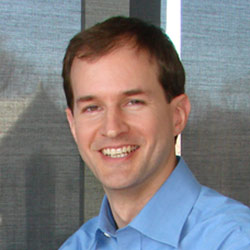 On April 9, ETOPiA presented "Science Under a Pandemic," two original one-act plays, written by Northwestern alumnae and directed by John Gawlik, that examine the challenges of research under a pandemic. The plays, commissioned to be performed via a Zoom-like web interface, explore original humanizing perspectives on research directly or indirectly impacted by a pandemic outbreak.
"We didn't want theater-based science outreach to stop because of social distancing, so I consulted with John Gawlik, and we tried to determine what form of live theater could still be performed," said Matthew Grayson, professor of electrical and computer engineering who was also the show's executive producer. "We decided that the Zoom format could encompass all the drama we need to tell compelling stories, and John knew exactly which playwrights to reach out to." 
This online format helped expand ETOPiA's outreach to 280 viewers in a single performance, with registrants from California to Boston, and as far away as Brazil and Pakistan.
Pedram Khalili, associate professor of electrical and computer engineering served as co-producer, while Josiah Hester, assistant professor of electrical and computer engineering and computer science, was co-publicity.
The first play to premiere was "Breaking Point." Written by Jenni Lamb, the play tells the story of Sky (Ashlyn Lozano), an ambitious senior in engineering trapped overseas at Cambridge University who has gathered her parents, professors, and best friend on Zoom for her senior presentation. Just like Sir Isaac Newton during the Great Plague of London, she pushes through the pandemic. Her goal: putting out brilliant, world-changing work that might land her a job at NASA. 
But the personal challenges of quarantine push her to the edge, and she begins to understand the difference between the mythology of Newton's work and the reality.
"Stress is something we're all under," Lamb said. "What engineers do in testing materials is stress them to the breaking point. That felt very real for me, and I think it resonates with a lot of other people that the last year has been, 'how much more can we possibly take?'"
The next performance was "The Little World," a one-woman play by Jennifer Rumberger. Elizabeth (Allison Cain) is an immunologist and clinical trial coordinator working on trials for the mRNA vaccine, and she does her best to inform her patients with science and humor.
While trying to treat those stricken with the coronavirus, Elizabeth struggles with the consequences of the disease and how it affects her outlook on life and family.
"The major goals for me with this play were to delve into the incredible work scientists have done to save us all from this virus, to investigate the challenges scientists have faced in a political environment that has become enveloped in fear and led to the proliferation of conspiracy theories, and to acknowledge the feelings of massive grief and loss that will be the lasting legacy of COVID," Rumberger said. "I felt the best way to investigate these things was to delve deeply into the human life of a scientist — someone who is struggling with the terrible challenges of this moment at the same time as she plays a major role in the race against the virus."  
Both Lamb and Rumberger had help from Northwestern University faculty and students to accurately portray the science in their productions.
Grayson and Kathleen Stair, professor of instruction in materials science and engineering, and education and outreach director of the Materials Research Science and Engineering Center, connected the playwrights with scientific advisers. Marisa Bisram, a PhD student in mechanical engineering, volunteered her research as a topic for the senior project in "Breaking Point." Jiaxing Huang, professor of materials science and engineering, postdoctoral researcher Ana Carolina Mazrin De Moraes, PhD candidate Julia Downing and student Simona Fine worked with Lamb. Michael Jewett, professor of chemical and biological engineering, and Ariel Thames, an MD-PhD candidate in the medical scientist training program (MSTP) at Northwestern University's Feinberg School of Medicine, consulted on "The Little World."
"It was a lot of fun," Stair said. "It's very rewarding to see this come to fruition and see how much it reflects what we're really experiencing and what I see the students experiencing when they're going through their real-time senior presentations." 
This event was supported by Northwestern University through the Barry and Mary Ann MacLean Fund for Art & Engineering, the James F. and Mary L. Gibbons Art and Technology Fund, International Institute for Nanotechnology, the Materials Research Center NSF-MRSEC grant, and the Department of Electrical and Computer Engineering, as well as the National Science Foundation.