Honors and Awards
Brown, Jewett Named to National Academy of Inventors
Northwestern's O'Halloran also among 175 new fellows in the 2020 class
Northwestern Engineering professors Daniel Brown and Michael Jewett, along with the University's Thomas O'Halloran, have been named 2020 fellows of the National Academy of Inventors (NAI). 
NAI fellow status is the highest professional distinction awarded solely to academic inventors. The program recognizes academic inventors who have demonstrated a "spirit of innovation" by creating or facilitating inventions that have made a tangible impact on quality of life, economic development and social welfare.
Brown, Jewett, and O'Halloran are among 175 new fellows in the 2020 class, which represents 115 research universities and governmental and non-profit institutes worldwide. The 2020 fellow class collectively holds more than 4,700 U.S. government-issued patents.
This year's fellows are scheduled to be inducted in June 2021 at the NAI's 10th annual meeting in Tampa, Florida. The National Academy of Inventors was founded in 2010 at the University of South Florida to recognize and encourage inventors with patents issued from the U.S. Patent and Trademark Office, enhance visibility of academic technology and innovation, encourage the disclosure of intellectual property, educate and mentor innovative students, and translate the inventions of its members to benefit society. The NAI publishes the multidisciplinary journal, Technology & Innovation.
Daniel Brown
Brown is a clinical professor at the Segal Design Institute and a manufacturing and design engineering professor in the McCormick School of Engineering. He is the director of the Ford Prototyping Lab. Brown's academic work has been focused on the relationship between design strategies and competitive advantage in the marketplace.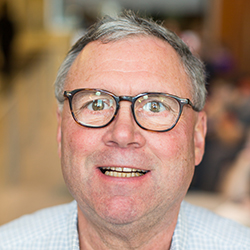 Brown is perhaps best known for his creation of the bionic wrench, a hybrid of an adjustable wrench that engages all six sides of the fasteners by squeezing the handles like a pair of pliers. The design of the wrench multiplies the hand's gripping force to allow users to more easily tighten and loosen bolts without slipping and damaging the bolt. The Bionic Wrench has won more than 10 international design competitions and sold more than three million units since launching in 2006.
More recently in response to the COVID-19 PPE shortage, Brown teamed up with his son Dan Brown Jr. to create a comfortable, affordable face shield that users can fasten to a visor or baseball hat. The design, called "InstaShield," has sold over one million units this year and recently received the Chicago Innovation Award for its innovative design and business model.
"I am honored to receive this recognition from the Academy, and I want to thank all my references and supporters who have made this possible," Brown said. "Although I have received many awards as an inventor, I will always hold a special place in my heart for the honor of becoming an NAI fellow, as it is my first inventor recognition from my academic life."
Brown holds more than 30 U.S. utility patents and has received numerous international design and innovation awards. He is the founder and president of LoggerHead Tools, a company that creates innovative hand tools; co-founder of InstaShield USA; and a principal at Consul-Tech Concepts, his design and engineering consultancy.
Michael Jewett
Jewett is the Charles Deering McCormick Professor of Teaching Excellence, the Walter P. Murphy Professor of Chemical and Biological Engineering in the McCormick School of Engineering, and the director of the Center for Synthetic Biology. 
"I am humbled and honored to be named a fellow of the National Academy of Inventors," Jewett said. "This celebrates numerous advances, creative innovations and inventions from my team. This acknowledgment also recognizes how new synthetic biology tools are maturing the bioeconomy to address societal needs in manufacturing, diagnostics and education."
He is distinguished for his contributions to the field of engineering, particularly for his use of synthetic biology and cell-free systems to enable new applications that could potentially transform the bioeconomy. His work has implications in point-of-care manufacturing of vaccines and therapeutics, sustainability, functional materials, development of equitable K-12 experiential learning kits, and detection of water contaminants for global health. 
Jewett's interests are in cell-free synthetic biology, protein synthesis, therapeutics, and engineered ribosomes. He is an Institute Fellow at the Argonne Institute for Science and Engineering, a member of Northwestern's Chemistry of Life Processes Institute (CLP) and has founded several companies, including SwiftScale Biologics, Stemloop Inc., Design Pharmaceuticals, and Pearl Bio, that put his research to practical use.
Jewett credits his ability to flourish as an inventor to the culture at Northwestern and the Innovation and New Ventures Office (INVO) team.
"The remarkable culture of innovation enabled by Dr. Alicia Löffler and her team at INVO has been transformative for Northwestern, leading to numerous new ventures and commercial opportunities," he said.
Thomas O'Halloran
O'Halloran is Charles E. and Emma H. Morrison Professor in the departments of chemistry and molecular biosciences in the Weinberg College of Arts and Sciences, and a professor of medicine in the hematology and oncology division in the Feinberg School of Medicine. He is the founding director of the CLP, where he leads a team of interdisciplinary biomedical researchers, and is director of the Center for Developmental Therapeutics, and of the Quantitative Bio-element Imaging Center.
His research centers on the regulatory biology and chemistry of receptors for metals such as copper, iron, and zinc spanning the tree of life. He focuses on the intracellular chemistry of elements essential for growth, nanoscale drug-delivery mechanisms, anticancer agents and platinum chemistry. His discoveries have established the structure and function of two new classes of soluble receptors.