Education
Ready for Remote: Peshkin's Devices Now Serve as Aids in Distance Learning
Glass chalkboard for recorded video lectures, portable electronics lab anticipated need to learn beyond classrooms
Michael Peshkin, Northwestern Engineering professor of mechanical engineering and Breed Senior Professor of Design, has been ready for this moment. An expert in robotics who joined the McCormick School of Engineering in 1987, he's developed several devices to help teachers and students that now serve as aids in remote learning.
His inventions include a glass chalkboard that allows teachers to face students while their writing glows in front of them, a portable electronics lab that fits in a backpack, and a device that allows teachers to interact with remote students as they show their work.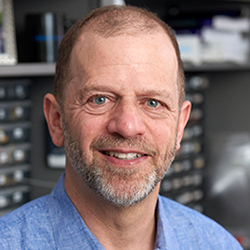 And all the items are inexpensive and easy to make and use — qualities that make them appealing to universities and school districts around the country. These tools are currently in use in classes at Cornell University, Duke University, Harvard University, and the University of Notre Dame, among others.
"That's the thing about Michael's work; he wants things to be easy to use," said Kevin Lynch, professor of mechanical engineering and former department chair. "He's a very technologically capable guy, but he knows that most of us are not going to spend the time to learn all the details. So, he's all about making things easy."
During the spring, when Northwestern and schools around the country went to remote learning and education plans needed adjustment, Lynch contacted Peshkin, an expert in remote learning, to be the department's curriculum innovation lead.
"Educators like Michael rise to the occasion when needed," said Northwestern Engineering Dean Julio M. Ottino. "Michael's enthusiasm for improving education and sharing best practices with his colleagues is second to none."
Asynchronous content for the remote environment
Now as the 2020-21 academic year ramps up and many schools remain virtual, educators can sharpen their approach. Zoom and similar products are known for "synchronous" content, which means everything is live. The Lightboard, developed in 2013, can help faculty easily produce "asynchronous" or pre-recorded content.
"Students love short, five- or 10-minute videos on one topic," Peshkin said. "They don't want to watch you talking at the chalkboard for 45 minutes. They want one topic, one lecture and to know where to find it. Lightboard is really good for that.
"In the spring, everybody was trying to teach online any way they could," he added. "Now we're trying to get a little more professional about it, so we're creating combinations of synchronous and asynchronous content.
"For that asynchronous content, you get a much nicer result with Lightboard. It's just that much more watchable if I'm looking at you with the writing in front of me. It's much more attractive and engaging than watching me look over my shoulder as I write on the blackboard," he added.
The Lightboard is currently in use at dozens of universities, partly because Peshkin made the component open source, which has allowed others to produce their own versions.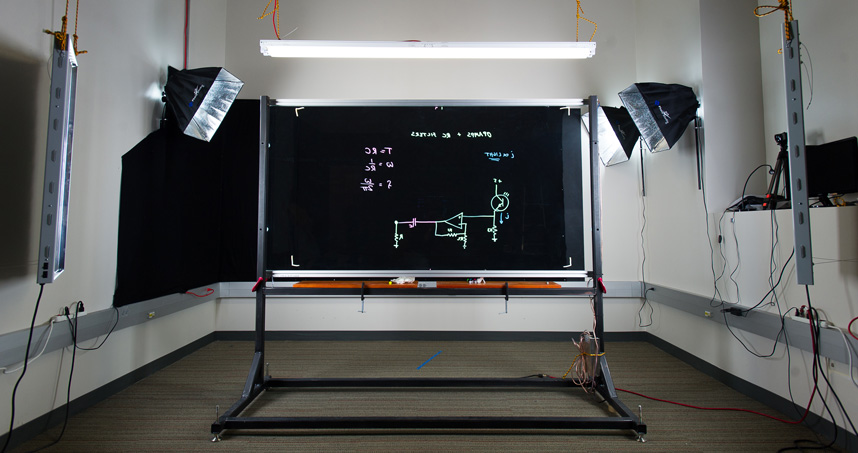 An electronics workbench for home
Peshkin has been integral in the development of other classroom tools, such as nScope, a small, portable USB-powered device that turns any laptop computer into an electronics workbench. It provides an oscilloscope, function generator, and power supply all on a small card — allowing users to build, measure, and test electronics, and even download data onto their computers.
"Students go into the lab with the attitude 'this better work' because they want to finish in the allotted three hours," Peshkin said. "That's the wrong spirit. They're supposed to experiment, design, and learn by trying."
With nScope, even during the days of fully in-class learning, students could bring their work home instead of hurrying to finish in a lab. And that means it translates well for fully remote classes.
"We made this portable lab," Peshkin said, "and that would be a great thing for people to be picking up right now."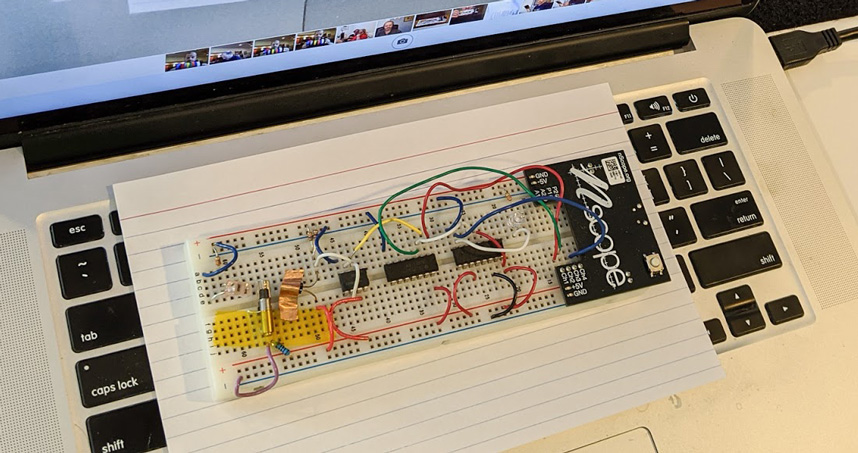 A laptop doc cam
Most recently, Peshkin developed a hack for students to use their laptop webcam as a document camera that transmits their handwritten work in real time — at a total cost of 25 cents. The device is made from a small plastic mirror (one from a makeup compact will do) and about a foot of 22-gauge wire. After an easy set-up procedure, the student screenshares their camera-viewer app, allowing the remote instructor to use Zoom's annotation tools to draw on the image that the student sees on-screen, an image of their own sheet of paper.
"I was trying to figure out how to make a document camera, and the answer is you make it out of a mirror," Peshkin said. "That mirror just redirects your webcam and allows students to show their work."
As classes at Northwestern start this week, Peshkin's work continues. He is holding mini-webinars for faculty on best teaching practices and has played a key role in McCormick's response to challenges brought on by the pandemic.
"Michael is very dedicated to helping students learn better and learn more efficiently," Lynch said. "He cares very deeply about that."