Announcements
Yonggang Huang Named Inaugural Achenbach Professor
Gift from the late Jan and Marcia Achenbach created the endowed chair for mechanical engineering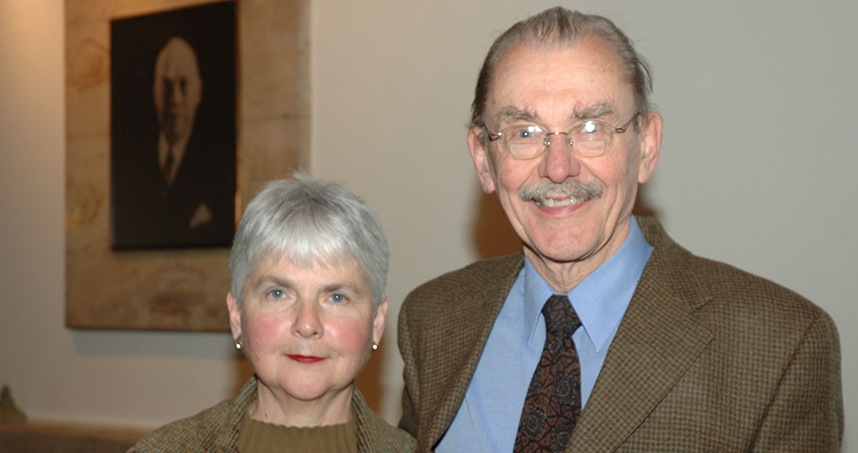 A gift from esteemed longtime professor Jan Achenbach and his wife, Marcia '65 MA, has established a new endowed professorship in the Department of Mechanical Engineering at Northwestern Engineering.  
Yonggang Huang will serve as the inaugural Jan and Marcia Achenbach Professor of Mechanical Engineering, effective September 1.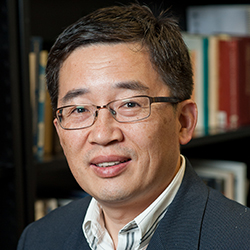 The announcement comes just days after Jan passed away on August 22. Marcia preceded him in death in 2019.
"In my last conversation with Jan, I let him know that Yonggang was chosen for this honor. Jan was delighted," said Julio M. Ottino, dean of the McCormick School of Engineering. "Yonggang is an excellent choice, living up to Jan's world-class reputation of research and teaching excellence." 
The Achenbachs were inspired by their lifetime of experiences at Northwestern in the five decades that Jan served on the faculty, and they made a commitment to support the future of Northwestern Engineering by funding an engineering professorship. The couple's gift counts toward We Will. The Campaign for Northwestern.
Jan Achenbach was Walter P. Murphy and Distinguished McCormick School Professor Emeritus of Civil and Environmental Engineering, Engineering Sciences and Applied Mathematics, and Mechanical Engineering. He was renowned for his extraordinary contributions to the field of mechanics, particularly his pioneering work on quantitative nondestructive evaluation.
Additionally, Achenbach was a member of the National Academy of Engineering and National Academy of Sciences, and an elected fellow of the American Academy of Arts and Sciences. He received the 2003 US National Medal of Technology for engineering research and education for use of ultrasonic methods. He also received the 2005 US National Medal of Science for his pioneering work in the field of quantitative nondestructive evaluation.
As a professor, Achenbach developed deep bonds with both undergraduate and graduate students, serving as a mentor to young engineers and researchers for years beyond graduation. In 2012, his former students honored him by establishing the Jan D. Achenbach Lecture Fund to bring renowned scientists and engineers to campus to speak on cutting-edge topics.
Jan and Marcia Achenbach were married for 58 years. Marcia earned her master's in English literature from Northwestern in 1965. She served as a clinical social worker, aiding children and families in the Chicago area.
"Northwestern's mission to develop the next generation of mechanical engineers is of crucial importance, and it's delightful that our names will be associated with that work," Jan Achenbach had said when the couple established the gift.  
Huang develops models for stretchable and flexible electronics, and his work has led to major advancements in bio-integrated electronics for health monitoring. His many honors include recent elections to the National Academy of Sciences and the American Academy of Arts and Sciences, and election to the National Academy of Engineering in 2017.
A member of Northwestern Engineering faculty since 2007, Huang has published two books and written more than 600 papers, including 10 in Science and five in Nature.
"Serving as the first Jan and Marcia Achenbach Professor is a major responsibility," Huang said. "This recognition comes at a time when our department is forging new paths leading to exciting developments, including those in stretchable and flexible electronics, and we honor Jan and Marcia through this work."
In addition to including a generous bequest in their estate plans, the Achenbachs established several charitable gift annuities with the University. These giving vehicles allow individuals and couples to make tax-deductible gifts of cash or appreciated assets to Northwestern, and in return, receive income payments for life.
The funds raised through the "We Will" Campaign are helping realize the transformational vision set forth in Northwestern's strategic plan and solidifying the University's position among the world's leading research universities. More information on We Will. The Campaign for Northwestern is available at wewill.northwestern.edu.