Announcements
Emeritus Professor Max Epstein Passes Away
Epstein was a pioneer in developing medical endoscopic imaging systems using coherent fiber optic bundles for image transmission
Max Epstein, emeritus professor of electrical engineering and computer science at Northwestern Engineering, passed away at age 95 on April 21. He will be remembered as a leader in his field and devoted to technological advancements.
A member of the McCormick School of Engineering's faculty since 1967, Epstein was a pioneer in developing medical endoscopic imaging systems using coherent fiber optic bundles for image transmission. He also worked on holography and surface acoustic wave devices.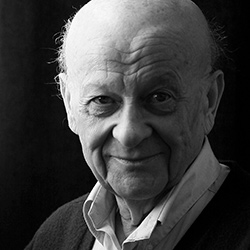 Epstein was a trailblazer in the application of optical principles from electrical engineering to the then-nascent field of biomedical engineering. He developed new endoscopes and laser delivery systems, enabling many minimally invasive medical procedures now taken for granted. He had one of the few fiber-pulling towers in academia and an optical fabrication lab to move his creations from concept to a functioning device. 
A holder of numerous patents and a frequent author of academic papers, Epstein was not only a distinguished scholar but also an entrepreneur who started multiple companies. He and his partners founded Holicon, a company that commercialized holographic portraiture, and one of the firm's portraits depicted President Ronald Reagan, a work given to the Smithsonian Institute's National Portrait Gallery.
Born February 5, 1925, in Lodz, Poland, Epstein earned his bachelor of science from the Israel Institute of Technology in 1952 and came to the United States that year. He obtained his master's degree in science in 1955 and PhD in 1963 from the Illinois Institute of Technology.
Epstein began his career in 1953 as an electrical engineer at Admiral Corporation in Chicago. He moved to IIT as an instructor and associate research engineer in 1954, then shifted to the IIT Research Institute in 1958 as a research engineer, a role he held until joining Northwestern in 1967.
"Max was an outstanding mentor. He would read my papers and proposals and offer sage advice," said Alan Sahakian, professor of electrical and computer engineering and associate dean. "Max was a man of very high principles and would stand up for what he believed was right, even if he knew there would be unpleasant consequences. He had a wonderful sense of humor and was delightful to be around."
A Holocaust survivor of the Lodz ghetto, Auschwitz, and six other concentration camps before getting liberated while on transport through Czechoslovakia in 1945, Epstein was involved in the founding of the Illinois Holocaust Museum and Education Center in Skokie, Illinois. He often spoke about his experiences during the Holocaust and how they shaped his life, and was featured in the BBC's 2015 feature-length documentary "Touched By Auschwitz."
Epstein was a senior member of the Institute of Electrical and Electronics Engineers, and a member of the American Physical Society, Optical Society of America, and the American Association of University Professors.
Epstein is survived by Judith, his wife of 56 years, two sons, one daughter, and seven grandchildren. Services and Shiva were private due to the pandemic. A public memorial service may be held at a later date. Memorial contributions may be made to the Illinois Holocaust Museum and Education Center, 9603 Woods Drive, Skokie, Illinois 60077; the Jewish United Fund, 30 South Wells Street, Chicago, Illinois 60606; or the American Technion Society, 111 W. Washington St., Suite 1220, Chicago, Illinois 60602.