Events
Understanding Our Future with Robots with the New Center for Robotics and Biosystems
Launch event on December 3 featured a panel discussion and demonstrations of new center's robotics research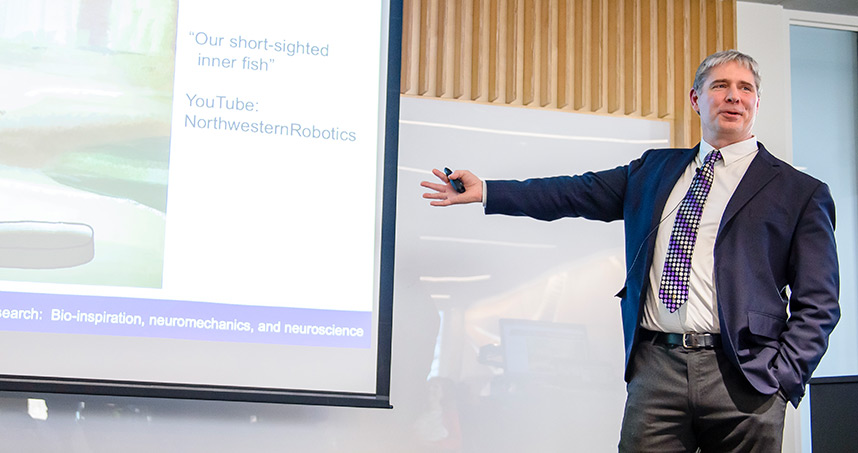 Watch Kevin Lynch's introduction about the Center for Robotics and Biosystems. 
Watch the panel discussion, "Our Future with Robots." 
From self-driving cars to military drones to robots in our homes, advancements in robotic technology are poised to dramatically change how people live.
More than 100 faculty, students, and industry professionals came together on December 3 to consider "Our Future with Robots," the launch event for Northwestern Engineering's Center for Robotics and Biosystems. Dedicated to the science and engineering of embodied intelligence, the center, housed in the new 45,000 square-foot space in the Technological Institute, strengthens Northwestern's leadership in collaborative robotics research and education, and includes partnerships with the Feinberg School of Medicine and the Shirley Ryan AbilityLab.
"The center is a space where we can collaborate and share resources, but more importantly, it's an idea and a set of people who collaborate with each other," said Kevin Lynch, director of the center, and chair and professor of mechanical engineering at the McCormick School of Engineering. "We're working toward a future where humans and robots can collaborate seamlessly and safely, where our robot designs are inspired by biological principles, and where our robotics work actually leads to breakthroughs in our understanding of neuromechanics."
Lynch's talk kicked off the event in the Ford Motor Company Engineering Design Center's Hive Studio, followed by a panel discussion featuring center faculty and robotics experts.
Moderator Robert Wolcott, McCormick Faculty Fellow and cofounder of The World Innovation Network (TWIN), asked panelists to consider the influence of robotics from their current work, along with future challenges.
"We're no longer in the domain of it's unimaginable, it's science fiction, to have real robots that have much more natural functionality. It's a transformation that we're on the cusp of that's as big as any in human history," said Mark P. Mills, McCormick Faculty Fellow, senior fellow at the Manhattan Institute, and author of the book Work in the Age of Robots. "Robots that interact with us on a daily basis, in homes and hospitals, will become increasingly anthropomorphic, which raises some interesting legal and design challenges."
Daniel Linna Jr., senior lecturer of computer science and law and director of law and technology initiatives at Northwestern Engineering, focuses on both the governance of technology and how technology can be used for legal services delivery. He noted the challenges of creating trustworthy and fair artificial intelligence and robotics, considering the lack of the social and legal norms around robots' behavior compared to humans'.
"Usually when we talk about regulation and law, engineers are especially worried that we're putting the brakes on innovation, but I think if done well, governance in this space can really foster innovation," Linna said.
The panelists also discussed the dynamics of human-robot relationships, including trust.
"When people interact with robots, just like when people interact with other people, there's an initial stage of learning about the other," said Todd Murphey, professor of mechanical engineering and director of Northwestern Engineering's Master of Science in Robotics program. "There are settings where we don't trust people, and we think we should trust automation more, but that should be a dynamic process that's constantly updated based on different circumstances and the environment."
Brenna Argall, associate professor of computer science, mechanical engineering, and physical medicine and rehabilitation, considers trust in her work with assistive and rehabilitative robotics. A member of Shirley Ryan AbilityLab, Argall is working to create partially autonomous wheelchairs that can help users avoid obstacles and maneuver in difficult spaces.
"In a shared control system, the two partners are equal, and it's not just about whether humans trust the technology, it's also about whether the technology can trust the decisions the human is making," she said.
Mitra Hartmann, Charles Deering McCormick Professor of Teaching Excellence and professor of biomedical engineering and mechanical engineering, discussed how robots can be used to take over tasks to make humans safer. She discussed how a group of Marines who worked with a robot to eliminate improvised explosive devices in Iraq connected emotionally.
"I remember how deeply and profoundly sad they were when the robot exploded. It was part of the company, and they wanted to be sure when they got a new robot back, it contained components of the original robot," Hartmann said. "The robot and the group of men in the company had interacted in a way that changed the men's identities and sense of self. The robot had protected them in very dangerous circumstances."
Following the panel, a reception and open house showcased the second floor AB Wing Atrium in the Technological Institute and the center's new facilities, including a robot zoo, a collaborative common space, and an atrium where drones can be tested.
Attendees interacted with robotics students' demonstrations, which represented the center's research in bioinspiration, neuromechanics, and neuroscience; human machine systems; swarm robotics and decentralized computation; and general autonomous robotics.
Some of the robotics work showcased included a haptic illusions demonstration and a demonstration of tactile touchscreen technology that provides touch feedback to people's interactions with screens. Another group demonstrated swarming robots which could come together in the shape of the Northwestern logo. Students in Argall and Hartmann's groups showcased shared-control assistive robots and robotic whiskers, and robotics students even showcased a robot that could draw on a white board.
Read more about the Center for Robotics and Biosystems in Northwestern Engineering Magazine.