Events
Artist-at-Large Dario Robleto Kicks Off Dean's Seminar Series
Robleto discussed the "The Art of Scientific Storytelling" on October 14
Ethics, identity, and evolution all come into play as researchers from genetic engineers to synthetic biologists possess the power to redefine perceptions of human life. Northwestern Engineering's Artist-at-Large Dario Robleto argues artists should play a crucial role in helping scientists contemplate these questions.
As part of the 2019-20 Dean's Seminar Series, Robleto, a transdisciplinary artist, examined how an artist's sensitivity to the emotional dimensions of the human experience can illuminate considerations in scientific investigation. His talk, "The Art of Scientific Storytelling," took place on October 14 in the Ford Motor Company Engineering Design Center's Hive Studio.
In spring 2018, Robleto was named the first Artist-at-Large, a collaboration between the McCormick School of Engineering and the Block Museum of Art as part of the Engineering + Art initiative. Robleto's work, exhibited throughout the US, is born out of cross-disciplinary research and collaboration, works across sculpture, installation, and sound to explore the intersections of music, popular culture, language, storytelling, and the histories of science and war.
To illustrate the connection between art and science in his own work, Robleto presented art from his 2018 Inman Gallery exhibit in Houston called, "Unknown and Solitary Seas (Dreams and Emotions of the 19th Century)," showcasing the earliest waveform recordings of blood flowing from the heart and brain during various emotional states, which are now part of the Block Museum's permanent collection. He also discussed the emotional considerations that come with implantation of artificial "beatless" hearts that leave patients without the fundamental characteristics of a pulse or heartbeat.
"It's not a trivial thing, the relationship between art and science — I have dedicated my life to challenging all disciplinary divides," Robleto said. "Northwestern is really pushing the boundaries on how to do this."
Julius Lucks, associate chair and associate professor of chemical and biological engineering at Northwestern Engineering, works closely with Robleto, discussing ethical considerations of synthetic biology developments.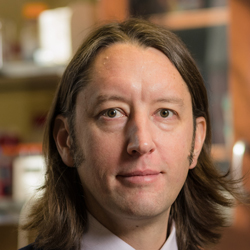 "I've been very fortunate to be one of the faculty members who gets to spend time with Dario and have very transformative conversations pushing the boundaries of understanding of how our work impacts the world," he said.
In May 2019, Northwestern Engineering and the Block Museum hosted the event, "Exploring Ethics: Across Art, Humanities, and Science," where Robleto, Lucks, and faculty from the Center for Synthetic Biology and Northwestern's Feinberg School of Medicine discussed ethical considerations in their work.
The next Dean's Seminar Series event will feature Heather Stern (WCAS '99), chief marketing officer at Lippincott, who will discuss "Addressing the Gender Gap in Brand and Design Leadership," on Wednesday, October 23, from 4-5 p.m. in Ford's Hive Studio.