Events
Law and Technology Initiative Kicks off First Meeting
More than 100 scholars and practitioners came together to brainstorm potential collaborations through the initiative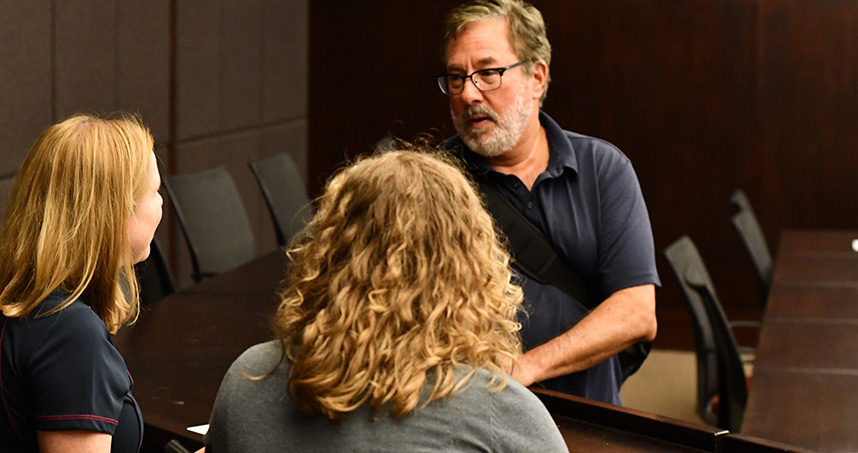 The explosive growth of advanced data analytics, machine learning, and artificial intelligence has transformed industries ranging from communications to business to medical. Now, the legal field is preparing for the potential that computational technologies have to influence legal decision-making.
More than 100 stakeholders — including computer science and law scholars plus representatives from law firms, legal aid organizations, corporations, technology companies, and the court system — came together September 5 as part of Northwestern University's new law and technology initiative.
"We often talk about the use of technology to deliver legal services. Other times, we're talking about the laws of emerging technology," said Dan Linna, director of law and technology initiatives and senior lecturer for Northwestern Engineering and Northwestern Law. "To address both of those issues properly requires this partnership between the law school and computer science."
The event, part of the developing relationship between the McCormick School of Engineering and the Northwestern Pritzker School of Law, served as the first of a series of monthly meetings. The events aim to build a community of practitioners, scholars, and students in both fields who share research, resources, and feedback to better understand the other field's viewpoint.
"If lawyers are looking to regulate technology, one of the things that they need to understand beyond the complexities of the law is how technologies work, because putting together regulations against technology they don't understand is not going to help anybody," said Kris Hammond, Bill and Cathy Osborn Professor of Computer Science.
"On the other side of the equation, when engineers build things that are going to be impactful and practical for the law, unless they're working with the practitioners and scholars of the law, they're going to build the wrong thing," he added.
The event included a networking reception and a presentation about measuring innovation in law firms through the Legal Services Innovation Index, a study Linna produced with Northwestern Law and Michigan State University College of Law research assistants. The index evaluates legal-service delivery innovation in law firms and law schools around the world, serving as an evolving reference tool for law practitioners and consumers.
Northwestern's law and technology initiative encourages the study of the intersection of these fields. The Master of Science in Law program focuses on business law and entrepreneurship, intellectual property and patent design, and regulatory analysis and strategy. Also, the Innovation Lab course, initiated last academic year, will be offered to Northwestern Engineering and Northwestern Law students again in winter 2020. Last year, engineering and law students worked with clients across the legal landscape to apply technologies like AI to challenges in contract terms review, court data exploration, and telemedicine compliance.
Upcoming events include a presentation with LegalMation, a company which uses AI to help practicing legal professionals automate routine litigation tasks. Other events include a workshop on expert systems and document automation and a conference in San Francisco in March 2020 about technology at society's frontier.