Undergraduate
Computer Science and Law Students Collaborate through Innovation Lab
Six teams partnered with clients to apply technologies to legal challenges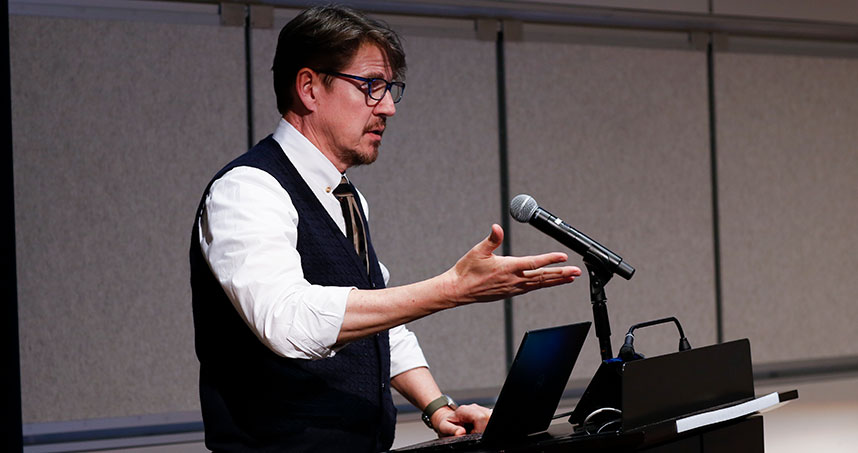 As artificial intelligence (AI) increasingly becomes a consideration in legal services, 30 McCormick School of Engineering and Northwestern Law students from COMP_SCI 397, 497: Innovation Lab: Building Technologies for the Law presented solutions to privacy and fairness uses at the April 18 event, "Innovation Lab: Law and Technology Demos."
For example, one of the six team projects considered how patients can receive healthcare services without even visiting a doctor's office, thanks to the rise of telemedicine, where doctors can provide health assessments and consultations remotely through developing technologies.
But delivering medical assessments through online software opens up a slew of legal concerns for doctors who are communicating virtually. To address these potential concerns, one group of Northwestern computer science and law students collaborated to create "Telemedicine Advisor," an application that physicians, in-house counsel, or insurers could use to answer a series of questions in any of the 50 states to make sure a doctor is compliant in providing telemedical care.
"When the law considers artificial intelligence, it has to think about, what are we going to regulate?" said Kristian Hammond, Northwestern Engineering's Bill and Cathy Osborn Professor of Computer Science. "We have to think about privacy, fairness, accountability, the interpretability of the decisions that systems are making, and transparency."
The Innovation Lab course focused on collaborative efforts responding to challenges posted by client partners involving the use of technology to improve legal services.
"Together, we can look at the world in terms of how the technologies can be controlled, and what needs to be done in response to them. We can actually start developing new technologies together to make the practice of law better, stronger, and smarter," said Hammond, co-instructor for the Innovation Lab course. "That's what this relationship is about. That's what it means to have a partnership between computer science and the law."
Hammond taught the class alongside Dan Linna, currently a visiting professor of law who will join Northwestern as director of law and technology initiatives this fall, and Dave Schwartz, Stanford Clinton Sr. and Zylpha Kilbride Clinton Research Professor of Law.
Client partners working with the students to address legal challenges included:
Actuate Law: addressing telemedicine compliance
Bluhm Legal Clinic: delivering know-your-rights immigration information to young people
Mayer Brown: assessing AI liability for financial services and expediting contract terms review
Northwestern University: exploring court data
Reed Smith: rationalizing legal research
The event, sponsored by Thomson Reuters, allowed students to demonstrate their projects at the Law School's Arthur Rubloff Building in front of five judges, who posed questions about the students' creations. A significant feature of the event included that the students needed to demonstrate actual running prototypes rather than a PowerPoint presentation of an idea.
Judges included:
John Albright, HUB International Limited, Chief Legal Officer and Corporate Secretary
Hanna Kaufman, Lawyers Trust Fund of Illinois, Counsel for Innovation and Technolgy
Megan Pavich, Allstate, Senior Managing Counsel
Sam Ranganathan, AbbVie, Senior Director of Information Governance and Legal Operations, ACC Legal Operations Section Chair
Kristen Sonday, Paladin, Cofounder
"As I look at the future of law, it is going to be teams of lawyers, computer scientists, and data scientists working together on solutions," Albright said. "AI is going to be a big component of that."