Honors and Awards
Amanda Stathopoulos and James Hambleton Receive NSF Honors for Young Faculty
NSF CAREER award recognizes creative integration of research and education
Northwestern Engineering's Amanda Stathopoulos and James Hambleton have received Faculty Early Career Development Program (CAREER) awards from the National Science Foundation (NSF), the foundation's most prestigious honor for junior faculty members.
Stathopoulos and Hambleton, both assistant professors in the Department of Civil and Environmental Engineering, will each receive $500,000 over five years from NSF's Division of Civil, Mechanical, and Manufacturing Innovation to support research and education initiatives.
The award supports early career development of individuals who exemplify the role of teacher-scholar through outstanding research, excellent education, and the integration of education and research.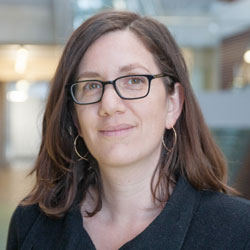 Stathopoulos's research explores the relationship between the lifestyles, values, and attitudes of decision-makers and sustainability goals in mobility systems. Using discrete choice modeling, statistical analysis, and qualitative data and focus groups, she is developing new methodologies to collect data and account for factors not typically considered in economic choice models, such as social determinants, environmental concern, or user experience and engagement.
The CAREER award will fund Stathopoulos's research to study how society adapts to evolving mobility technologies, fueled by on-demand mobility-platforms, crowd-sourcing, ride-hailing, and increasing automation, that may be inadvertently worsening transportation challenges such as congestion, emissions, and inequitable access to mobility. The project will deliver new tools to tailor transformative mobility solutions to citizens' needs, decongest urban networks, and expand mobility to underserved communities.
"I'm extremely honored to receive the NSF CAREER award in the Civil Infrastructure Systems program," said Stathopoulos, the William Patterson Junior Professor. "I look forward to continuing to explore methodologies that reflect both quantitative and qualitative perspectives to address the complex, evolving nature of mobility platforms and users' motivations. This research will produce new tools for policy evaluation that will allow all parts of society to benefit from disruptive socio-technical changes."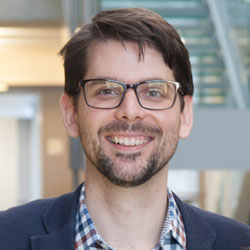 Hambleton's research interests focus on computational plasticity, geotechnical analysis, contact mechanics, and soil-machine interaction. He is working to advance the understanding of how soils are moved and shaped through interaction with man-made objects and machinery.
With his CAREER award, Hambleton will investigate the physical processes through which machines interact with soils, and develop theoretical models that will underpin the design of future autonomous devices used for construction, mining, agriculture, and mobility. The project will also collect data and launch an integrated research and educational program dedicated specifically to soil-machine interaction, one that ultimately will examine a wide variety of machine configurations and soil types.
"I have never been prouder to be a civil engineer, and I am very grateful for my supportive family and terrific colleagues," Hambleton said. "This award launches an exciting new phase of my group's research, and it crystallizes our identity in the emerging interdisciplinary field of soil-machine interaction. I am equally excited about attracting and educating future civil engineers through integrated education projects and outreach activities."