Faculty Directory

Amanda Stathopoulos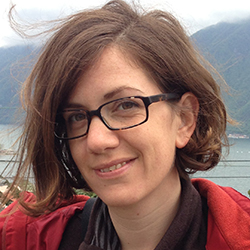 William Patterson Junior Professor
Associate Professor of Civil and Environmental Engineering
Contact
2145 Sheridan Road
Tech #A335
Evanston, IL 60208-3109
847-491-5629
Email

Amanda Stathopoulos
---
Departments
Civil and Environmental Engineering
---
Education
Ph.D. Transport Economics, Trieste University, Italy (2009-2011)
M.Sc Development Economics (con lode), Sapienza University, Rome, Italy (2006-2008)
B.A Development Economics, University of Roma Tre, Rome, Italy (2003-2006)
Research Interests
Dr. Stathopoulos' research brings attention to the importance of 'human' aspects of sustainable mobility systems—understanding the lifestyles, values and attitudes of decision makers and how they can change to align with sustanaility goals. Her research methods include discrete choice modeling, statistical analyisis, factor analysis, qualitative data collection and focus groups, as well as large scale surveys and operational data. She develops new methodologies to collect data and specify mathematical models of behavior that can account for factors that are not dealt with in economic choice models (such as social determinants, environmental concern, user experiences/engagement, simplified decision rules).
These richer layers of user motivations are essential for better understanding and prediction of travel behavior.
For a range of current transportation challenges such as promoting transit ridership growth, moving towards alternative fuel/automated veicles, or getting companies to adopt better practices in delivering goods, there is increasing recognition of the need to build adequate tools to account for decision complexity on the user side to match with effective decision support.
Visit my website at http://www.amandastathopoulos.com/
Significant Professional Service
2015: Member of the Transportation Research Board (TRB) committee on Transportation Demand Forecasting (ADB40) & co-chair of sub-committee on 'Emerging Methods and Developments in Urban Activity and Travel Analysis' ADB40(1)
Selected Publications
- Recently accepted
• Tahlyan, D⋆., Said⋆, M., Walker, J. Shaheen, S Stathopoulos, Mahmassani, H. (2021) "For Whom Did Telework Not Work During the Pandemic? Understanding the Factors Impacting Telework Satisfaction in the US Using a Multiple Indicator Multiple Cause (MIMIC) Model" Transportation Research Part A: Policy and Practice, accepted Nov 30th 
• Soria, J⋆., Stathopoulos, A. (2021) "Investigating socio-spatial differences between solo ridehailing and pooled rides in diverse communities" Journal of Transport Geography, vot 95, 103148.
• Borowski, E⋆., Limontitla Cedillo, V◃., Stathopoulos, A. (2021) "Dueling emergencies: Flood evacuation ridesharing during the COVID-19 pandemic" Transportation Research Interdisciplinary Perspectives, Vol. 10, 100352 
• Harb, M., Stathopoulos, A., Shiftan, Y., Walker, J. (2021) "What Do We (Not) Know About Our Future with Automated Vehicles? A Literature Review of Travel-Related Behavior Implications" Transportation Research Part C: Emerging Technologies, accepted, Dec 24th 2020 
- Published refereed papers
• Ermagun. A., Stathopoulos, A. (2021) "Crowd-Shipping Delivery Performance from Bidding to Delivering" Research in Transportation Business & Management, accepted Dec 1 2020 
• Biehl, A., Stathopoulos, A. (2020) "Investigating the Interconnectedness of Active Transportation and Public Transit Usage as a Primer for Mobility-as-a-Service Adoption and Deployment" Journal of Transport & Health, Journal of Transport & Health, Vol. 18, 100897
• Soria, J., Chen, Y., Stathopoulos, A. (2020) "K-Prototype Segmentation Analysis on Large-scale Ridesourcing Trip Data" Transportation Research record, https://doi.org/10.1177/0361198120929338
• Borowski, E., Stathopoulos, A. (2019) "On-Demand Rideshare for Emergency Relocation: An Exploratory Analysis of Context and Emotionality", International" International Journal of Disaster Risk Reduction, Vol. 44, pp. 101406
• Ermagun, A., Punel, A⋆., Stathopoulos, A. (2019) "Shipment Status Prediction in Online Crowd-Sourced Shipping Platforms", Sustainable Cities and Society, Vol. 53, pp. 101950
• Sha, Z., Bi, Y., Wang, M., Stathopoulos, Contractor, N., Fu, Y. and Chen, W. (2019) "Comparing Utility-Based and Network- Based Approaches in Modeling Customer Preferences for Engineering Design" Proceedings of the Design Society: 22nd International Conference on Engineering Design (ICED19) Vol. 1, No. 1, pp. 3831-3840). Cambridge University Press.
• Ermagun, A., Shamshiripour, A & Stathopoulos, A. (2019). Performance analysis of crowd‑shipping in urban and suburban areas, Transportation, published online July 18, Vol. 47, pp. 1955–1985
• Le, T, Stathopoulos, A. Van Woensel, T. Ukkusuri, S.V (2019). A Review of Crowd-Shipping Services for Last-Mile Delivery: from Supply and Demand to Operations and Management, Transportation Research Part C: Emerging Technologies, Vol. 103, pp 83-103
• Biehl, A.,Ermagun, A., & Stathopoulos, A. (2019). Utilizing multi-stage behavior change theory to model the process of bike share adoption, Transport Policy, Vol. 77, pp 30-45
• Mete, F, Chen, Y., Stathopoulos, A. Corr, D. (2019). A Comparative Study of Predictive Analysis Methods to Estimate Bridge Response Operations and Management, Transportation Research record, Vol. 2673, issue 9, pp 365-376 
• Punel, A., Ermagun, A., & Stathopoulos, A. (2019). Push and Pull Factors in Adopting a Crowdsourced Delivery System, Transportation Research record, Published April 23, 2019, https://doi.org/10.1177/0361198119842127
• Biehl, A., Chen, Y. Sanabria-Veaz, K., Uttal, D. & Stathopoulos, A. (2019). Where does active travel fit within local community narratives of mobility space and place?, Transportation Research Part A: Policy and Practice, Vol. 123, pp 269-287 
• Punel, A., Ermagun, A., & Stathopoulos, A. (2018). Studying determinants of crowd-shipping use of bikeshare demand in Chicago, Travel Behavior and Society, vol 12, 30-40
• Ermagun, A., & Stathopoulos, A. (2018). To bid or not to bid: An empirical study of the supply determinants of crowd-shipping, Transportation Research Part A: Policy and Practice vol 116, pp 468-483
• Biehl, A., Ermagun, A., & Stathopoulos, A. (2018). Modelling determinants of walking and cycling adoption: a stage-of-change perspective, Transportation Research Part F: Psychology and Behaviour,vol 58, pp 452-470
• Biehl, A., Ermgun, A., & Stathopoulos, A. (2018). Community mobility MAUP-ing: A socio-spatial investigation of bikeshare demand in Chicago, Journal of Transport Geography, vol. 66, pp 80-90
• Stathopoulos, A. & Sener, I. (2017). "Transforming mobility systems with sharing and automation", Transportation Vol.44(6), pp 1255–1259,
• Punel, A., & Stathopoulos, A. (2017). Modeling the acceptability of crowdsourced goods deliveries: role of context and experience effects, Vol 105, pp 18-38, Transportation Research Part E: Logistics and reviews
• Varotto, S., Glerum, A., Stathopoulos, A., Bierlaire, M., Longo, G. (2017) "Mitigating the impact of errors in travel time reporting on mode choice modelling", Vol. 62, pp 236-246, in Journal of Transport Geography
• Stathopoulos, A., Cirillo, C., Cherchi, Ben-Elia, E., Li, Y-T., Schmöcker, J-D. (2017) "Innovation adoption modeling in transportation: new models and data", Journal of Choice Modelling, Vol. 65, pp 61-68
• He, M., Lu. H., Stathopoulos, A., Nie, M. (2017) "Characterization of Trip-level Pace Variability based on Taxi GPS Trajectory Data", Transportation Research Record, Vol. 2667, issue 1, pp 51-60
• Miller, J., Nie, M. Stathopoulos, A., (2017) "Crowdsourced Urban Package Delivery: modelling traveler Willingness to Work as Crowdshippers", Transportation Research Record, Vol. 2610 issue: 1, pp 67-75
• Valeri, E., Stathopoulos, A., Marcucci, E., (2015): "Travelers Perceptions of Security for Long Distance Travel: An Exploratory Italian Study", in 'Securing Transportation Systems' (eds Hakim, S., Albert, G., Shiftan, Y.) Wiley & Sons, Hoboken NJ
• Hess, S., Stathopoulos, A. (2014). A mixed random utility - random regret model linking the choice of decision rule to latent character traits Journal of Choice Modelling, Vol. 9, pp 27-38
• Stathopoulos, A., Marcucci, E., (2014). De Gustibus Disputandum Est: Non-Linearity in Public Transportation Service Quality Evaluation. International Journal of Sustainable Transportation, Vol. 8(3), pp 47-68
• Hess, S., Stathopoulos, A., (2013). Linking response quality to survey engagement: a combined random scale and latent variable approach. Journal of Choice Modelling, Vol. 7, pp 1-12
• Hess, S., Stathopoulos, A., Campbell, D., O'Neill, V., Caussade, S., (2013). It's not that I don't care, I just don't care very much: confounding between attribute non-attendance and taste heterogeneity. Transportation, Vol. 40(3), pp 583-607
• Stathopoulos, A., Hess, S., (2012). Revisiting reference point formation, gains-losses asymmetry and non-linear sensitivities with an emphasis on attribute specific treatment. Transportation Research Part A: Policy and Practice, Vol. 46(10), pp 1673-1689
• Hess, S., Stathopoulos, A., Daly, A., (2012). Allowing for heterogeneous decision rules in discrete choice models: an approach and four case studies. Transportation, Vol. 39(3), pp 565-59
• Stathopoulos, A., Valeri, E., Marcucci, E., (2012). Stakeholder reactions to urban freight policy innovation. Journal of Transport Geography, Vol. 34(1), Pages 15-38
• Marcucci, E., Stathopoulos, A., (2012). Multi-level governance and transport policy: the case of local roads in Italy. International Journal of Transport Economics, Vol. 34(1), pp 15-38
• Marcucci, E., Stathopoulos, A., Danielis, R., Rotaris, L., (2012). Comparing single and joint preferences: A choice experiment on residential location in three-member households. Environment and Planning, Part A, Vol. 43(5), Pages 1209 – 1225
• Marcucci, E., Stathopoulos, A., Danielis, R. (2012). Urban freight policies and tourism. The case of own-account operators in Rome's limited traffic zone, Italian Journal of economic demography and statistics, Vol. 66(2), pp 121-139
• Marcucci, E., V, Gatta., Valeri, E., Stathopoulos, A., (2013): Urban freight transport modelling: an agent-specific approach, Franco Angeli, Milan
• Stathopoulos, A., Valeri, E., Marcucci, E., Gatta, V., Nuzzolo, A., Comi, A., (2011): Urban freight policy innovation for Rome's LTZ: A stakeholder perspective, in: 'City distribution and urban freight transport: multiple perspectives' (eds Macharis, C., and Melo, S.), Edward Elgar Publishing, Cheltenham UK
- Editorials for Special Issues
• Stathopoulos, A., Marcucci, E., 2013. Editorial of special issue "Measuring Service Quality and Local Public Transport Performance" International Journal of Sustainable Transportation, Vol. 8(3), pp 1-4
• Marcucci, E., Stathopoulos, A., 2012. Editorial of special issue "Quality, Regulation and Environmental Sustainability in Public Transport". International Journal of Transport Economics, Vol. 34(1), pp 15-38