Events
MMM Students Win Kellogg Design Challenge
Northwestern team, JDMMMBA, took home the $12,000 cash prize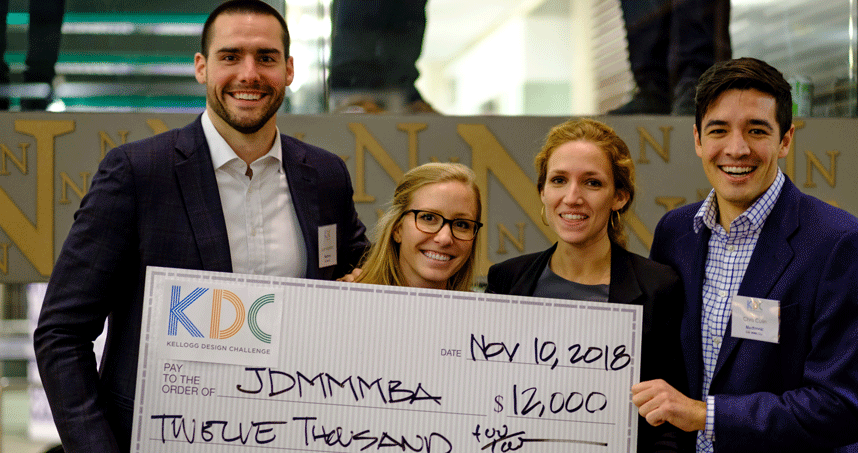 Nearly 160 students representing seven universities in three countries competed in the 2018 Kellogg Design Challenge on November 10, with three Northwestern teams placing in the top five finalists.
The event, held at the Segal Design Institute and the Kellogg Global Hub, required the 36 teams to design solutions to a challenge of overcoming behavioral and psychological barriers to the adoption of insulin pump therapy for type 1 diabetes patients. Medical equipment company Medtronic, which recently developed new insulin pump technology, served as the event's corporate sponsor.
The solutions, informed deeply by empathy for the user, ranged from developing an app to help children manage their type 1 diabetes to using Bluetooth technology to monitor pumps. The winning solution, the Medtronic NextStep Trial Project, would encourage patients to participate in a free trial of the pump for three months, without having to give up insulin shots.
"Fundamental to design thinking is deeply understanding extreme use cases. Instead of focusing on what you perceive to be the mass, core user like an adult with type 1 diabetes, it is crucial to understand seemingly peripheral users like an adult with type 1 diabetes and debilitating arthritis in both hands," said Lauren Brown (MMM '19), co-president of the Innovation and Design Association (IDEA), which organized the challenge. "By identifying and learning from extreme use cases, you start to get richer insights."
The MMM Program is a dual-degree program that combines an MS in Design Innovation focused on design thinking, innovation, analytics, and product management skill from Northwestern Engineering's Segal Design Institute and an MBA from the Kellogg School of Management. Thirty-four MMM students and five students from the MS in Engineering Design Innovation (EDI) program participated in the event.
"The MMM program enables future business leaders to use creative and critical thinking to solve complex problems through the integration of human-centered design and business skills, which they showcased at the Design Challenge," said Professor Greg Holderfield, director of the Segal Design Institute and co-director of the MMM program. "We were excited to have other universities from around the world join us on this design-thinking journey."
Teams from the US, Germany, and Canada presented their solutions to judges who evaluated the groups' levels of user empathy, concept generation, prototyping skills, and business strategy. Twenty-two judges participated, including Holderfield, Amy Schwartz, who teaches Design Research for the MMM program, Adam Attas (MMM '18), innovation strategist at Allstate, Claire Henderson (MMM '18), senior digital strategy consultant at IBM, and Mike Perry (MMM '18), senior digital strategy consultant at IBM.
"We are uniquely positioned to tackle problems like this as MMM students," said Amelia Williams (MMM '19), whose team, ShotMMMakers, was a finalist. "I think there's an art and a science to design thinking. You have to really understand and value user insights, and you have to have the flexibility and mental dexterity to enter a very ambiguous, open-ended problem and start with a wide funnel of ideas, then narrow them."
All 36 teams participated in first-round presentations, then judges picked five finalist teams that presented for the entire group. The teams competed for three cash prizes from Medtronic: $12,000 for first place, $5,000 for second, and $3,000 for third.
Members of the winning teams were:
1st Place: JDMMMBA (MMM Kellogg, Northwestern University): Sarah Consagra (MMM '20), Chris Culin (MMM '20), Emilie Futterman (MMM '20), Emily Gamble (JD+MBA), Claire Marsh (MMM '20), and Austin Monahan (MMM '20)
Second Place: Piedmont Skunkworks (Haas School of Business, University of California at Berkeley): Nina Ho, Cori Land, Scotty Mead, M Ryan Twedell, and Julia Zhu
Third Place: Kaleidoscope (Rotman School of Management, University of Toronto): Bing Feng, Danielle Nicole Ocampo, Jima Oyunsuren, and Shravan Thampi
Finalist: ShotMMMakers (MMM Kellogg, Northwestern University): McKaye Black (MMM '19), Paul Chang (MMM '19), Alex Eng (MMM '19), and Amelia Williams (MMM '19)
Finalist: Five by Design (Kellogg, Northwestern University and MMM Kellogg, Northwestern University): Suhani Chhaparwal, Lauren Frangoza, Jianna Liberman, Deepika Ranjan, and Kara J Smith (MMM '20)