Faculty Directory

Greg Holderfield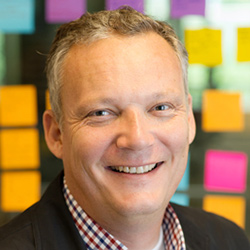 Pentair - D. Eugene and Bonnie L. Nugent Clinical Professor of Mechanical Engineering
Director of the Segal Design Institute
Co-Director of the MMM Program
Contact
Ford Motor Company Engineering and Design Center
2133 Sheridan Road, 3.337
Evanston, IL 60208
847-491-2987
Email

Greg Holderfield
---
Centers
---
Departments
Affiliations
Master of Science in Product Design and Development Management Program
---
Education
BFA in Industrial Design, University of Illinois
MS in Product Development, Northwestern University
PhD, Design, Coventry University, Coventry, UK
Research Interests
Holderfield believes that design innovation — which is essentially a human centered approach to problem solving that is universally applicable to any area of the human experience —is a unique blend of design thinking, computational thinking, maker culture, creativity, and business.
Holderfield further claims that design innovation, is best learned through highly interactive and contextually engaging experiences, that enable and empower students to understand the actual problem behind the perceived problem. It starts with putting students directly in the context of the problem space, where they understand stakeholder needs first-hand. This deep understanding allows them to gain empathy, which ultimately frames the opportunity in a way that is meaningful to people. These opportunity frameworks inform the generation of conceptual ideas, which are then prototyped and tested, and iterated upon through the use of constructive feedback loops. Lastly, students build outcomes that are not only original but desirable, feasible and viable.
Ultimately, design innovation is deeply personal, interactive, and iterative. A student's ability to learn comes about through a deep and rigorous immersion that is facilitated through project-based experiences, rather than theoretical simulations.
Holderfield's role as a faculty member at Northwestern University is to create the best conditions for learning design innovation, which his research has shown to be based upon a studio culture that supports true multi-disciplinary collaboration, the sharing of ideas, constructive critique, curiosity, creative expression and making. Additionally, he is a hands-on teacher who leverages his years of professional practice to authentically inspire and challenge my students to go deeper in their own work, by pushing boundaries, asking tough questions and ultimately discovering and developing meaningful solutions that inspire.
Significant Recognition
Four "Intentional Design Excellence Awards" (IDEA), Business Week and the Industrial Design Society of America (IDSA), including the "Gold" for Industrial Equipment Design
Two German "Red Dot" awards
Japan "Good Design" award
IF International Design Forum award
Significant Professional Service
Vice President of Design and Strategy at ARC Worldwide - Leo Burnett
Director of Strategic Design Innovation at HLB
Global Design Jury for the International Design Excellence Awards
Patents
Professor Holderfield also holds 21 design and utility patents.