Faculty Directory

Greg Holderfield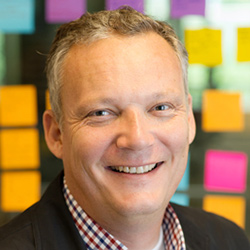 Pentair - D. Eugene and Bonnie L. Nugent Clinical Associate Professor of Mechanical Engineering
Director of the Segal Design Institute
Co-Director of the MMM Program
Contact
Ford Motor Company Engineering and Design Center
2133 Sheridan Road, G.302
Evanston, IL 60208
847-491-2987
Email

Greg Holderfield
---
Centers
Segal Design Institute
---
Departments
Affiliations
Master of Science in Product Design and Development Management Program
Master of Science in Engineering Design and Innovation Program
---
Education
BFA in Industrial Design, University of Illinois
MS in Product Development, Northwestern University
Research Interests
He is a passionate advocate for the power of design and is well known in the field of design. His design work has been recognized globally, having received over 25 design awards. His research interests include: design thinking, industrial design, product design and development, and design management.
Significant Recognition
Four "Intentional Design Excellence Awards" (IDEA), Business Week and the Industrial Design Society of America (IDSA), including the "Gold" for Industrial Equipment Design
Two German "Red Dot" awards
Japan "Good Design" award
IF International Design Forum award
Significant Professional Service
Vice President of Design and Strategy at ARC Worldwide - Leo Burnett
Director of Strategic Design Innovation at HLB
Global Design Jury for the International Design Excellence Awards
Patents
Professor Holderfield also holds 21 design and utility patents.