McCormick in the Media
Northwestern Engineering's Guillermo Ameer Receives Key to Panama City, Panama
Hometown honors pioneer in regenerative medicine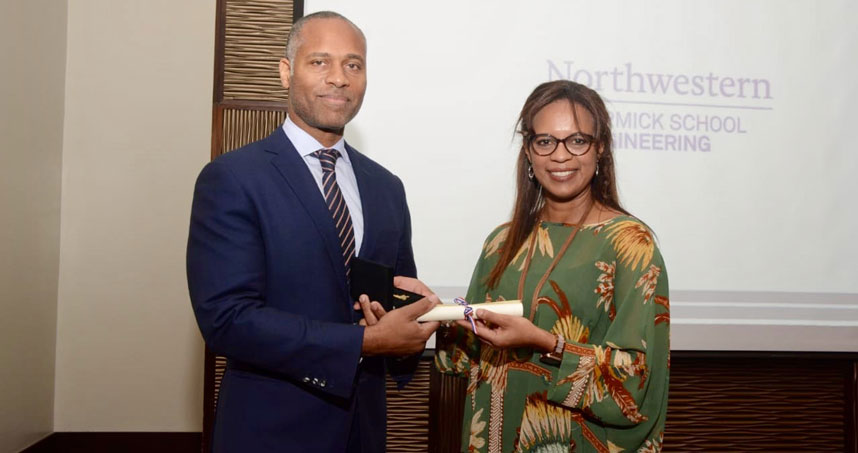 Northwestern Engineering's Guillermo Ameer, a pioneer in the field of regenerative engineering, was presented the Key to Panama City, Panama, by Vice Mayor Raisa Banfield last week. The event was covered by Telemetro, a national Spanish-language television network based in Panama City.
Ameer, the Daniel Hale Williams Professor of Biomedical Engineering with the McCormick School of Engineering, was in his hometown to attend at APANAC 2018, the XVIII Congreso Nacional de Ciencia y Tecnologia, the nation's premier science conference. He also serves as a professor of surgery at Northwestern University's Feinberg School of Medicine, and he is the director of the Center for Advanced Regenerative Engineering (CARE).
His research interests include biomaterials, regenerative engineering for heart, blood vessels, bone, bladder, ligaments, and skin, along with smart patient-specific medical devices, additive manufacturing of biomedical devices, controlled drug delivery, and nanotechnology for improved therapeutics and diagnostics.
For instance, Ameer's research group developed a "regenerative bandage" to address chronic, non-healing diabetic foot ulcers, which affect about one in seven diabetics. The ulcers can lead to lower-leg amputation or even death. Ameer's solution healed the diabetic wounds four times faster than a standard bandage and without any of the traditional side effects.
Ameer, who joined Northwestern in 2001 after receiving his bachelor's degree from the University of Texas at Austin and doctorate from MIT, has co-authored more than 250 peer-reviewed journal publications and conference abstracts, several book chapters, and holds 50 patents issued and pending. He has served on several scientific review committees for funding research at the state and federal levels. Ameer is a fellow at the American Institute of Medical and Biological Engineering (AIMBE), the Biomedical Engineering Society, and the American Institute of Chemical Engineers, and he serves on the boards of AIMBE and the Regenerative Engineering Society.