Events
Northwestern Hosts Cross-layer Computing Summer School: Circuits to System
Program gives underrepresented students a broad look at computer architecture and circuits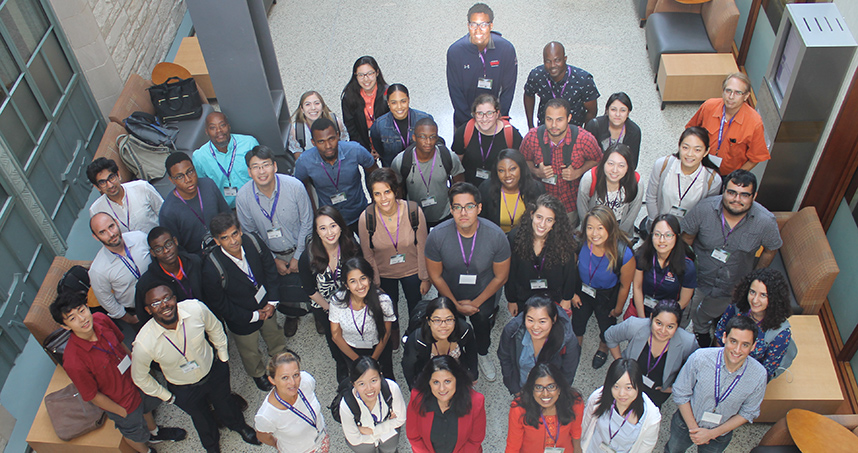 A workshop aiming to increase support for underrepresented minorities and women in computer engineering brought together 35 students from schools across North America with researchers and industry leaders to Cross-layer Computing Summer School: Circuits to System at Northwestern Engineering this month.
The two-day event on the Evanston campus offered a mix of technical talks on emerging areas in computer architecture and circuits and advice on career development. Most attendees are enrolled in computer science, computer engineering, and electrical engineering programs.
Along with exposing the students to the latest research, the conference's goal was to encourage diversity in technology by encouraging women and minorities, historically underrepresented in STEM fields, to further their studies.
"For junior and senior undergraduates, the aim is to have them consider graduate school in computer engineering," said Russell Joseph, associate professor of electrical engineering and computer science and the workshop's co-organizer. "For current graduate students, the workshop gives them advice for excelling in graduate school and possibly pursuing a PhD degree while teaching critical skills in communication, getting started in research, building self-confidence, and networking."
Sponsored by the Computing Research Association's Committee on the Status of Women (CRA-W), the workshop featured speakers from the Department of Electrical Engineering and Computer Science, including workshop co-organizers Jie Gu, assistant professor of computer engineering, and Seda Ogrenci Memik, professor of computer engineering.
Industry experts also presented, including Tanay Karnik, principal engineer in the microarchitecture research lab of Intel Labs, and Matthew Ziegler, research staff member at IBM. Both served as co-organizers.
To help the students learn more about future career paths, the speakers spent time with the attendees during meals and breaks to answer questions and provide guidance.
"In many cases, these students have little to no interaction with women or minority faculty at their home institutions, so it can be nice change of pace to have these types of interactions," Joseph said.
Additionally, the students were given group exercises aimed at improving communication skills and scanning technical papers to quickly find the important details.
The event is one of many discipline-specific mentoring workshops sponsored by the Computing Research Association (CRA) that aim to increase participation of women and members of underrepresented groups within specific computing research areas.
Additional sponsorship for this event came from the McCormick School of Engineering, the Department of Electrical Engineering and Computer Science, Intel, and SIGMICRO.