Events
New Center for Advanced Regenerative Engineering Launches
At its inaugural event, the center highlighted its collaborative mindset and enterprising mission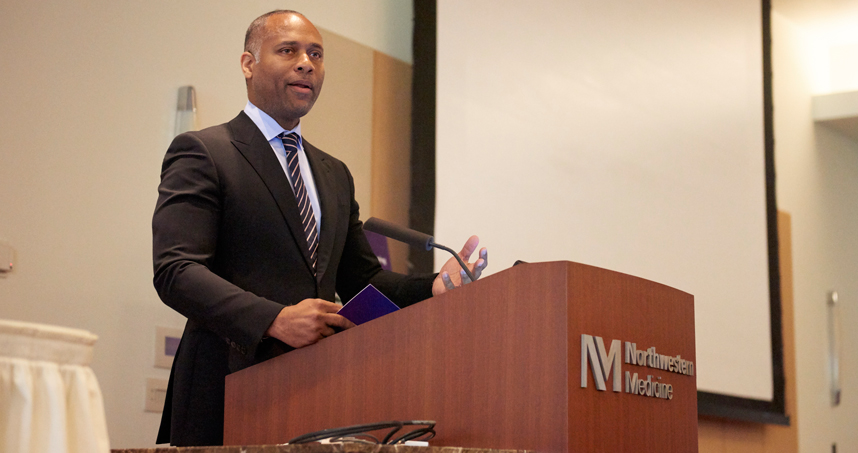 Northwestern's newest center has officially launched with a bold mission and interdisciplinary mindset.
The Center for Advanced Regenerative Engineering (CARE) aims to create an ecosystem that enables researchers and clinicians to regenerate tissues and organs for adult and pediatric patients. That effort began in earnest on May 31 with CARE's historic inaugural event, the Symposium on Regenerative Engineering, hosted at Chicago's Prentice Women's Hospital.
"This event brought together people of significantly different backgrounds to understand the type of transdisciplinary collaborations and enterprise that are necessary to move the field of regenerative engineering forward," said Guillermo Ameer, CARE's founding director and the Daniel Hale Williams Professor of Biomedical Engineering and Surgery at Northwestern.
Spurring improved results through collaboration
The US Department of Health and Human Services reports that more than 116,000 men, women, and children currently sit on the national transplant waiting list, and thousands die each year while awaiting a new kidney, lung, or other vital organ. Many more face everyday challenges as tissues and organs falter as a result of disease or traumatic injury.
"There is an unmet need for better solutions," Ameer said.
Enter regenerative engineering, an emerging, high-impact field that seeks to unlock the body's potential to heal by initiating the growth of injured, missing, or diseased organs and tissue. Regenerative engineering joins other areas of convergence research such as nanotechnology, synthetic biology, and cyber-physical systems in promoting interdisciplinary collaboration as a driver of scientific discovery and addressing societal needs.
CARE, for instance, brings researchers from advanced materials science, stem cell and developmental biology, and the physical sciences into collaboration with clinicians to address common health conditions such as arthritis and Type 1 Diabetes.
"The creation of a formal center supercharges our work and scales the impact of what we do by enhancing our ability to work alongside other investigators and pursue improved patient care," Ameer said.
The center has two immediate goals: to develop distributable, easy-to-use tools capable of regenerating tissues and organs, specifically prioritizing the needs of the surgeons and patients; and to construct and support a collaborative ecosystem for the clinical implementation of regenerative technology.
"It's tough to get massive impact if industry doesn't see a viable market, so we want to facilitate translation and capture the interest of companies and investors to move quickly and scale up innovative technologies," said Ameer, adding that CARE will provide product development assistance to its most promising technologies.
CARE's participants include Northwestern Engineering faculty members, as well as faculty from Northwestern's Feinberg School of Medicine, Northwestern Memorial Hospital, Lurie Children's Hospital, the University of Chicago's Pritzker School of Medicine, and the Shirley Ryan AbilityLab. The center has also established alliances with industry partners such as Medline Industries, Acuitive Technologies, and the US Army Institute of Surgical Research.
In addition, CARE will educate and train entrepreneurs and researchers skilled in regenerative engineering, something it will accomplish through fellowships, internships, and sabbaticals, as well as a Regenerative Engineering Club for students.
"CARE is about expanding our resources and growing the number of researchers doing this work," Ameer said. "We want to maximize the chances of regenerating tissue in a biologically relevant manner, and by gathering high-caliber minds together, CARE gives us an opportunity to improve current solutions."
Inaugural symposium
CARE's inaugural symposium embraced the center's goals and collaborative spirit by examining the convergence of engineering, life sciences, and translational medicine to transform patient care.
More than 200 attendees, including graduate students, post-docs, physicians, faculty from the life sciences and engineering, and industry representatives heard from leaders in research areas foundational to regenerative engineering, such as:
Fertility restoration
Tissue regeneration
Muscle regeneration
Bone regeneration
Nerve regeneration
Islet function regeneration
Wound healing
Heart regeneration
The featured speakers, a mix of faculty from Northwestern, Duke University, Penn State University, the University of Florida, the University of Chicago, and the University of California, San Diego, introduced the latest research from their labs and the ways in which interactions between materials and cells might be better understood and controlled to improve function and, ultimately, patient results.
Teresa Woodruff, Thomas J. Watkins Professor of Obstetrics and Gynecology, molecular biosciences and biomedical engineering at Northwestern, kicked off the event by discussing the management of fertility amid cancer. She said vibrant, information-rich gatherings like the symposium help ensure that "tomorrow's patients will be treated better than today."
The symposium concluded with a panel discussion in which Ameer, Cato Laurencin of the University of Connecticut, Debashish Chakravarthy of Medline, and Richard Tran of Acuitive Technologies discussed translating regenerative engineering from the lab to the marketplace, a prime motivator of CARE's work.
Ameer hoped the symposium sparked a deeper interest in collaborative research opportunities and directions of study that could create new solutions for patients.
"CARE represents a unique collection of surgeons, industry reps, academic researchers, and physical scientists coming together with one mission: to bring new solutions to market that improve patient care," Ameer said. "I know we can accomplish some amazing things together."