Honors and Awards
Jake Song Receives Top Undergraduate Research Paper Award
Alumnus named 2017 Regional Winner for his research on glass forming polymers
Northwestern Engineering alumnus Jake Song ('17), who graduated from Northwestern in June with a degree in materials science and engineering, has been named the 2017 Regional Winner in Engineering from The Undergraduate Awards.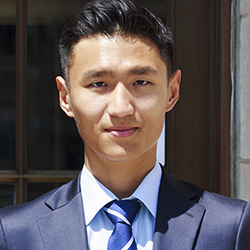 The Undergraduate Awards is one of the world's leading awards programs recognizing top undergraduate research. Each year, the organization celebrates the most innovative and creative undergraduate coursework across 25 categories and seven regions around the world, with top papers from each region named Regional Winner.
Song was recognized as the USA & Canada Regional Winner in the Engineering category for his research paper titled, "Thermodynamically Informed Coarse Graining of Glass Forming Polymers." Advised by Professors Sinan Keten and Kenneth Shull, Song received McCormick's Harold B. Gotaas Undergraduate Research Award in June for his work using computation to better understand polymers and soft materials at the nanoscale. He is currently pursuing a PhD in materials science and engineering at the Massachusetts Institute of Technology.
Kristen Scotti, a PhD student in materials science and engineering studying in Professor David Dunand's research group, was named The Undergraduate Awards' USA & Canada Regional Winner in the Mathematics & Physics category in 2016.