Faculty Directory

David Dunand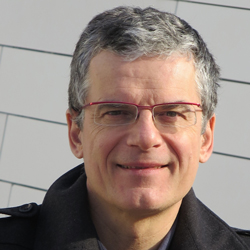 Professor of Materials Science and Engineering
Contact
2220 Campus Drive
Cook Hall 1129
Evanston, IL 60208
Email

David Dunand
Website
---
Departments
Materials Science and Engineering
---
---
Education
Ph.D. Metallurgy, MIT, Cambridge, MA
B.S., M.S. Materials Engineering, Swiss Federal Institute of Technology, Zurich, Switzerland
Research Interests
Physical and mechanical metallurgy of multiphase metallic materials. My research focuses on metallic alloys, composites, foams and scaffolds, with particular emphasis on measuring and modeling their mechanical properties in light of their microstructure. Strong focus in the area of additive manufacturing of metals via ink extrusion + sintering or via selective laser melting, as well as green manufacturing of metals. Use of synchrotron X-ray radiation to study strains, phase composition and tomography in situ and operando.
Significant Recognition
TMS Fellow, 2012
Minerals Metals and Materials Society Structural Materials Division Distinguished Scientist/Engineering Award, 2008
Fellow, ASM International, 2007
Department Teacher of the Year, 1998
Significant Professional Service
Co-founder, NanoAI, LLC (acquired by Braidy Industries, 2018)
Co-Director, Initiative for Sustainability and Energy at Northwestern (ISEN) 2008-2015
James and Margie Krebs Professorship, 2005-2016
Visiting professor, École Polytechnique Fédérale de Lausanne (Switzerland), spring 2000
Selected Publications
Farkoosh, Amir R.; Dunand, David C.; Seidman, David N., Microstructure and Mechanical Properties of an Al-Mn-Si Alloy Microalloyed with Sn, Springer Science and Business Media Deutschland GmbH (2023).
Mack, Jacob B.; Pennell, Samuel M.; Dunand, David C., Sintering inhibition enables hierarchical porosity with extreme resistance to degradation during redox cycling of Fe-Mo foams, Acta Materialia (2023).
Park, Hyun Sang; Ekaputra, Clement N.; Dunand, David C., Effect of Fe additions on microstructure and mechanical properties in near-eutectic Al–Ce alloys, Materials Science & Engineering A: Structural Materials: Properties, Microstructure and Processing (2023).
De Luca, Anthony; Kenel, Christoph; Dunand, David C.; Leinenbach, Christian, Effect of HfO2 dispersoids on the microstructure of a Ni-Cr-Al-Ti superalloy processed by laser-based powder-bed fusion, Additive Manufacturing Letters (2023).
Wu, Tiffany; Plotkowski, Alex; Shyam, Amit; Dunand, David C., Microstructure and mechanical properties of hypoeutectic Al–6Ce–3Ni-0.7Fe (wt.%) alloy, Materials Science and Engineering A (2023).
Rakhmonov, J. U.; Milligan, B.; Bahl, S.; Ma, D.; Shyam, A.; Dunand, D. C., Progression of creep deformation from grain boundaries to grain interior in Al-Cu-Mn-Zr alloys, Acta Materialia (2023).
Ekaputra, Clement N.; Weiss, David; Mogonye, Jon Erik; Dunand, David C., Eutectic, precipitation-strengthened alloy via laser fusion of blends of Al-7Ce-10Mg (wt.%), Zr, and Sc powders, Acta Materialia (2023).
Malki, Muath M.Al; Snyder, G. Jeffrey; Dunand, David C., Ink casting and 3D-extrusion printing of the thermoelectric half-Heusler alloy Nb1-xCoSb, Additive Manufacturing Letters (2023).