Faculty Directory

David Dunand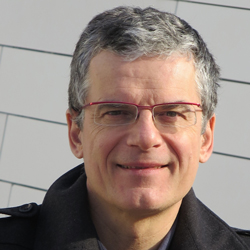 Professor of Materials Science and Engineering
Contact
2220 Campus Drive
Cook Hall 1129
Evanston, IL 60208
Email

David Dunand
Website
---
Departments
Materials Science and Engineering
---
Education
Ph.D. Metallurgy, MIT, Cambridge, MA
B.S., M.S. Materials Engineering, Swiss Federal Institute of Technology, Zurich, Switzerland
Research Interests
Physical and mechanical metallurgy of multiphase metallic materials. My research focuses on metallic alloys, composites, foams and scaffolds, with particular emphasis on measuring and modeling their mechanical properties in light of their microstructure. Strong focus in the area of additive manufacturing of metals via ink extrusion + sintering or via selective laser melting. Use of synchrotron X-ray radiation to study strains, phase composition and tomography in situ and operando.
Significant Recognition
TMS Fellow, 2012
Minerals Metals and Materials Society Structural Materials Division Distinguished Scientist/Engineering Award, 2008
Fellow, ASM International, 2007
Department Teacher of the Year, 1998
Significant Professional Service
Co-founder, NanoAI, LLC (acquired by Braidy Industries, 2018)
Co-Director, Initiative for Sustainability and Energy at Northwestern (ISEN) 2008-2015
James and Margie Krebs Professorship, 2005-2016
Visiting professor, École Polytechnique Fédérale de Lausanne (Switzerland), spring 2000
Selected Publications
Farkoosh, Amir R.; Seidman, David N.; Dunand, David C., Microstructure and Mechanical Properties of a Precipitation-Hardened Al–Mn–Zr–Er Alloy, Springer Science and Business Media Deutschland GmbH:239-244.
Bhattacharjee, Arun J.; Yost, Aaron R.; Erdeniz, Dinc; Dunand, David C.; Paz y Puente, Ashley E., Kirkendall pore evolution during interdiffusion and homogenization of titanium-coated nickel microwires, Intermetallics 134.
Prestowitz, Luke C.O.; Coskun, Sahin; Hu, Xiaobing; Dunand, David C.; Huang, Jiaxing, Bulk Nanostructured Metal from Multiply-Twinned Nanowires, Nano letters 21(13):5627-5632.
Park, Hyeji; Choe, Heeman; Dunand, David C., Microstructure and compressive properties of 3D-extrusion-printed, aluminized cobalt-based superalloy microlattices, Materials Science and Engineering A 815.
De Luca, Anthony; Kenel, Christoph; Griffiths, Seth; Joglekar, Shreyas S.; Leinenbach, Christian; Dunand, David C., Microstructure and defects in a Ni-Cr-Al-Ti γ/γ' model superalloy processed by laser powder bed fusion, Materials and Design 201.
Shu, Shipeng; De Luca, Anthony; Dunand, David C.; Seidman, David N., Individual and synergistic effects of Mn and Mo micro-additions on precipitation and strengthening of a dilute Al–Zr-Sc-Er-Si alloy, Materials Science and Engineering A 800.
Al Malki, Muath M.; Shi, Xun; Qiu, Pengfei; Snyder, G. Jeffrey; Dunand, David C., Creep behavior and post-creep thermoelectric performance of the n-type Skutterudite alloy Yb0.3Co4Sb12, Journal of Materiomics 7(1):89-97.
Kenel, C.; Geisendorfer, N. R.; Shah, R. N.; Dunand, D. C., Hierarchically-porous metallic scaffolds via 3D extrusion and reduction of oxide particle inks with salt space-holders, Additive Manufacturing 37.