Honors and Awards
Julius Lucks Named Dreyfus Teacher-Scholar
Synthetic biologist's work in RNA biology and engineering could lead to new diagnostics, therapeutics
Julius Lucks, a synthetic biologist at Northwestern University's McCormick School of Engineering, is among 13 young faculty members nationwide selected to receive a 2017 Camille Dreyfus Teacher-Scholar Award.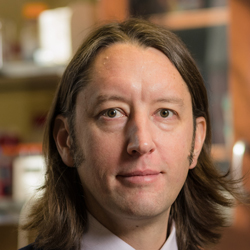 The Camille and Henry Dreyfus Foundation annually awards the research grant to young faculty in the chemical sciences who have created an independent body of outstanding scholarship and demonstrate a commitment to education.
The unrestricted $75,000 award will support Lucks' research goal of understanding how RNA molecules fold inside cells to help coordinate the biochemical processes of life.
Lucks and his research group use engineering questions and approaches to drive fundamental science investigations into RNA folding. Once Lucks and his team discover principles of how RNAs work in nature, they use these principles for engineering new RNA biotechnologies -- from diagnostics to new medical therapeutics. 
Lucks, who joined Northwestern last year, is an associate professor of chemical and biological engineering at McCormick.
The Camille and Henry Dreyfus Foundation is a leading nonprofit organization devoted to the advancement of the chemical sciences. Its purpose is "to advance the science of chemistry, chemical engineering, and related sciences as a means of improving human relations and circumstances around the world."