Events
Synthetic Biologists Unite at Northwestern
The Engineering Biology Research Consortium was held March 24-25 in Evanston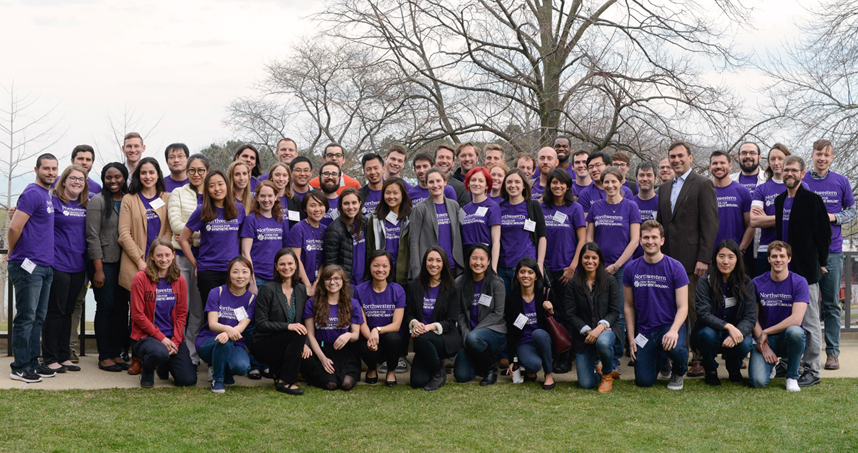 Although water covers 70 percent of Earth's surface, drinkable freshwater is incredibly scarce. And at the current consumption rate, this scarcity is expected to deepen — causing two-thirds of the world's population to face devastating water shortages by 2025.
Colorado State University's June Medford believes water scarcity is one of the world's many critical problems that can be solved with synthetic biology. She described her work, in which she is turning plants into desalination circuits, at the Engineering Biology Research Consortium (EBRC) retreat.
"One of the greatest limits to humanity is water," said Medford, biology professor and pioneer in plant synthetic biology. "There is plenty of water on Earth, but the vast amount is too salty."
Northwestern hosted this year's EBRC retreat, which took place March 24-25 in the Norris University Center. Nearly 170 faculty, researchers, and students attended from multiple universities including MIT, Harvard, Columbia University, Caltech, Cornell, Stanford, and the University of California at Berkeley.
The retreat corresponded with the one-year anniversary of Northwestern's launch of its new Center for Synthetic Biology, which Northwestern Engineering's Milan Mrksich directs with co-director Michael Jewett.
"Overall, this was a fantastic event for the Center for Synthetic Biology and Northwestern," said Jewett, associate professor of chemical and biological engineering in Northwestern's McCormick School of Engineering. "Indeed, showcasing the exciting developments happening at Northwestern was a terrific way to spend our one-year anniversary."
Medford and Mrksich, the Henry Wade Rogers Professor of Biomedical Engineering, professor of chemistry, and cell and molecular biology, delivered the event's keynote talks.
To combat water scarcity, Medford took inspiration from mangrove trees, which she calls "ultra filters." Growing in salty coastline water, mangroves have evolved to contain a complex salt filtration system within their roots. By engineering plants to filter salt water in similar ways, Medford believes that researchers could use plants as a cheaper, more sustainable way to filter seawater, making it drinkable. (Current desalination factories cost $1 billion each, use the same energy of a city of 50,000 to 100,000 residents, and emit tons of brine waste.)
Mangroves have a waterproofing substance, called suberin, in their roots, which acts as a barrier to salt. Medford's team engineered plants to control and produce suberin. The engineered plants secreted fresh water comparable in quality to bottled water.
Mrksich followed Medford with a talk about new technologies in synthetic biology, including SAMDI mass spectrometry. Standing for "self-assembled monolayers desorption ionization," SAMDI can rapidly screen a diverse library of 100,000 small molecules, allowing researchers to identify novel or optimized enzyme substrates within hours.
Developed by Mrksich, SAMDI combines surface chemistry and mass spectrometry and eliminates the need for toxic and limiting labels.
"Because we're not working with labels, we're not only observing activities that we're specifically looking for," Mrksich said. "We can discover unanticipated activities."
A non-profit organization, the EBRC aims to bring together synthetic biologists to address national and global needs. Through retreats and workshops, it showcases research, identifies challenges and opportunities, and develops programs to address new research goals. EBRC also works to promote interdisciplinary collaborations and educate the larger public about engineering biology.
"We are thrilled to host the event to help EBRC achieve its mission," Jewett said.
"Northwestern is known for collaboration. We take pride in driving topics and activities that connect each other," said Julio M. Ottino, dean of Northwestern's McCormick School of Engineering. "Synthetic biology is the kind of research that can emerge through collaboration."
In addition to research talks, the EBRC retreat also featured breakout sessions, updates about the EBRC, social events, and a student poster competition. Ashty Karim in Jewett's laboratory, Taylor Dolberg in associate professor Joshua Leonard's laboratory, and Angela Yu in associate professor Julius Lucks' laboratory, all received honorable mention awards for their posters.
Other Northwestern Engineering participants included Lucks, who chaired a session called "Tools for Engineering In and Out of the Cell;" Leonard, who chaired the students' poster presentations; and assistant professor Neda Bagheri, who presented her research titled "Analysis of emergent dynamics in heterogeneous cell populations."