Education
EDI Class Helps Reimagine Laundry
App-based service Tide Spin outsources the mundane chore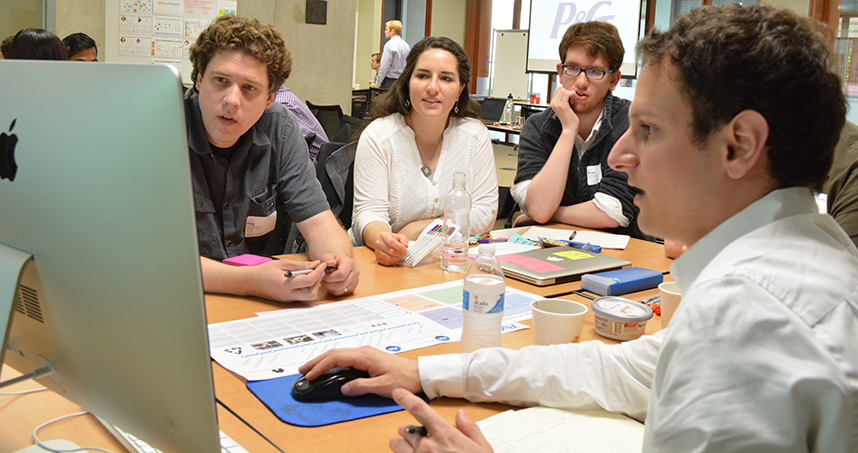 Hate doing laundry? There's an app for that.
Northwestern Engineering students recently worked with Procter & Gamble to help design Tide Spin, an app-based service that outsources the mundane chore to professional cleaners at Tide dry-cleaning facilities.
The service culminated from a project that the consumer products company submitted to a class in Northwestern's Master of Science in Engineering Design and Innovation (EDI) program. When Procter & Gamble decided to reimagine laundry to make it less of a tedious task, it naturally approached the EDI program, where it already had a history of successful collaborations.
"We have found a particularly valuable partner in Procter & Gamble because they are deeply committed to the human-centered design process," said J. Edward Colgate, the Allen K. and Johnnie Cordell Breed Senior Professor in Design and EDI director. "They understand that innovation stems from the fusion of technology, business, creative thinking, and understanding the customer. That perspective lies at the heart of everything we do."
Two student teams used the human-centered design process to explore two potential methods: person-to-person, in which a neighbor does the outsourced laundry, and a professional business model. In both approaches, users would schedule a pick-up time through an app, and their laundry would be picked up by a van, washed, and then returned to them.
The teams observed people doing their laundry, interviewed potential users, studied the interpersonal dynamics of people doing others' laundry, prototyped potential environments, and tested logistics.
"Some of the greatest insights came from some of the most obvious behaviors around doing laundry," said Kristine Oak, an EDI student who worked on the project. "People accept all of the inconveniences and tensions involved in doing laundry as a normal thing. It was only when we put on our designer hats and really dove into the world of laundry that we were able to pin-point problems we could solve."
The team exploring the person-to-person model found several issues. People providing their home washing machines did not see much value and wanted to be compensated for their time and resources. Users also expressed unease with a neighbor doing their laundry, which can be filled with very personal items.
"We spoke to many users who expressed discomfort with others handling their dirty laundry," said James Wilde, another student on the project. "But we observed these same people regularly using laundry and dry-cleaning delivery services. The element of knowing the person who was doing their laundry made the users less comfortable. A certain disconnect in the service helped."
In the end, the teams recommended the professional business model. The first laundry service backed by a national brand, Tide Spin sends the laundry to its own dry-cleaning facilities, which are staffed by trusted, Tide-trained professionals. The service is currently being tested in Chicago, a place rich with urban millennials who are Tide Spin's target consumer.
"For millennials who are building their careers, time is their most scarce resource," said David VanHimbergen, brand manager of Global Tide and CEO of Tide Spin who brought the project to the EDI program. "In a city, laundry can be dreadful, especially if you don't have laundry in your unit or building. Millennials are becoming more and more open to outsourcing all mundane tasks."
Not only did Tide benefit from the hard-work of EDI's students, but the students gained valuable insight into the complexity of designing services.
"This project was a good fit for our class because it demanded an understanding of not only product design but also service design," said Elizabeth Gerber, associate professor of mechanical engineering who co-taught the class with lecturer Amy O'Keefe. "Services rely on complex systems, which include technology, people, and processes. To be a great designer today, one needs to understand the interdependencies of these complex systems."