Honors and Awards
Three Northwestern Startups Receive Innovation Awards
Tanvas, Ampy, and CoApt are among the 24 recipients
This week, the 14th annual Chicago Innovation Awards announced its 2015 winners, and three of the winning companies have Northwestern Engineering ties.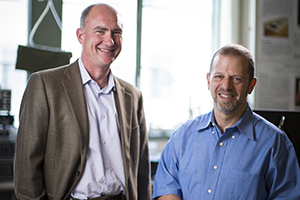 Tanvas, Ampy, and CoApt were among the 24 recipients honored at the Midwest's largest annual celebration of innovation. The teams received trophies in Harris Theater before a 1,000-person crowd.
The Chicago Innovation Awards recognizes the most innovative new products or services brought to market or to public service in the Chicago region. This year's awards had 535 nominations, which were whittled down to 100 finalists by 12 judges.
Northwestern startups Tanvas and Ampy received two of the 10 "Up-and-Comer" Awards, which honor the most innovative new companies and help connect them with funding, mentors, and other business resources. Founded by mechanical engineering professors Ed Colgate and Michael Peshkin, Tanvas has a patented technology that allows users to feel textures on their flat, glass touchscreens.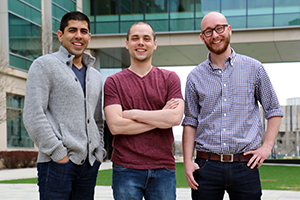 Ampy, a startup founded by three materials science and engineering graduate students — Tejas Shastry, Mike Geier, and Alex Smith — has developed a wearable device that transforms kinetic energy into battery power.
CoApt, a collaborative effort between Northwestern and the Rehabilitation Institute of Chicago (RIC), received the competition's sole Collaborative Award. The award was given for a new technology, called Complete Control, that enables prosthetics to perform complex and natural motions. CoApt was founded by RIC's Blair Lock along with Todd Kuiken, Jonathon Sensinger, and Levi Hargrove, who all have appointments at the McCormick School of Engineering, the Feinberg School of Medicine, and RIC. Sensinger also received his PhD in biomedical engineering from Northwestern in 2007.
The winners are invited to ring the NASDAQ closing bell in New York City, and they have an opportunity to meet with Mayor Rahm Emanuel, Governor Bruce Rauner, and Cook County Board President Toni Preckwinkle.