Announcements
Bioelectronics Pioneer John Rogers to Join Northwestern University
Rogers will hold inaugural Louis Simpson and Kimberly Querrey Professorship
John A. Rogers, a materials scientist and pioneer in the field of bio-integrated electronic devices, will join Northwestern University as the Louis Simpson and Kimberly Querrey Professor of Materials Science and Engineering, Biomedical Engineering and Medicine, the University announced today.
Rogers, currently the Swanlund Chair at the University of Illinois Urbana-Champaign, is internationally renowned for designing and developing classes of electronic devices that can bend, stretch and twist, be integrated with the human body and have diverse diagnostic and therapeutic function. His research spans disciplines and exploits novel approaches to problems with the potential to change the fields of industrial, consumer and biocompatible electronics.
"John Rogers will find a perfect home here at Northwestern, where interdisciplinary research is a cornerstone," President Morton Schapiro said. "We are delighted to welcome him in this inaugural professorship, made possible by the continued generosity of our dedicated friends Lou Simpson and Kimberly Querrey."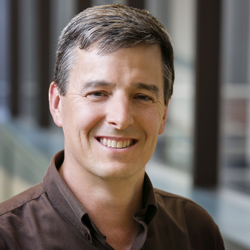 At Northwestern, Rogers will lead the new Center for Bio-Integrated Electronics, which will be housed in the Simpson Querrey Institute for BioNanotechnology in the new Louis A. Simpson and Kimberly K. Querrey Biomedical Research Center on Northwestern's Chicago campus. He will join Northwestern in September 2016.
Northwestern trustees Louis A. Simpson and Kimberly K. Querrey first met Rogers last year at the annual Allen & Company Sun Valley Conference, where he and his research made a lasting impression on the couple. When they learned that Rogers was considering joining Northwestern, they offered an additional gift to Northwestern through their foundation and increased their total contribution to We Will. The Campaign for Northwestern to $125.8 million. 
"We were impressed with John's intellect, humbleness and character and are beyond thrilled to support him joining the Northwestern family," Querrey said. "John's work could be transformative to human life and wellness, and we are honored to be associated with an individual such as John and his wife, Lisa Dhar."
A portion of Simpson and Querrey's total contribution to the "We Will" Campaign -- $25 million -- will support the new Center for Bio-Integrated Electronics within the Simpson Querrey Institute for BioNanotechnology. 
"Invention requires expertise and creative thinking from many areas, and Northwestern really fosters this type of interdisciplinary work," Rogers said. "I already have several active collaborations with colleagues in the McCormick School of Engineering and the Feinberg School of Medicine. I very much look forward to building on these interactions and making a broader contribution to Northwestern's strong community of researchers in materials science, engineering and medicine." 
With collaborators from across these fields, Rogers has employed state-of-the-art nanotechnology tools and novel design techniques to change the way we think about traditional, rigid silicon circuits.
As an example, over the last eight years, Rogers has worked closely with Yonggang Huang, the Walter P. Murphy Professor of Civil and Environmental Engineering and Mechanical Engineering in Northwestern's McCormick School of Engineering and Applied Science. The pair developed and demonstrated classes of high-performance semiconductor devices that are mechanically soft -- capable of twisting, bending and stretching like a rubber band. 
The results expand the reach of electronics technologies into application areas that cannot be addressed with the types of flat, rigid integrated circuits that exist today. These new technologies involve brittle, hard materials integrated into rubbery, soft matrices, in carefully engineered, three-dimensional 'wavy' configurations, such that large-scale deformations can be accommodated through changes in geometry, with a physics that is much like that of an accordion bellows.
These ideas allow intimate, conformal integration of high-quality electronics with the body, including implantable medical devices that can harvest energy from organs, wirelessly monitor biological processes and automatically treat medical conditions, such as abnormal heart rhythms. Examples include thin, 'tattoo-like' electronics that mount directly onto the skin (such as sensors of physiological health) and physically 'transient' electronics that can be implanted into the body (such as post-surgery monitoring devices) and then dissolve away after a pre-defined functional period. 
"John will expand greatly the scope of research at the Simpson Querrey Institute and create many synergistic opportunities with the institute's scientific and clinical partners worldwide," said Samuel I. Stupp, institute director and Board of Trustees Professor of Materials Science and Engineering, Chemistry, Medicine and Biomedical Engineering.
Rogers' current research also includes bio-inspired and bio-integrated nanophotonic structures, microfluidic devices, photovoltaic technologies and microelectromechanical systems.
"John's research is so innovative that it is establishing new fields -- its breadth cannot be captured by existing names," said Julio M. Ottino, dean of the McCormick School. "His work strengthens the critical and creative interface between engineering and medicine. We are thrilled to have him as a member of our community."
Rogers' primary appointment is in McCormick, and he has an additional appointment in the Northwestern University Feinberg School of Medicine. Additionally, he will maintain an affiliation with the University of Illinois at Urbana-Champaign that will allow him to leverage research collaborations with Illinois faculty and to continue to advise his students at Illinois.
Rogers has published more than 530 papers. He is an inventor on more than 80 patents and patent applications and has started several companies based on his research. Rogers has received many awards, including the Lemelson-MIT Prize, a MacArthur Fellowship from the John D. and Catherine T. MacArthur Foundation, the ETH Zurich Chemical Engineering Medal, the A.C. Eringen Medal from the Society for Engineering Science, the Smithsonian Award for American Ingenuity in the Physical Sciences, the Robert Henry Thurston Award from the American Society of Mechanical Engineers, Mid-Career Researcher Award from the Materials Research Society, the George Smith Award from the Institute of Electrical and Electronics Engineers (IEEE) and the Leo Hendrick Baekeland Award from the American Chemical Society.
He is a member of the National Academy of Engineering, the National Academy of Sciences and the American Academy of Arts and Sciences. He is also a fellow of the IEEE, the American Physical Society, the Materials Research Society, the American Association for the Advancement of Science and the National Academy of Inventors.
Rogers served as the director of a Nanoscale Science and Engineering Center on nanomanufacturing and is currently the director of the Seitz Materials Research Laboratory at the University of Illinois. 
He received a B.A. in chemistry and a B.S. in physics from the University of Texas at Austin in 1989. From the Massachusetts Institute of Technology, he received S.M. degrees in physics and in chemistry in 1992 and a Ph.D. in physical chemistry in 1995.
From 1995 to 1997, he was a Junior Fellow in the Harvard University Society of Fellows. During this time, he also served as a founder and director of Active Impulse Systems, a company that commercialized technologies developed during his Ph.D. work. He joined Bell Laboratories as a member of technical staff in the condensed matter physics research department in 1997 and served as director of the department from 2000 to 2002. Rogers joined the University of Illinois in 2003.