Events
Transportation Symposium to Focus on Supply Chain in Chicago
National transportation experts and decision-makers to build consensus on policies
Transportation leaders and policymakers from across the country, including BNSF Railway Executive Chairman Matthew K. Rose and former U.S. Secretary of Transportation Ray LaHood, will come together Monday, June 22, at a Northwestern University symposium to discuss the challenges and opportunities in supply chain performance in the Chicago area and beyond.
Among the highlights, former Illinois Congressman William O. Lipinski will present the David F. Schulz Award for Outstanding Public Service in Transportation and Infrastructure Policy to Ann M. Drake, CEO of DSC Logistics.
The 2015 William O. Lipinski Symposium on Transportation Policy and Strategy, sponsored by Northwestern's Transportation Center, is entitled "Paths to Economic Competitiveness: Advancing Supply Chain Performance in the Chicago Hub." It will be held from 8 a.m. to 5 p.m. at the James L. Allen Center, 2169 Campus Drive, Evanston campus.
Matthew K. Rose, current executive chairman and former chairman and CEO of BNSF Railway, will deliver a special keynote address during the event's luncheon.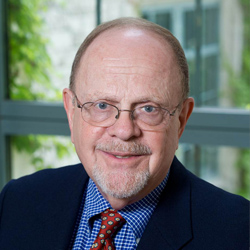 "This symposium brings together industry leaders and policymakers to discuss freight system performance and explore opportunities for public and private actions to increase efficiency and competitiveness," said Joseph Schofer, one of the symposium's primary organizers. "We will explore the role of intermodal supply chain operations for promoting economic development in the Chicago hub, for the purpose of identifying values, obstacles, opportunities and priorities for advancing freight mobility in the region and the nation."
Schofer is an associate dean and professor of civil and environmental engineering at the McCormick School of Engineering and Applied Science.
The symposium is targeted to members of the transportation community and others interested in transportation policy and strategy issues. Members of the media are welcome to attend the sessions. If you are interested, please visit the symposium website for more information and to register.
In addition to Schofer, Lipinski (host of the symposium and a panel moderator), Rose and Drake, speakers will include:
Randall S. Blankenhorn — Secretary, Illinois Department of Transportation (IDOT)
Craig Boroughf — Senior director, global sourcing, USG Corporation
Michael Broaders — Vice president, transportation, supply planning and warehouse, Coca-Cola Refreshments
Dorval Carter — President, Chicago Transit Authority (CTA)
U.S. Rep. Peter DeFazio — Ranking member, House Subcommittee on Highways and Transit; member, House Committee on Transportation and Infrastructure
John H. Friedmann — Vice president, strategic planning, Norfolk Southern Corp.
Ken Heller — Vice president, supply chain excellence, DSC Logistics
Former U.S. Secretary of Transportation Ray LaHood
Nicole Katsikides — Program manager, Federal Highway Administration Office of Freight Policy
U.S. Rep. Dan Lipinski — Member, House Committee on Transportation and Infrastructure
William J. Matheson — President, intermodal services, Schneider National Inc.
Bill Seliger — Director, supply chain and project management, RR Donnelley
Joseph C. Szabo — Executive director, Chicago Metropolitan Agency for Planning (CMAP)