McCormick in the Media
Northwestern Design Students Share Apple Watch Impressions in Chicago Tribune
Despite long lines and massive sales, Northwestern design students are not impressed
Long lines and massive sales may signify the Apple Watch as another technological milestone for Apple, but some Northwestern University engineering students aren't impressed.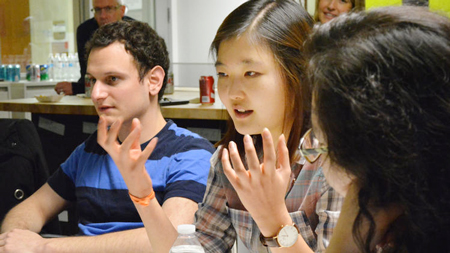 Fourteen graduate design students from Northwestern's Segal Design Institute shared their thoughts of the device during a recent focus group hosted by Segal director Greg Holderfield. Their reactions were featured in the Chicago Tribune.
While students praised the Apple Watch's customizable design functionality, overall sentiment towards the device was decidedly critical. Beyond the price point, which some noted was beyond what they could afford, participants worried the smart watch would further contribute to a growing lack of patience among smart device users. The group also believed that the device seeks to fill a need already served by smartphones.

Despite skepticism over the Apple Watch's short-term prospects, the students agreed that wearable technology will soon become commonplace among consumers. 
"Now you feel naked without your phone. You always need your smart phone," said Esther Wolff, a student in the Master of Science in Engineering Design and Innovation program. "I think that in future generations, it will be wearable devices that you will feel naked without. I don't think Apple Watch is that device. But it's moving towards that trend."