Events
Northwestern Faculty Discuss Startups in Farley Fellows Lecture Series
J. Edward Colgate, David Mahvi, Chad Mirkin, Milan Mrksich, Gregory Olson, and Michael Peshkin will share entrepreneurship advice in Farley Fellows Seminar Series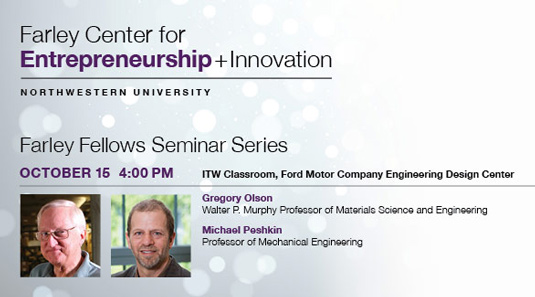 Research and entrepreneurship go hand in hand, but commercializing technology requires a vastly different skill set than creating it. In the new Farley Fellows Seminar Series, Northwestern faculty members who have succeeded as entrepreneurs will discuss lessons they have learned in areas such as product development, financing, market investigation, pivoting, and building a business team. 
Farley Fellows are entrepreneurship-minded faculty members who advise Northwestern's Farley Center for Entrepreneurship and Innovation, mentor students and other faculty, and lead by example. All fellows have companies or are involved in substantial entrepreneurial efforts.
The Farley Fellows lectures will be held in the Ford Motor Company Engineering Design Center ITW classroom, 2133 Sheridan Road, on Northwestern's Evanston campus. Graduate students, postdoctoral researchers, and faculty are especially encouraged to attend.
Tuesday, October 15, 4 p.m.
Gregory Olson, Walter P. Murphy Professor of Materials Science and Engineering
Olson is a leader and pioneer in the field of computational materials design. In 1996, he co-founded QuesTek Innovations, a new-materials design company and global leader in integrated computational materials engineering. In 2005, QuesTek was named on Fortune magazine's list of 25 breakthrough companies.
Michael Peshkin, Professor of Mechanical Engineering
Peshkin has founded four startups to commercialize his technologies in robotics, surface haptics, and human-machine interface: Tangible Haptics, a company that "lets you feel what you see" on touchscreens; Kinea Design, a developer of robotic and mechatronic assist devices for physical therapy; Cobotics, Inc., a provider of intelligent assist devices to the industrial marketplace; and Mako Surgical, creator of coordinated fluoroscopy for image-guided surgery.
Tuesday, October 29, 4 p.m.
J. Edward Colgate, Allen K. and Johnnie Cordell Breed Senior Professor in Design
Colgate is an expert in robotics, cobots, human-machine interation, and haptic interface. With Michael Peshkin, he founded Tangible Haptics, a company that brings haptic technology to touchscreens; Kinea Design, a leader in human/robotic collaboration technology that specializes in medical robotics; and Cobotics, Inc., a provider of intelligent assist devices to industry.
David Mahvi, James R. Hines Professor of Surgery; chief, Division of Surgery-Surgical Oncology; and chief, Division of Surgery-Gastrointestinal and Endocrine
Mahvi is co-founder of Medical Engineering Innovations, a company that commercializes new technologies to fight liver cancer with more effective tools for liver surgery and localized cancer treatment by heat. Regarded as a leader in the development of new biomedical devices, Mahvi sits on the steering committee for Northwestern's Center for Device Development and is a mentor to BriteSeed, a medical startup founded in the NUvention: Medical Innovation course.
Tuesday, November 12, 2:30 p.m 
Chad Mirkin, George B. Rathmann Professor of Chemistry, Materials Science and Engineering, and (by courtesy) Chemical and Biological Engineering and Biomedical Engineering
A world-renowned leader in nanotechnology, Mirkin invented spherical nucleic acids (SNAs), new globular forms of DNA and RNA that now form the basis for more than 300 products commercialized by licensees of the technology. Mirkin himself has launched four companies: Nanosphere, a developer of the Verigene System, an advanced molecular diagnostic platform; NanoInk, a nanotechnology company providing a platform process for nano-scale fabrication; and AuraSense and AuraSense Therapeutics, which explore and commercialize his SNA constructs.
Milan Mrksich, Henry Wade Rogers Professor of Biomedical Engineering, Chemistry, and Cell and Molecular Biology
Mrksich's research combines synthetic chemistry with materials science to study important problems in cell biology. He is a co-founder of Arsenal Medical Inc., a medical devices company that has a stent product in clinical trials, and more recently co-founded SAMDI Tech, an early-stage technology company based on his new platform for analyzing biochemical reactions. Technology Review magazine named Mrksich as a "100 Top Young Innovators" in 2002.