Events
Exploration, Experiments and Explosions Highlight Career Day for Girls
Hands-on workshop Feb. 23 shows young women what engineering is all about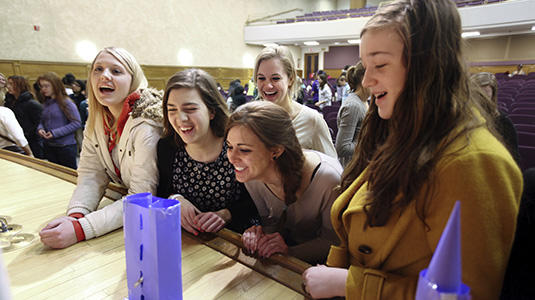 More than 175 Chicago-area middle school and high school girls will perform hands-on experiments and tour Evanston campus laboratories Saturday, Feb. 23, during Northwestern University's 42nd annual Career Day for Girls.
The career workshop at the McCormick School of Engineering and Applied Science is designed to encourage young women to consider engineering in their education and career choices. It will be held from 9 a.m. to 3:30 p.m. at the Technological Institute, 2145 Sheridan Road. (Registration for the program is closed as it has reached capacity.)
The popular event will include an engineering design competition, laboratory tours, hands-on experiments, a goal-setting workshop focusing on different engineering majors, and separate panel discussions for students and parents. Throughout the day, young women will have an opportunity to meet current women engineering students, faculty and alumnae.
Check out the action at a recent Career Day for Girls: https://www.youtube.com/watch?v=v0ta_QH8LLU.   
Claudia Villamil, a Northwestern alumna and quality systems engineer in Research and Development QA Enterprise Systems Support at AbbVie, will kick off the program with a keynote address from 9:10 to 9:45 a.m. in the Technological Institute's Ryan Family Auditorium. She will share her story of how she became a successful engineer and what inspired her to enter the profession.
In the design competition (9:45-10:30 a.m.), teams of five will use wooden spools, soda lids, balloons and tape to build a prototype of a self-propelled car. The vehicle will be tested to make sure it can travel on its own successfully.
Students participating in lab tours (10:30 a.m.-12:30 p.m.) will, among other things, isolate DNA using the students' own cells; learn how to program a robot; observe bacteria from everyday life using microscopes; learn about different prosthetics that change the lives of patients at the Rehabilitation Institute of Chicago; watch how rivers create channels by erosion; and view demonstrations of chemistry's explosions and wonders as well as a spinning bicycle wheel that defies gravity.
In hands-on afternoon sessions (1:15-2 p.m.), high school students will create a prosthetic arm using various materials while middle school students will rotate through three different activities, one of which is to create a boat that can float while holding various weights. These activities will expose students to various aspects of materials science and civil and mechanical engineering.
Career Day has been held at Northwestern annually since 1970, when only 4 percent of the students in the McCormick School of Engineering and Applied Science were women. Today, nearly one-third of McCormick students are women.