Events
Dean's Seminar Series Welcomes John A. Rogers
Rogers to speak on bio-integrated electronics at 2:30 p.m. Thursday, January 31
John A. Rogers, an expert on bio-integrated and bio-inspired electronic and photonic devices, will give a talk to the McCormick community at 2:30 p.m. Thursday, January 31 as part of the McCormick Dean's Seminar Series.
His presentation, "Stretchy Electronics that Dissolve in Your Body," will demonstrate how a new class of electronic systems promises to integrate non-invasively with the body, provide function over a useful period of time, and then dissolve into the surrounding biofluids.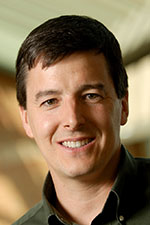 Rogers —a frequent research collaborator of Yonggang Huang, Joseph Cummings Professor of Civil and Environmental Engineering and Mechanical Engineering at McCormick — will summarize key ideas through demonstrations in skin-mounted "epidermal" monitors, advanced surgical tools, and bioresorbable electronic bacteriocides.
The event will be held in Pancoe Auditorium in the Pancoe-NSUHS Life Sciences Pavilion, 2200 Campus Drive on Northwestern University's Evanston campus.
Rogers' research includes fundamental and applied aspects of materials and patterning techniques for unusual electronic and photonic devices, with an emphasis on bio-integrated and bio-inspired systems. He has published nearly 400 papers and is inventor on over 80 patents, more than 50 of which are licensed or in active use. His research has been recognized with numerous awards, including a MacArthur fellowship.
Rogers is currently Swanlund Chair Professor at the University of Illinois at Urbana/Champaign, with a primary appointment in the Department of Materials Science and Engineering. He is also director of the Seitz Materials Research Laboratory.