Closing the Skills Gap, Furthering Careers
Jonathan Friedman (MS '14) connects job seekers with free online education through entrepreneurship and collaboration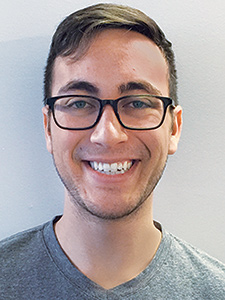 Using computers to solve human problems. That's what drew Jonathan Friedman (MS '14) to computer science.
"The idea of building things that helped people or made their lives easier was really cool to me," he recalls. "I was in school at the time, and I thought, 'If there are so many problems in the world that need to be solved, I should just start solving things.'"
Not one to wait around for change, Friedman connected with fellow Northwestern student and now business partner Daniel Daks, and the two launched several business ventures that culminated in TradeUp.io, an adaptive learning platform that helps job seekers by matching their skills to jobs and linking them to free online training courses.
They got the original idea from Daks' own struggle as a Northwestern student trying to learn how to code. "Daniel was finding it really difficult to teach himself how to program," Friedman says. "We thought if that was his experience, someone else had probably experienced it, too. So we just jumped in."
In 2013, with funding through the DreamIt Ventures NYC start-up accelerator program, the two developed an idea they thought would help job seekers and employers close the skills gap. Within months of launching TradeUp, the site was acquired by Apollo Education Group, a leading provider of higher education programs for working adults.
Apollo merged TradeUp with one of its existing properties, SkilledUp Academy (Academy.Skilledup.com). Today, Friedman works with Apollo as senior software engineer and NYC office lead for Academy.Skilledup.com, which now incorporates many of the concepts behind TradeUp, particularly its emphasis on mentored learning. He runs the engineering team while partner Daks oversees product for the newly revamped site.
"We took what we learned around the mentorship, the curriculum, and the personalization we had at TradeUp and really focused it down," he explains. "We rely a lot less on algorithms to provide services and lot more on humans."
"I learned a tremendous amount just being around incredibly intelligent and hard-working people. That applies every day, because now in the business world, I want to keep that incredibly high standard in everything I do and in the interactions I have with people at work."
-John Friedman (MS '14)
Although computer science is often viewed as a solitary pursuit, it was the collaboration with fellow students that made Friedman's McCormick experience one that continues to enrich his work today. "I learned a tremendous amount just being around incredibly intelligent and hard-working people," he shares. "That applies every day, because now in the business world, I want to keep that incredibly high standard in everything I do and in the interactions I have with people at work."