The Right Direction
Chelsea Stoner ('96) has built a brilliant career in private equity on her strong engineering foundation.
"It's all about problem solving at the end of the day, taking apart a really big problem, breaking it into a lot of little pieces, and tackling it. I definitely learned that at Northwestern. It's been a really good foundation for building my career."
Most people go to college expecting to find the right career path. Spending hours alone in a dark campus lab, Chelsea Stoner discovered the road she didn't want to take. And that has made all the difference.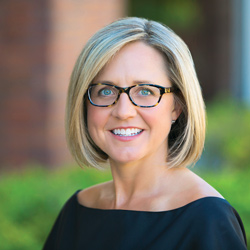 Growing up with a passion for math and chemistry, Stoner loved her chemical engineering courses at Northwestern. She always assumed an engineering degree would lead to a job in research. Her expectations shifted, however, during her junior year, when she worked as an intern for up to 40 hours a week in a lab.
"The lab didn't have windows," she remembers. "It was your prototypical, basement lab environment. After doing it for about 18 months, I thought, 'This is not for me.' I just couldn't see myself working in a lab with no other people for the rest of my life."
The realization that she wanted a job that involved interacting with a team took her down an entirely different path, one that has led to a successful career in private equity. Today, Stoner serves as general partner at Battery Ventures, a global technology-focused investment firm, where she concentrates on the software and healthcare IT sectors.
FINDING HER PATH
Resolved to direct her career along a different course, Stoner approached her adviser, who reassured her that a foundation in chemical engineering could open many doors. "She told me I could do anything I wanted, that the world was my oyster," Stoner remembers. "I often say now that it's not what you know you want to do—who the heck knows what they want to do?— it's what you know you don't want to do."
After graduation, Stoner joined Accenture as a consultant leading technology and strategy projects. The experience propelled her into positions with Merrill Lynch and Classified Ventures. As she delved deeper into finance implementation and accounting, she began to notice a gap in her economics skill set. Once again, she trusted her instincts about what felt right for her.
"It was another enlightening moment when I said, 'This is a skill that I would like to have,'" she shares. "I also knew I wanted a family, and consulting is a tough job because you're on the road all the time. I wanted to make a career change, plus I really needed finance skills, so I thought, 'Let's go back to school.'" After earning an MBA from the University of Chicago, Stoner became an associate at Key Principal Partners, a private equity firm. There, her interactions with entrepreneurs fueled even greater interest in the private equity field. "What really got me excited was meeting people who are very passionate about their businesses," she says. "They're entrepreneurs who have decided to put everything aside and start a company."
In this niche, Stoner found the people-filled environment she had longed for in the lab. She also relished learning about new business models and the challenges of solving new and different problems.
In 2006, Stoner joined Battery Ventures as a senior associate, drawn by their focus on technology. "They were starting to build out more of their private equity team," she remembers. "I wasn't doing technology at the time, and I really wanted to get back into it. I thought this is a great opportunity for me to marry everything that I loved in technology with what I'm doing on the deal side."
That decision has paid off for Stoner, who rose to become the first female partner in the global firm's 30-year history. Focusing primarily on software as a service (SaaS) and healthcare IT, she was involved with Battery's investments in Glassdoor, Data Innovations, and Marketo, and currently serves on the boards of Avalara, Brightree, Intacct, and WebPT. In 2013, she made Forbes' Midas "Hot Prospects" list of up-and-coming venture capitalists.
"I love it—it's everything I could ever ask for in a job," Stoner says. "I like doing something different every day. No day is the same."
Charged with finding interesting businesses to invest in, Stoner and her team come up with new investment ideas and then look for companies that fit them. "It's a lot of finding needles in haystacks and hunting for the right opportunity."
Seeing the companies they work with succeed and deliver a good return for investors is incredibly rewarding. "When you've put so much time and energy into something, and you see it through to completion, that's the ultimate goal," she shares. "It's this happy place where you've made your investors and the management team happy."
Thinking back to her time in the lab, Stoner says she's grateful for the engineering skills that helped propel her up the ranks of the private equity/venture capital field. "It's all about problem solving at the end of the day, taking apart a really big problem, breaking it into a lot of little pieces, and tackling it. I definitely learned that at Northwestern. It's been a really good foundation for building my career."