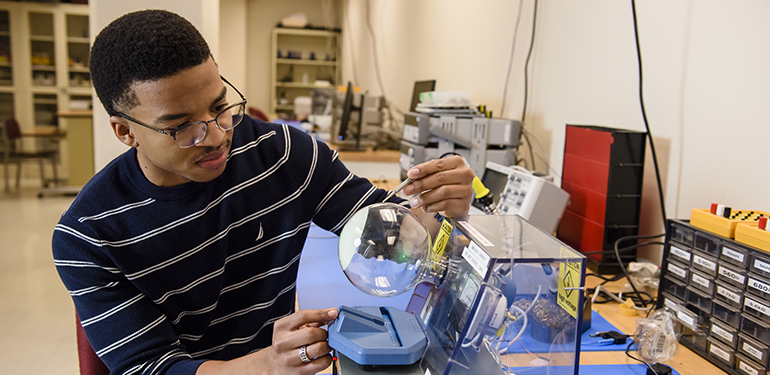 Groups & Labs
Jump to a Section
The work of the Atomic and Photonic Technology Laboratory includes projects ranging from quantum teleportation to holographic correlation. This lab is headed by Selim Shahriar.
The Communications and Networking Laboratory is the home to faculty, students, and postdocs studying communication and networking. This lab is headed by Randy Berry, Dongning Guo, Ermin Wei, Michael Honig, Chung-Chieh Lee.
The research interests of the Computational Vision Group include computer vision, visual motion tracking, capturing, and recognition, statistical learning and pattern recognition, and vision-based interaction, among other areas. This group is headed by Ying Wu.
Electron Transport Lab
This lab is headed by Matthew Grayson. Please contact him for more information.
Research interests include model-based design and software synthesis of cyber-physical systems, CPS security, embedded and real-time systems, energy-efficient buildings and infrastructures, and system-on-chip design. This lab is headed by Qi Zhu.
Image and Video Processing Laboratory
The objective of the Image and Video Processing Laboratory is to generate cutting-edge research results in the fields of multimedia signal processing, multimedia communications, and computer vision. This lab is headed by Aggelos K. Katsaggelos.
Research at Ka Moamoa  explores energy efficient and mobile computing devices, like wearables, implantables, and energy harvesting sensors,  in the context of global scale applications ranging from healthcare to environmental engineering. This lab is headed by Josiah Hester.
The research program in the Metamaterials and Nanophotonic Devices Lab is mainly focused on the broad area of nanophotonics, an emerging field strategically positioned at the intersection of electrical engineering, applied physics, materials science and nanoscience. This lab is headed by Koray Aydin.
The objective of the NuCAD Research Laboratory is to improve design productivity by applying formal methods to silicon complexity problems, such as inductive/capacitive couplings and process variability. This lab is headed by Hai Zhou.
Human intelligence lies on the capability of thinking. With the development of the programmable computer, slow thinking has found its solid foundation on computation. With the recent progress of machine learning, especially deep learning, fast thinking is discovering its root on learning. Logics is the foundation of both computation and learning. NuLogiCS group's goal is to build the new logic foundation for Artificial Intelligence (which needs a tight integration between computation and learning), and for Security (which needs a tight integration between cryptography and formal verification). This lab is headed by Hai Zhou.
The Parallel Architecture Group at Northwestern (PARAG@N, pronounced "paragon") conducts research in energy-efficient high-performance parallel computing at all scales through cross-layer design: from emerging devices and circuits, to computer architecture, compilers, runtimes, operating systems, and applications. This lab is headed by Professor Nikos Hardavellas.
The Physical Electronics Research Laboratory (PERL) at Northwestern University develops the computing systems of the future, starting from the fundamentals. PERL creates nano-scale devices and materials, and studies how to use them in electronic systems with unprecedented performance and energy efficiency. This lab is led by Professor Pedram Khalili.
The VLSI Research Lab at NU focuses on the areas of energy efficient computing in digital and mixed signal IC design. We are dedicating our effort to push the existing technology with "non-conventional" approaches. Some of the examples of approaches we take includes: a "cross-layer" design approach where we cross conventional design boundary and leverage broader knowledge of different fields, exploiting new computing method such as mixed-signal / analog computing to achieve ultra-low energy consumption, and leverage emerging meuromorphic technique for biomedical system, ultra-low power system. This lab is headed by Jie Gu.
More in this section