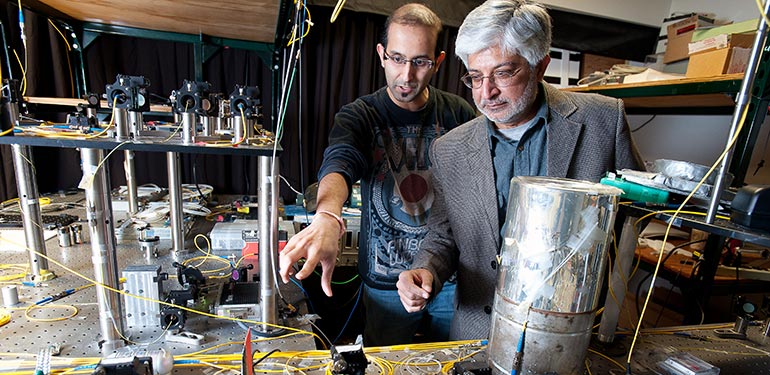 Academics

  /  

Undergraduate

  /  

Electrical Engineering Major

Curriculum and Requirements
The electrical engineering curriculum includes courses in electronic circuits, solid-state electronics, electromagnetics, optics, lasers, controls, digital signal processing, communication, and networks. The curriculum challenges students to:
Apply their electrical engineering skills to a variety of challenges in industry, academia, or in the pursuit of other fields.
Attain careers in which they become leaders in their chosen fields, work in multidisciplinary teams, make decisions that are socially responsible, and communicate effectively.
Continuously learn new concepts, identify new directions, and adapt in response to the needs of a rapidly changing world.
 ELECTRICAL ENGINEERING CATALOG
Degree Requirements
The minimum number of courses required for the bachelor of science in electrical engineering is 48, including 32 core courses and 16 electrical engineering courses. Among them are:
Core courses (32 courses)
Mathematics (4 courses)
Engineering analysis and computer proficiency (4 courses)
Basic sciences (4 courses)
Design and communications (3 courses)
Basic engineering (5 courses)
Social sciences/humanities (7 courses)
Unrestricted electives (5 courses)
Electrical Engineering Major (16 courses)
Required courses (5 courses)
ELEC_ENG/EECS 221 - Fundamentals of Circuits
ELEC_ENG/EECS 222 - Fundamentals of Signals and Systems
ELEC_ENG/EECS 223 - Fundamentals of Solid State Engineering
ELEC_ENG/EECS 224 - Fundamentals of Electromagnetics and Photonics
ELEC_ENG/EECS 225 - Fundamentals of Electronics
Technical electives (10 courses)
At least six courses must be taken from the following tracks:
Biomedical systems
Circuits and electronics
Communications systems
Control systems
Digital signal processing
Electromagnetics and photonics
Solid-state engineering
For a list of the courses in each of these tracks, as well as a list of the four other required technical electives, please see the department's Electrical Engineering Course Catalog. 
Design course (1 course)
Students are required to take one of the following:
More in this section