Faculty Directory

Malcolm A. MacIver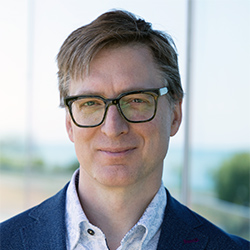 Professor of Biomedical Engineering
Professor of Mechanical Engineering
Contact
2145 Sheridan Road
Tech B292
Evanston, IL 60208-3107
847-491-3540
Email

Malcolm MacIver
Website
Center for Robotics and Biosystems
---
Departments
Affiliations
Master of Science in Robotics Program
---
Education
Ph.D. Neuroscience, University of Illinois at Urbana, Champaign, IL
M.A. Philosophy, University of Toronto, Toronto, ON
B.S. Computer Science, University of Toronto, Toronto, ON
Research Interests
Professor MacIver is interested in understanding how animals acquire sensory information and use that to guide movement and decision-making. This is a problem solved jointly by the body and the nervous system, and thus the studies his lab performs rarely fit into traditional academic disciplines, but rather span from computational modeling through to bio-inspired robotics, animal behavior studies and neurobiology.
Significant Recognition
Presidential Early Career Award for Science and Engineering, 2009
NSF Career Award, 2009
Significant Professional Service
Organizer, First International Symposium on Robotic Electrosense, Aug 2012 College Park MD
Science Consultant for movie and television industry, National Academy of Science's Science Entertainment Exchange
Northwestern Faculty Senate Representative
Selected Publications
Hunt, L.T, Daw, N.D, Kaanders, P., MacIver, M.A., Mugan, U., Procyk, E., Redish, A.D., Russo, E., Scholl, J., Stachenfeld, K., Wilson, C.R.E., and Kolling, N. (2021) Formalising planning and information search in naturalistic decision-making. Nature Neuroscience.




Bhattacharyya, Kiran D. and McLean, David L. and MacIver, M. A. (2021) Intersection of motor volumes predicts the outcome of ambush predation of larval zebrafish. Journal of Experimental Biology Mar 1;224(Pt 5):jeb235481. doi: 10.1242/jeb.235481. J32




Mugan, U. and MacIver, M.A. (2020) Spatial planning with long visual range benefits escape from visual predators in complex naturalistic environments. Nature Communications. Video explainer.




Chen, C. Murphey, T.D, and MacIver, M.A. (2020) Tuning movement for sensing in an uncertain world, eLife. 




MacIver, M.A., Schmitz, L., Mugan, U, Murphey, T.D, and Curtis D. Mobley (2017). Massive increase in visual range preceded the origin of terrestrial vertebrates. Proceedings of the National Academy of Sciences, 114(12):E2375-E2384. doi: 10.1073/pnas.1615563114. Video explainer.
In the Classroom
Prof. MacIver teaches graduate level courses in neural engineering (BME 461 Computational Neuromechanics and Neuroethology), as well as undergraduate classes in neuroscience and python programming for science and engineering.
Malcolm MacIver In The News
New Theory Predicts Movement of Different Animals Using Sensing to Search
Hunting in Savanna-Like Landscapes May Have Poured Jet Fuel on Brain Evolution
Vision Not Limbs Led Fish onto Land 385 Milllion Years Ago