Using their Right Brains: Engineers Get on the Stage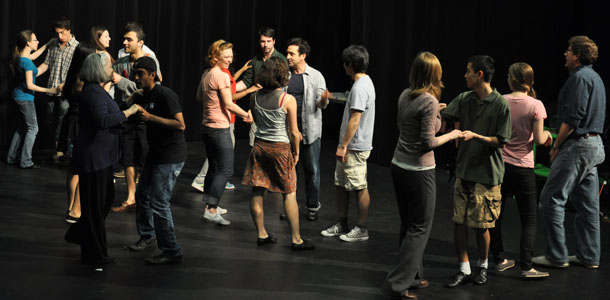 Engineering students at McCormick excel in many areas: they solve problems, think creatively to design new products and services, and perform world-class research.

But recently, two pilot courses set out to challenge students with in two more areas: Can they dance? Can they act?

A three-session dance course called PRDV 395: Whole Body Engineering, and a spring quarter DSGN 395: Engineering/Theatre course both aimed to get engineers out of Tech and out of their comfort zones to learn new skills that they can use in engineering and life.

From Brainstorming to Swing Dancing

Joe Holtgreive, assistant dean and director of McCormick's Office of Personal Development, had been interested in offering students a dance class ever since he saw a lecture given by Billy Siegenfeld, professor of dance at Northwestern. At the lecture Siegenfeld, a professor of dance at Northwestern, demonstrated aspects of a trademarked system of movement-and-voice training he's created called Jump Rhythm Technique, which teaches students how to transform the everyday body and voice into an articulate percussion instrument. After demonstrating this himself, Siegenfeld, who is also the artistic director of the acclaimed performance company Jump Rhythm Jazz Project, had the audience stand up and dance and sing their own rhythms with each other. That's what caught Holtgreive's attention.

"With McCormick's emphasis on design and the brainstorming process, I thought it would be fun to explore dancing as a way to get engineers outside of themselves, to get them to create more wild ideas," Holtgreive said. "I thought this type of dance could be an interesting model for how to warm up for brainstorming."

He invited Siegenfeld to teach a short lesson to his Engineering Design Communication class on his methodology of standing down straight, which promotes the body's connection to the Earth, itself, and to others.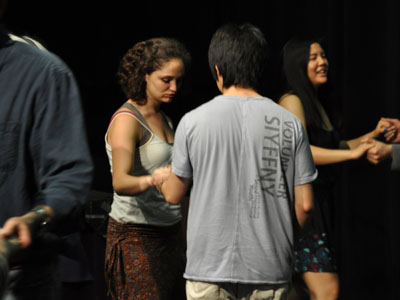 "Most of the students really loved it," Holtgreive said. The two began talking about the similarities between partner dancing and engineering – the intuition of knowing what your partner will do compared with the anticipation of what a potential user will like – and they hatched the idea of a partner dancing workshop for engineers. What resulted was Whole Body Engineering, offered through McCormick's Office of Personal Development, which helps undergraduate students explore opportunities to develop self-awareness by engaging in creative experiences. Partner dancing would encourage collaboration and teamwork – just like design courses at McCormick – and above all, it would be fun.

"It was a way to get engineering students to participate in a fun, active class," Holtgreive said.  "I think that engineering students – maybe more so than other students – are less likely to have had these types of experiences."

All undergraduate students were invited to apply, and 16 students – eight men and eight women – were chosen.

The class started with the basics – ways to carry their bodies, ways to articulate rhythms – before they began basic swing dancing with partners.

"There is a constant tension between two bodies if you are holding hands," said Ellen Abrams, a recent mechanical engineering graduate who took the class. "You are pushing and pulling. Maintaining that connection is how you communicate."

But as soon as students got comfortable with their partners, Siegenfeld had them switch.

"That's where most of the teamwork came in," Abrams said. "You had to figure out how to adapt to a new partner each time. You can't feel strange with someone if you don't know them. You just have to get over it."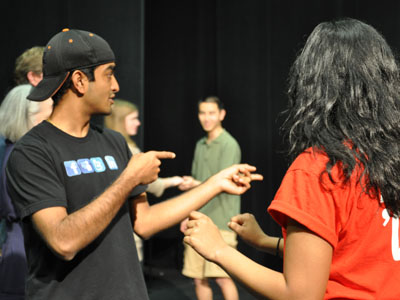 For Chirag Gupta, a junior in industrial engineering whose previous dance experience was limited to hip-hop and bhangra, the partner dancing showed him a new way to communicate.

"We got to know each other through dance, not through normal conversation," he said. "It was a truly nonverbal experience, which can help you in different contexts. Even if you're in a classroom or on a group project, reading people's attitudes through nonverbal gestures is the name of the game."

By the end of the class, students had learned several swing dance steps, and Siegenfeld encouraged them to improvise their moves. That begged the question: How do we improv? Siegenfeld told them that one partner should act as a hitching post, while the other goes off and improvises.

Finally, the class let loose.

"It's just always a good thing to have engineers doing things they aren't used to doing," Abrams said.

"It's a creative act," Holtgreive said. "It's something that all of our students will be called upon to do. There's not always a clear answer to the problems. You need to think creatively and on your feet. This taught them a way of doing that."

Engineering Takes the Stage

For Dan Moser, senior lecturer in communication studies and leadership and organizational studies, teaching theater to engineering students is a culmination of the last seven years: Moser has a PhD in performance studies and teaches presentation skills in the BME 390 senior design course. 

When Moser recently met Matthew Grayson, assistant professor of electrical engineering and computer science and coordinator, he learned about Grayson's efforts coordinating ETOPiA: Engineering Transdisciplinary Outreach Project in the Arts, an outreach initiative at McCormick that puts on a yearly play about science.

"I have a real interest in combining science and art," Moser said. "When we met, we said, what if we could actually bring theater students and engineering students together to do plays about science?"

So they did just that. The class, funded through outreach money from the Materials Research Science and Engineering Center, brought together six engineering students and six theater students for a crash course in both subjects. Engineering students got lessons from theater professors on acting techniques, while theater students toured labs and learned the basics of science and engineering. The group traveled to downtown Chicago to see a performance of Death and the Powers, an opera that uses robots – the ultimate combination of theatre and technology.

For Michael Deem, a industrial engineering and manufacturing and engineering design junior, the course was an opportunity to show his film major roommates that he, too, could act.

"I got more than I bargained for," he said. "Engaging conversations about the roles of design, science, and theatre in our culture; acting lessons from world-renowned practitioners; autonomy to explore any science subject I'd like; and the ability to peak other's curiosity through totally novel mediums to me."

For their midterm, students partnered up to perform not only a scene from a science-related play but to also give a technical presentation on the engineering and scientific aspects covered in that scene. The class was then grouped into teams of four for a similar final scene and presentation, which they gave to members of the Osher Lifelong Learning Institute at Northwestern.

One group of students performed "The Tallest Building in the World" about the construction of the World Trade Center buildings, then gave a presentation on the structural engineering aspects of the skyscrapers. Deem's team performed "Inherit the Wind", a scene that dramatizes the Scopes Monkey Trial, where biology teacher John Scopes was accused of violating Tennessee's Butler Act by teaching evolution.

"At McCormick, I've learned tools and techniques to do that based on my engineering work," he said. "This course exposed me to another avenue and other methods from an unexpected source: the theatre. I'm amazed at how well the two --engineering and theatre -- can compliment each other through design."

That, Moser said, makes the course a success.

"The goal was to get students connected and exposed to different habit of thinking," he said. "I am extremely pleased. There's never been a class like this, and we very much hope to do it again."