McCormick Travels to Singapore to Further Connections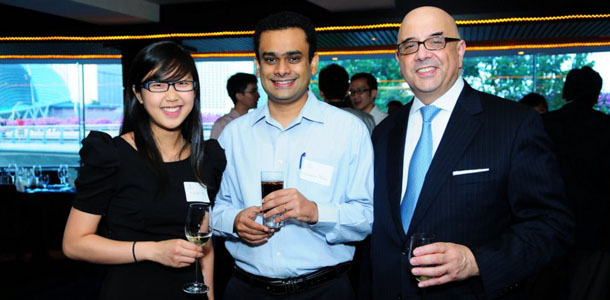 See a slideshow of photos from the event.

This summer President Morton Schapiro and Dean Julio M. Ottino traveled to Singapore with a group of Northwestern officials. McCormick hosted an event in Singapore on July 1, welcoming more than 60 alumni and friends.

During the trip, Dean Ottino and colleagues met with the president, provost and other leadership from Nanyang Technological University to discuss potential collaborations in nanotechnology, biomedical engineering, and materials science, as well as with the president of the National University of Singapore and executive management from A*STAR and the Economic Development Board.

"Singapore's leadership position and role as a connector through Asia and the world made it a most fitting place for this alumni event," Ottino said.  "I am pleased to have had the opportunity to meet alumni from nearly every part of Northwestern at our event."

The trip is part of Northwestern's continuing efforts to increase its outreach globally, attracting additional international students and involving alumni who live outside of the United States.

See a slideshow of photos from the event.