Honors and Awards
ASME Establishes Zdeněk P. Bažant Medal
The honor recognizes contributions to the field of mechanics via research, practice, teaching, or leadership
Northwestern Engineering's Zdeněk P. Bažant has enjoyed a storied career studying the mechanics of solids and structures. A new honor from the American Society of Mechanical Engineers (ASME) will ensure his impact in the field is remembered for years to come.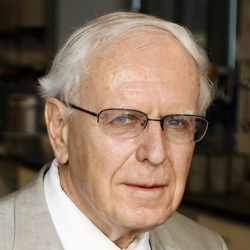 Beginning in 2024, ASME will award the Zdeněk P. Bažant Medal, recognizing an individual who has made significant contributions to the field of mechanics through research, practice, teaching, and/or outstanding leadership. 
Bažant, McCormick Institute Professor and Walter P. Murphy Professor of Civil and Environmental Engineering and (by courtesy) professor of mechanical engineering and materials science and engineering, has been a member of the Northwestern faculty since 1969. His research interests lie in new interdisciplinary problems of the mechanics of solids and structures, with applications in structural, mechanical, and aeronautical engineering, materials science, geophysics, and petroleum engineering.
Bažant is well-known for his definitive analyses of the collapse of the World Trade Center towers on September 11, 2001, and the excessive deflection and consequent tragic collapse of the Koror-Babeldaob Bridge of record span length in Palau in 1996. His work has been implemented at structural engineering firms and companies such as Boeing, Chrysler, and Ford, and has improved the safety, sustainability, and efficiency of structures such as bridges, dams, buildings, aircraft, cars, ships, sea ice, and nuclear containments.
Bažant's work has earned him several prestigious commendations. He's a member of the National Academy of Sciences, National Academy of Engineering, and the Royal Society of London. He's also a member of the national academies of Austria, Japan, the Czech Republic, India, Italy (Lincei), Greece, and Spain. In 2016, he received the Austrian Cross of Honor for Science and Art. Earlier this year, he received an honorary doctorate from the University of Minnesota, his eighth such honor.
In 2015, the American Society of Civil Engineers (ASCE) established the Zdeněk P. Bažant Medal for Failure and Damage Prevention in recognition of his expertise in the field of analytical and computational modeling of failure of quasi-brittle materials.