Undergraduate
Student Entrepreneurs Driving to Success with Football Card Game
Harrison Brooks and Cameron Briskin teamed up to create Fourth Down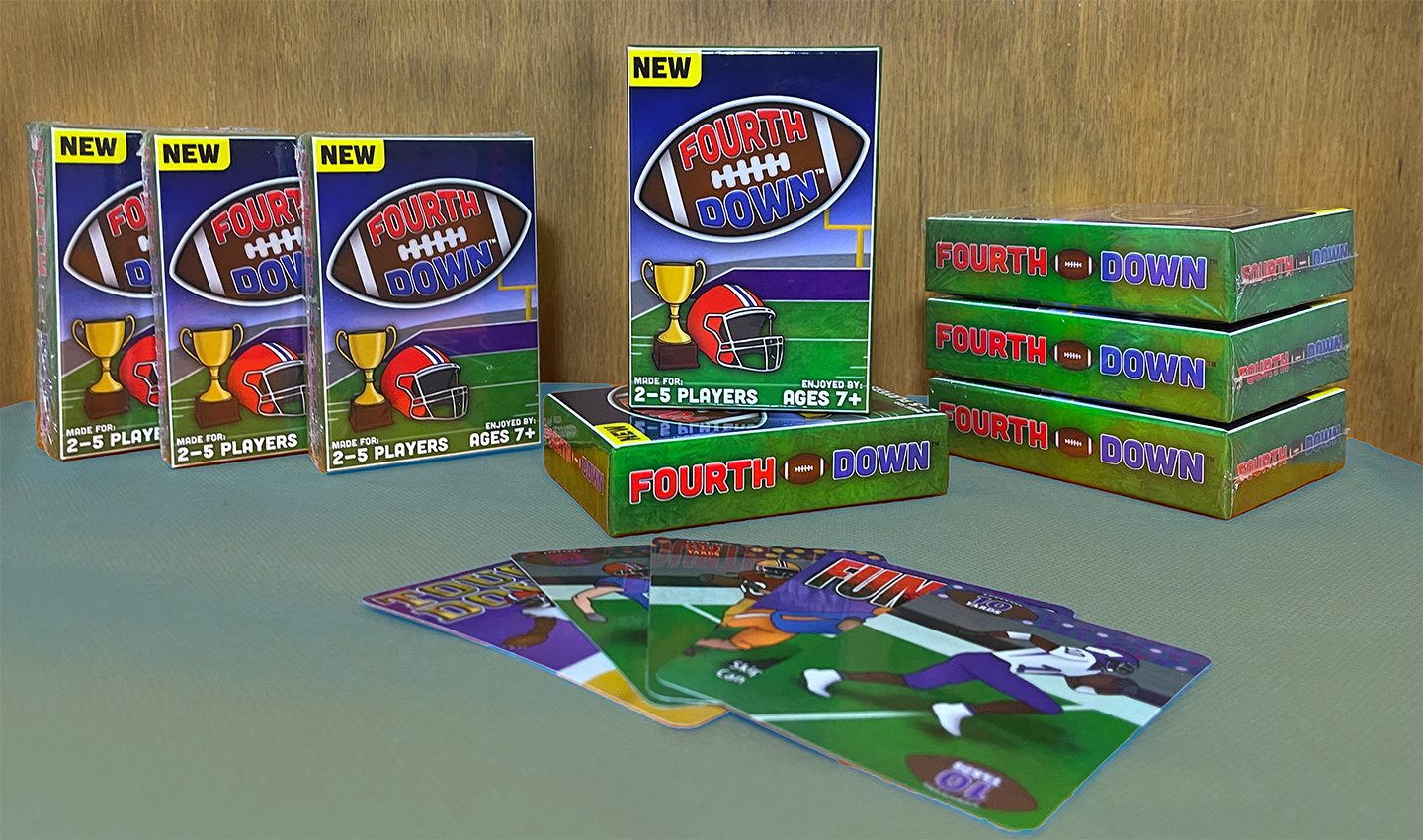 When he was 17 years old, third-year Northwestern Engineering student Harrison Brooks launched the game ElevatorUp, a card game which challenges players to get rid of their cards as they traverse up and down a building. That game, which has drawn more than 200 four- and five-star reviews on Amazon, was the first for Brooks and his company, Brokli LLC.
Creating card games was Brooks's passion before coming to Northwestern, though he put it on the backburner as he adjusted to college life during the COVID-19 pandemic.
An email he received last winter reinspired him.
"It was from a mother whose child has autism," said Brooks, who is studying manufacturing and design engineering (MaDE) at the Segal Design Institute and pursuing an entrepreneurship minor through the Farley Center for Entrepreneurship and Innovation. "She said ElevatorUp really spoke to him because he loves the elevator and is an elevator enthusiast. Fans of elevators never had a product that spoke to their interests and their personal passions. I didn't even know of the elevator-enthusiast community before making ElevatorUp. Realizing that a game could speak to people and improve their lives inspired me for my next project."
That next project is made for one of the most devoted fan bases: football fanatics. Along with illustrator and fellow McCormick School of Engineering student Cameron Briskin, Brooks created Fourth Down, an UNO-like card game with a football theme where players attempt to have no cards remaining at the end. The game is geared toward anybody over seven years old, and can be played by two to five people.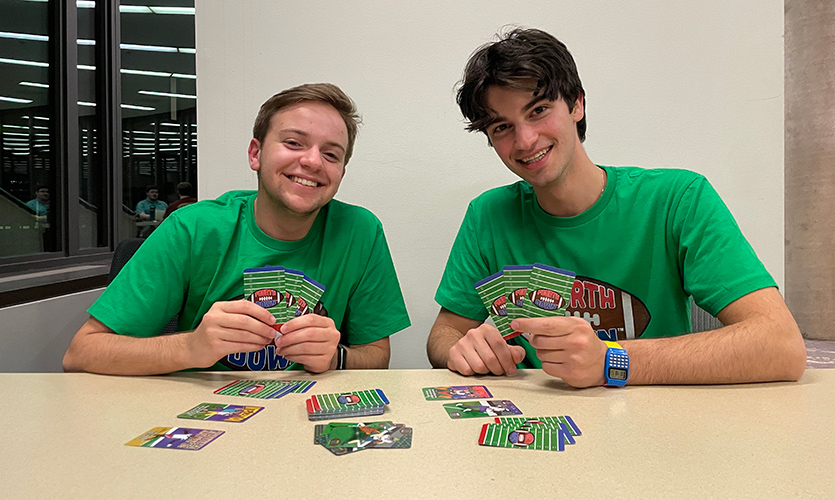 Briskin, a junior studying MaDE and working toward a Segal Design Certificate, was tasked with designing cards that visually popped.
"There's a lot of excitement to the cards themselves, so I wanted to make them dynamic and different, and also wanted to style them in a way that captures the excitement of the sport," Briskin said. "Whether it's the players moving down the field, having the ball, or fans in the background, I tried to incorporate all of those elements to get that excitement into the cards to add to people's experience as they played."
Creating the game was one challenge; marketing and funding it is another. Brooks learned from his experience with ElevatorUp, when he was younger and had much less experience. Brooks launched a successful Kickstarter in May, which he promoted through a news release sent to Chicago-area media outlets. The game was featured on Fox-32 Chicago and WGN Radio, plus industry-focused outlets such as A Couple Games, Everything Board Games, and People of Play. 
The team has also benefited from its experience at Northwestern Engineering. Brooks and Briskin met in Design Thinking and Communication, Northwestern Engineering's required first-year course which challenges students to solve real design problems submitted by clients. There, they learned how to convey their ideas and improve them as a project progressed. 
Briskin has also been aided by his time in Segal, applying what he's learned about mocking up and perfecting drawings, and presenting his thoughts visually to groups. For Brooks, his involvement in the Farley Center has paid dividends. He's learned how to pitch his product and speak in public.
These opportunities are why Brooks and Briskin chose Northwestern and McCormick.
"I've always loved to make and create and I've always wanted to be an entrepreneur. It was very clear when I started looking at colleges that this was the place for me," Brooks said. "They have the resources, and the MaDE program really spoke to me."
The work has paid off. Brokli was a semifinalist in the 2023 VentureCat competition and the Kickstarter raised more than $3,000 to support Fourth Down's initial production run. The game was just released on Amazon, and Brooks was nominated for the Rising Star Innovator of the Year Award at the 2023 Toy and Game International Excellence Awards. 
"I enjoy football, but I never felt like I could be a football player because I wasn't athletically gifted like that," Brooks said. "I'm really happy with how Fourth Down turned out is because it's fun for everyone, regardless of how much they enjoy football. Whether you watch it casually or you're a diehard fan or even a player, you can connect over the game and with other people."