Announcements
Eric J. Perreault Named Vice President for Research
McCormick professor to oversee University's billion-dollar annual research operation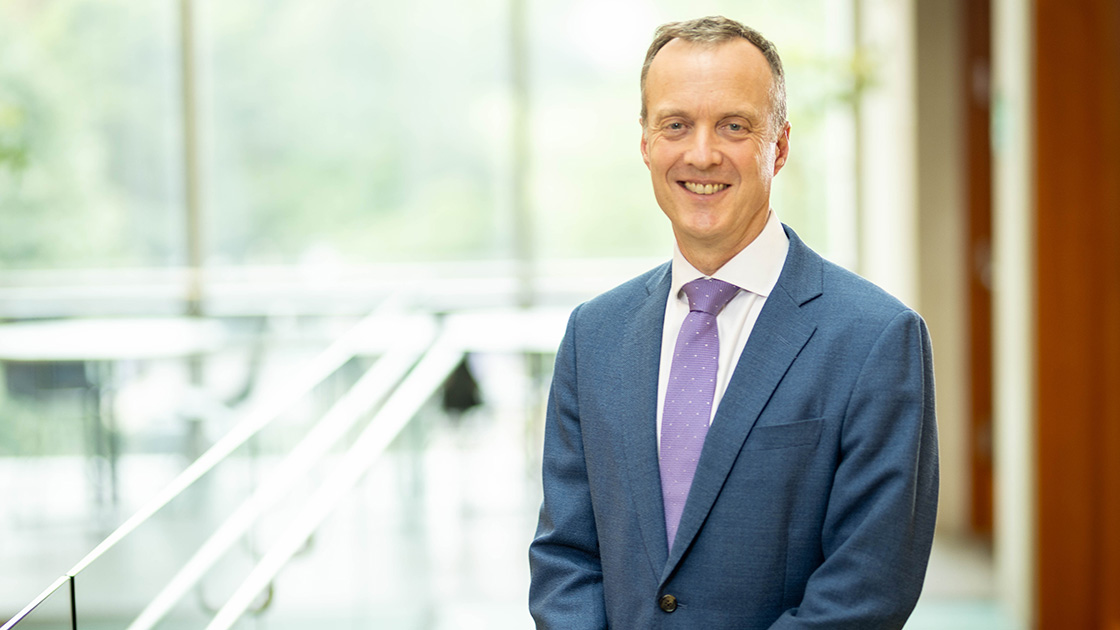 Eric J. Perreault has been named Northwestern University's vice president for research, President Michael Schill and Provost Kathleen Hagerty announced today.
Effective Sept. 15, Perreault will lead Northwestern's Office for Research, which recently announced record-breaking annual sponsored research funding of more than $1 billion for the past fiscal year. He will report jointly to the president and provost.
"Eric Perreault has demonstrated incredible skill in identifying opportunities for multi-disciplinary collaboration and innovation, critical components of the University priorities that propel Northwestern forward," Schill said. "We look forward to his leadership at the university level as we build on more than a century of groundbreaking discoveries."
Perreault, who joined Northwestern's faculty in 2002, is a professor of biomedical engineering in the McCormick School of Engineering and a professor of physical medicine and rehabilitation in Northwestern University Feinberg School of Medicine. He also has served as associate dean for research administration and oversight at McCormick. In that role, he worked with the Office for Research, McCormick research computing and others to advance research development and oversee research administration and safety.
"I am honored to serve as Northwestern's next vice president for research," Perreault said. "Our university is one of the world's preeminent institutions of higher learning, and research is a pillar of our excellence. I look forward to working with the exceptional team in the Office for Research, our dedicated partners in all of Northwestern's schools and faculty to expand our tradition of excellence and increase the impact of research within and beyond our campus."
During his tenure as associate dean, Perreault helped facilitate a 30% increase in research funding to McCormick and helped drive an increase in research collaborations with other schools and departments across the University.
"We are delighted that Eric Perreault will bring his tremendous vision and ambition to Northwestern's thriving research enterprise," Hagerty said. "While his background is rooted deeply in science and medicine, Eric is committed to supporting research and facilitating connections across all fields of research. Our faculty and our students will continue to excel under his leadership and strategic guidance, positioning Northwestern as an innovative leader in the global landscape."
Perreault previously served as chair of biomedical engineering at Northwestern, where he led the department's expansion to Northwestern's medical campus and assisted in establishing two new research centers that connect biomedical engineering faculty to collaborators across the University. He also is a leader in NURTURE: Northwestern University Recruitment to Transform Under-Representation and achieve Equity, an initiative that aims to enhance and maintain a sustainable culture of inclusive excellence in Northwestern's biomedical research community.
"Interdisciplinary collaborations are a hallmark of Northwestern research that allow us to tackle complex global problems from their technical underpinnings to societal implications," Perreault said. "These collaborations are enabled by a culture of shared curiosity, creativity and inclusivity targeted toward meaningful change. Continuing to expand connections and include diverse perspectives will allow us to meet the most pressing challenges of today and realize the opportunities of tomorrow."
Perreault's research group is housed in the Shirley Ryan AbilityLab. Its work focuses on the neural and biomechanical mechanisms involved in controlling movement and posture and how these change following events such as stroke or spinal cord injury. The group aims to develop a scientific understanding of human motor control that can be used to guide the development of human-machine systems and rehabilitative strategies that restore function to individuals with motor deficits.
He earned his bachelor and master of engineering degrees in electrical engineering from McGill University and a Ph.D. in biomedical engineering from Case Western Reserve University.
He succeeds Milan Mrksich, who has led the Office for Research since 2019. Mrksich announced plans in June to step down from the position to focus full time on his research.