Honors and Awards
Sam Kriegman Named Schmidt Futures AI2050 Early Career Fellow
The award supports bold and ambitious multidisciplinary research in advancing AI for the benefit of society
Northwestern Engineering's Sam Kriegman is among the inaugural cohort of Schmidt Futures AI2050 Early Career Fellows, selected to solve hard problems in artificial intelligence (AI) through bold and ambitious multidisciplinary research.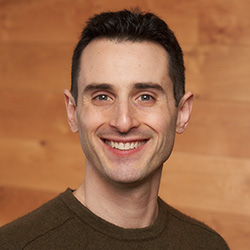 Kriegman joined the McCormick School of Engineering in fall 2022 as an assistant professor of computer science, chemical and biological engineering, and mechanical engineering.
AI2050 is a program of Schmidt Futures, a philanthropic initiative founded by Eric and Wendy Schmidt. Launched in February 2022, the AI2050 program supports scientific progress toward addressing key challenges and opportunities identified in the Hard Problems Working List, including advancing the technical capabilities of AI, deploying AI responsibly, and harnessing AI for the benefit of society.
The cohort of 15 Early Career Fellows will join the Schmidt Futures network to advance AI research in fields including computer science, economics, political science, and philosophy.
Kriegman's research involves the automated design and fabrication of robots, drawing inspiration from the evolution of animals. He will receive support over two years from the AI2050 program for his work on bioinspired AI.
"There are many lessons we can learn from biology in our pursuit of useful and reliable AI," Kriegman said. "Indeed, evolution is the only known force capable of creating intelligence. So, it makes a lot of sense to study how evolution works if you want to create artificial intelligence."
Kriegman and his team will investigate how to speed up the evolution of smarter AI systems.
"We can't wait a billion years for intelligent machines to evolve. We need something a bit faster to keep pace with the growing list of technical challenges we face as a species, such as regulating our planet's climate," Kriegman said. "AI can help us not only accelerate evolutionary innovation but steer its endless creativity toward solving some of the problems we care about."
Kriegman believes that physical robots may hold the key to realizing advanced AI systems.
"The most obvious difference between living intelligences and artificial ones is that the former have bodies and the latter do not," Kriegman said. "This is important because, without the ability to act directly on the world, AIs will have a hard time understanding our world, and by extension us."
Kriegman and his students will focus on creating intelligent robots that can carry out useful work in the physical world.
"Creating a robot that can run around in the woods, climb up a tree, and bury acorns would teach us more about intelligence than any computer program ever could on its own," Kriegman said. "As a bonus, we'd realize truly useful machines capable of building skyscrapers, cleaning oceans, and terraforming planets."
Kriegman is a recipient of the National Academy of Sciences' Cozzarelli Prize and the International Society for Artificial Life Distinguished Early-Career Investigator Award. He received his PhD and the Outstanding Doctoral Dissertation Award from the University of Vermont in 2020. Before joining Northwestern, Kriegman conducted postdoctoral research in the biology department at Tufts University and Harvard University.
"I am honored to be named an AI2020 Early Career Fellow alongside such impressive colleagues," Kriegman said. "I can't wait to work with them and learn from them."