Events
Rediscovering Childhood at the ACM Interaction Design and Children Conference
Professor Michael Horn served as general chair of the five-day conference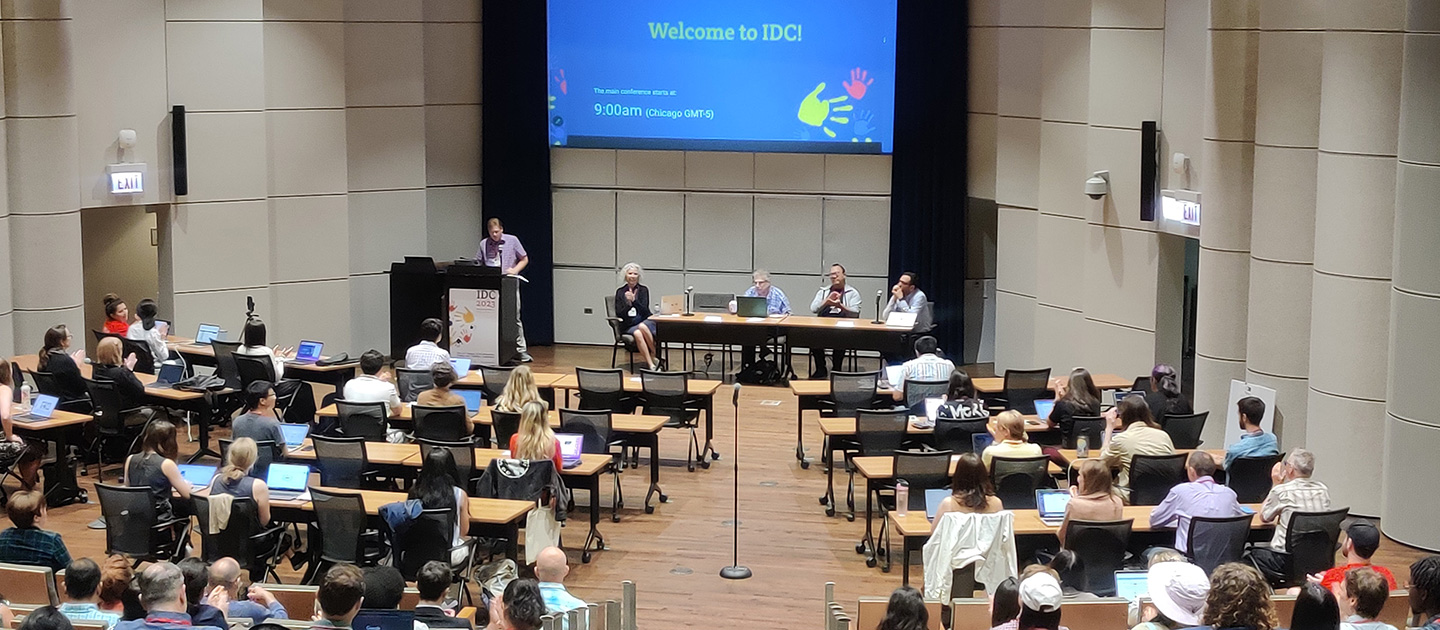 Children and adolescents are growing up with technology front and center in their everyday lives — from education and learning to entertainment and play to health, development, and well-being.
Exploring the theme of reemergence, reengagement, and reconnection after two years of the COVID-19 pandemic, the 22nd annual ACM Interaction Design and Children (IDC '23) Conference brought together researchers, educators, and practitioners to "rediscover childhood" and question what adults can do to ensure a sustainable and equitable future for the next generation.
Hosted last month by Northwestern's Center for Computer Science and Learning Sciences, a collaboration between Northwestern Engineering and Northwestern's School of Education and Social Policy (SESP), IDC '23 is the premier international conference showcasing the latest research findings, innovative methodologies, and new technologies in the areas of inclusive child-centered design, learning, and interaction.
Michael Horn, professor of computer science at the McCormick School of Engineering and a professor of learning sciences at SESP, served as the general chair of IDC '23.
Horn codirects the Center for Computer Science and Learning Sciences with Chris Riesbeck, associate professor of computer science at Northwestern Engineering, and Uri Wilensky, the Lorraine Morton Professor of Learning Sciences and Computer Science.
"Hosting IDC in Chicago was an ideal opportunity to highlight the work of the center in research and graduate student education," said Horn, who also directs the Tangible Interaction Design and Learning (TIDAL) Laboratory, a team of designers, artists, learning scientists, and computer scientists aiming to study and create innovative technology-based learning experiences.
Program highlights
The five-day conference focused on children's technology across many forms of digital interaction, including tangible, virtual, mobile, and mixed reality. Horn and the organizing committee — composed of 65 members representing 37 academic and industry institutions in 14 countries — encouraged submissions that reflected on the nuances of design work for and with children and anticipate concerns of privacy, ethics, equity, social and emotional wellbeing, sustainability, and healthy human development.
The technical program represented the breadth of the field and included 31 full papers, four short papers, and one pictorial from 125 submissions. Sessions were organized into the themes of augmented and virtual reality, computational and data literacy, child safety and wellbeing, conversational agents and natural language processing, robotics, co-design, and multisensory learning.
In the "STEAM Tools for Learning" session, Horn, Wilensky, John Chen, a computer sciences and learning sciences (CS+LS) PhD student, and Lexie Zhao, a PhD student in learning sciences at SESP, presented a paper on the design of a scaffolded agent-based programming space called the Pocketworld Playground. The team demonstrated their success in engaging young, out-of-school online learners in computational and complex systems thinking.
The IDC '23 program also included keynote lectures by Heather Kirkorian, Laura M. Secord Chair in Early Childhood Development and professor of human development and family studies at the University of Wisconsin-Madison, and Jackie Miller, principal and chief academic officer at Bennett Day School in Chicago's West Loop neighborhood.
In addition, the conference featured a panel discussion with educators from Bennett Day School, 47 work-in-progress poster presentations, 13 demo and art presentations, 11 presentations in the doctoral consortium — a forum for PhD students to present their work and receive feedback and guidance by experienced researchers in the field — and five workshops.
Workshop for makers
Marcelo Worsley, assistant professor of computer science at Northwestern Engineering and assistant professor of learning sciences at SESP, co-organized the "For Maker's Sake: A Somatic Exploration of Making" workshop with Meg Butler, a PhD student in learning sciences, Stephanie T. Jones, a PhD student in CS+LS, Sarah Priscilla Lee, a PhD student in learning sciences; Zoe Lewis, an undergraduate student studying learning sciences, entrepreneurship, and Spanish at Northwestern; and Tyler Nanoff ('23), a PhD student in mechanical engineering at the University of Michigan.
The half-day workshop centered around the making practices and experiences of a small group of practitioners, researchers, educators, and students. While creating artifacts with a laser cutter, workshop participants identified and discussed considerations and practices related to making as a form of personal expression.
Worsley directs the Technological Innovations for Inclusive Learning and Teaching (TIILT) Lab, which aims to develop educational and technological solutions for supporting inclusive learning among underserved populations in hands-on, collaborative environments.
Learning, Design, and Technology Symposium
The IDC '23 conference concluded with the inaugural Learning, Design and Technology Symposium, hosted by Northwestern's Center for Human-Computer Interaction + Design, a collaboration between Northwestern Engineering and Northwestern's School of Communication.
The symposium organizers, including Horn and Duri Long, assistant professor of communication studies at Northwestern's School of Communication and (by courtesy) of computer science at Northwestern Engineering, aim to build a research community and forum around the intersection of topics in interaction design, technologies, and learning, such as human-computer interaction, artificial intelligence, participatory design, learning sciences, learning analytics, educational psychology, educational data, and digital literacy.
Research presented at the symposium addressed the design, development, evaluation, and implementation of interactive computer systems to support and amplify human learning and cognition and the wider impact of learning and technology on society.
Horn and Cameron Roberts ('20), a software engineer with the TIDAL Lab who earned a bachelor's degree in computer science from Northwestern's Weinberg College of Arts and Sciences and a bachelor of music in saxophone performance from Northwestern's Bienen School of Music, presented a paper on the integration of computer programming and music-making. In the study, five undergraduate students with experience in both music and coding completed two creative musical tasks.
Wilensky, Bruce Sherin, professor of learning sciences at SESP, and a team from Utah State University discussed their paper on co-designing a computational modeling lesson with an eighth-grade science teacher. The team reported on the outcomes of the responsive teaching strategies and how the co-designed technology supported the educator in eliciting and responding to student ideas.
Demonstrations and art presentations
Demonstrations and art installations at IDC '23, including prototypes, devices, systems, games, videos, and performances, provided hands-on experiences to promote and provoke debate around interactive technologies for children. This year, due to increasing interest from youth, young people in local schools, libraries, and makerspace programs were invited to submit digital artwork or interactive systems alongside practitioners in areas such as design, learning, engineering, research, and fine arts.
"The demos and arts track is one of the best parts of IDC," Horn said. "It's fantastic to see the full range of creativity in the community on display at the conference. I was especially excited to have high school students join us from across the country to share their work."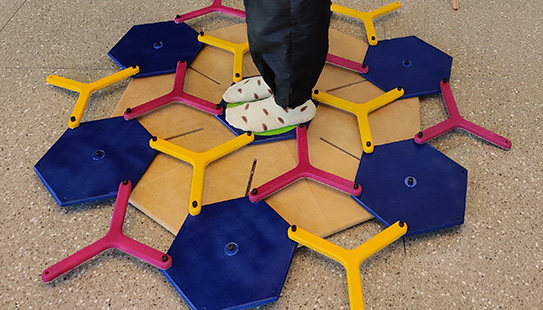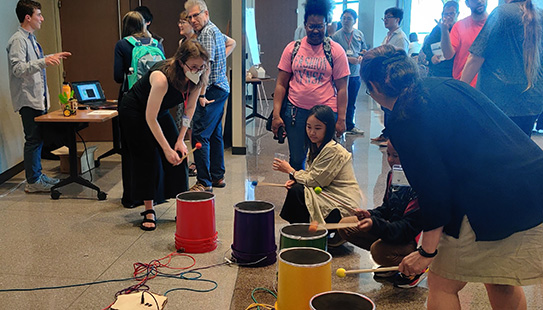 Northwestern investigators had a strong presence in the demo and art track, including the following work:
A team of student volunteers assisted throughout the conference, aiding with registration, logistics, and guiding conference attendees.
"IDC is a collaborative effort. There's no way we could have pulled this off without the cheerful and organized efforts of our student volunteer team," Horn said.
The sponsors of IDC '23 included ACM, Apple, Bennett Day School, Eccentric Orbit, Honda Research Institute, Meta, foundry10, Lando, MIT Press, the National Science Foundation, and SIGCHI.