Events
Christina Kosmowski Encourages Graduating Seniors to Say Yes
Kosmowski and Dean Julio M. Ottino spoke at the 2023 Undergraduate Convocation on June 11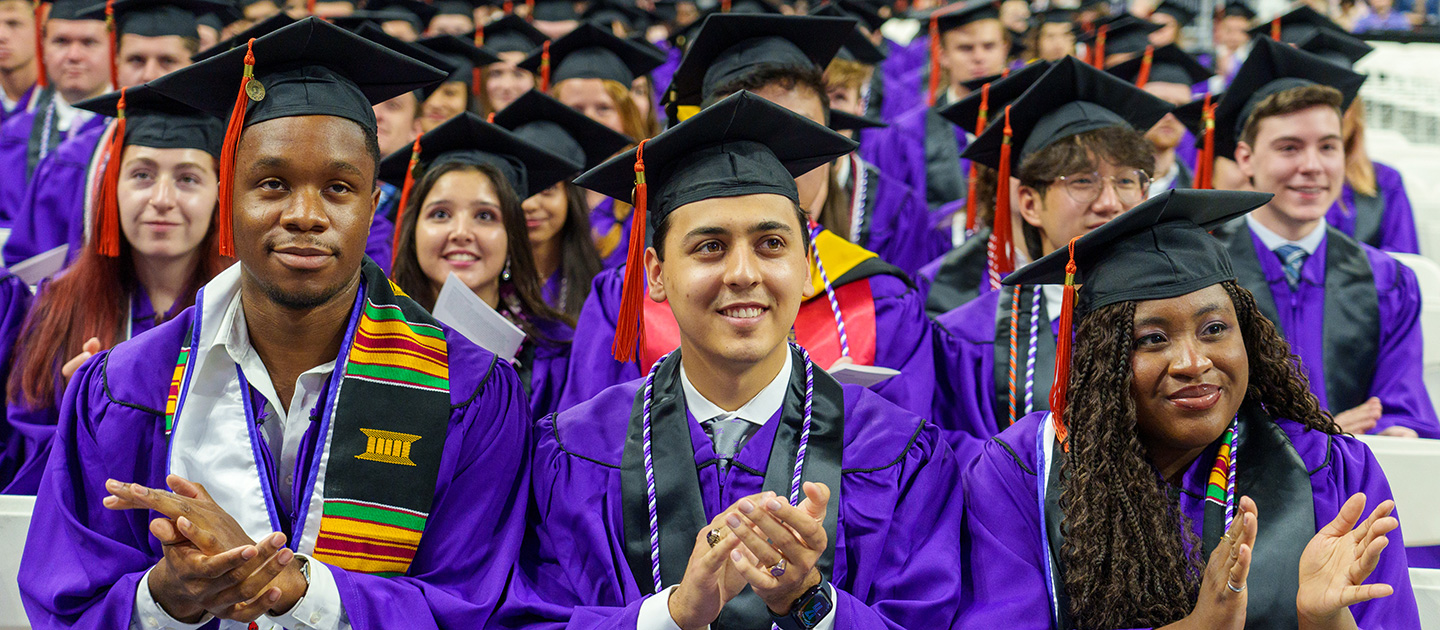 Saying 'yes' has led to so much for Christina Kosmowski ('98). It allowed her to play on Northwestern's first women's soccer team, forge personal connections, build her career, and take professional chances.
During her speech at Northwestern Engineering's 2023 Undergraduate Convocation held June 11 at Welsh-Ryan Arena, part of the University's 165th Commencement, Kosmowski stressed the importance of responding in the affirmative.
"As you embark on your own paths, remember that while the world may evolve, certain foundations endure. Say 'yes' to opportunities that align with your values, ignite your passion, and test your perseverance," Kosmowski said. "Embrace the power of collaboration, nurture lifelong connections, especially the ones you made at Northwestern, and never shy away from taking risks, even if they may seem questionable at the time. By doing so, you will not only make a lasting impact, but also discover the remarkable strength and potential within yourselves."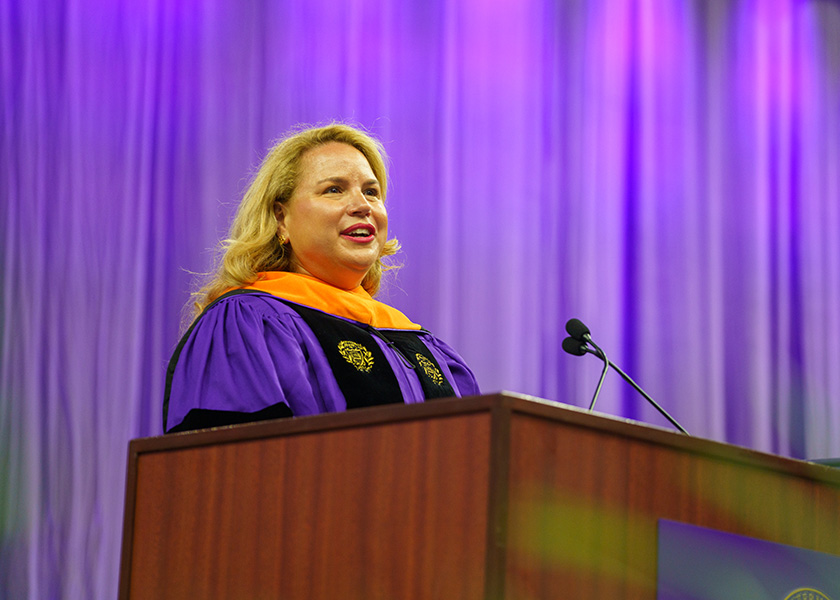 Kosmowski, CEO at LogicMonitor and a member of the McCormick Advisory Council, saluted the impact made by outgoing Dean Julio M. Ottino, thanking him for his contributions. Ottino said he will always remember the Class of 2023, and looked ahead to what the graduates will accomplish.
"As I look out at this amazing amount of talent, a collection of some of the best minds of your generation, I know that you will develop an array of ideas to be deployed throughout the vast landscape of the world," Ottino said. "Look at how far you have made it. Despite all the challenges thrown at you, you have achieved something great – you are emerging with a degree from Northwestern. You are all Northwestern Engineers. 
"Indeed, it is hard to be anything but optimistic when thinking about your impact on the world." 
View photos from Undergraduate Convocation >>
Kosmowski, who earned her bachelor's degree in industrial engineering and management sciences, has made an impact during her own career.
At LogicMonitor, Kosmowski is responsible for accelerating the infrastructure monitoring company's hypergrowth and helping C-level executives and their teams thrive through transformation. Prior to assuming the role of CEO, Kosmowski served as LogicMonitor's president, leading go-to-market strategy, research and development, customer success, and operations. She has spent more than two decades holding leadership positions in the enterprise software space — including 15 years at Salesforce — where she consistently found new ways to bring the worlds of technology and business together. 
Jumping to LogicMonitor in 2021 took gumption.
"Currently, I find myself in the middle of my 'courageous' yes," Kosmowski said. "It wasn't easy to leave the relationships and connections at Salesforce, but I had this instinctual nudge in my gut to say yes. I took on the significant role of CEO two-and-a-half years ago at LogicMonitor, something many did not believe was possible, but I had the courage to step out of my comfort zone and surrounded myself with people who believed in my potential. I am embracing my passion and pursuing my dream."
One of Kosmowski's passions is soccer. 
She was part of Northwestern's first NCAA Division I women's soccer team, a group that took its lumps and went 3-13-1. Two years later, the Wildcats were in the NCAA tournament, and Kosmowski graduated as a team captain. After that first campaign, Kosmowski worked diligently in the offseason to improve her game but was disappointed to find out her colleagues hadn't reached her level.
That's when Kosmowski learned valuable lessons about teamwork and collaboration, which paired well with what she learned pursuing her degree and her eagerness to take on challenges when she landed at Salesforce.
Sometimes the most significant thing you can do to solve a problem or innovate is simply say yes. Christina Kosmowski
"One of my most influential contributions was as a founding member of the customer success team, a novel position that did not exist before," Kosmowski said. "This role stood at the very intersection of technology and business, embodying the essence of Salesforce's pioneering spirit. I learned the power of embracing innovation while pursuing my career passion and the fundamentals I honed right here at McCormick."
There is another fundamental Kosmowski honed at Northwestern. 
"Perhaps it's the whole-brain engineering mindset or the way I have always approached life. As engineers, you are adept at problem-solving and finding solutions," she said. "You are trained to be critical thinkers who can analyze complex systems and devise innovative approaches. However, sometimes the most significant thing you can do to solve a problem or innovate is simply say yes."
Watch the Ceremony